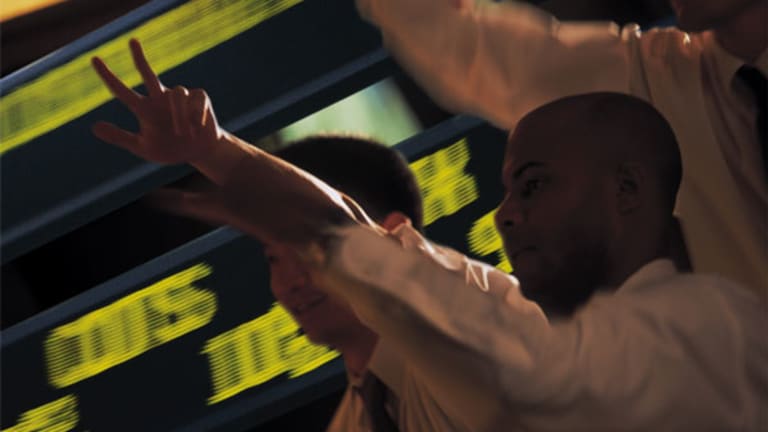 Jim Cramer on the Stock Market: You Have to Love Biotech
In this era of turmoil, investors can take comfort in this sector.
NEW YORK (Real Money) -- Never stop loving biotech. That's been my mantra since the 1980s and every day I thank my lucky stars that I haven't abandoned the concept or the stocks.
Tuesday was still one more day of remembrance about why these stocks are worth focusing on. Tuesday was the day when Biogen Idec (BIIB) - Get Biogen Inc. Report gave us a go decision on a new revolutionary formulation to combat Alzheimer's disease that has improved cognition for sufferers in 54 weeks in a statistically significant way. It is so statistically significant that this early-stage drug is going right into phase 3 testing.
This is huge. Just gigantic -- and it comes on the heels of news Monday that Biogen's key multiple sclerosis franchise is less likely to be challenged by Gilenya, a drug from rival Novartis (NVS) - Get Novartis AG Sponsored ADR Report , which had been a thorn in the Biogen Idec's side.
I have been a fan of this company from the early days. I visited the company when it was a start-up in Cambridge, Mass., when the company had just been founded by one of my idols, Walter Gilbert. It was one of the first stocks I ever bought and Biogen, Genentech and Amgen (AMGN) - Get Amgen Inc. Report basically invented the genre.
Biogen has always been a pioneer. It always has something up its sleeve and it has always been a terrific stock to buy when it stalls out, which is precisely what happened not that long ago when people were worried about a potential slowdown in its core MS franchise. They focused on the here and now. You can't do that with biotech. These are not one-trick ponies. They are thoroughbreds with field bet potential.
When one of these stocks flies, they all tend to fly. In part, this is because they are tightly correlated by moronic exchange-traded funds that take up the good with the bad. Fortunately, there are enough "goods" in the basket to overwhelm the bad. Hence, I never mind when Regeneron (REGN) - Get Regeneron Pharmaceuticals, Inc. Report and Celgene (CELG) - Get Celgene Corporation Report move up with the flavor of the day. These are companies that have long been viewed also as one-trick ponies: Regeneron with Eylea for macular degeneration and Celgene with Revlimid for blood cancers. The reality is that Regeneron is a biotech factory. The company produces new formulations constantly, including two potential blockbusters to combat hard-to-reduce cholesterol levels and asthma. Celgene is a breeding ground not just for new treatments for psoriatic arthritis but also for different kinds of cancers that have proven to be far more intractable than myeloma.
Plus, the company has stakes galore in many earlier stage biotechs -- including one of my faves, Agios Pharmaceutical (AGIO) - Get Agios Pharmaceuticals, Inc. Report , which has a novel formulation to kill cancer cells without bombarding the entire body with toxins. The stock has had a huge run, so I get the profit-taking. It is also late to the party, but if it is as good as I think it is, I bet Celgene will buy the rest of the stock 85% of the stock it doesn't own.
Oh, and speaking of takeovers, how about the bid for Avanir Pharmaceuticals (AVNR) this morning by a Japanese drug company that gave investors a quick 12% gain on top of a near 400% run this year. Why? Avanir has a novel Alzheimer's treatment, too.
Yep, in an era when you are buffeted by cyclical headwinds, a bellicose Russia, a China on decline almost as fast as a Europe rolling over, it's comforting to know that you can own a biotech and get hit with the kind of lightning that can make your year.
It doesn't happen every day. But it sure happens more than in any other group, which is why you have to love biotech, too.
Action Alerts PLUS,  which Cramer co-manages as a charitable trust, has no positions in the stocks mentioned.

Editor's Note: This article was originally published at 11:38 a.m. EST on Real Money on Dec. 2.