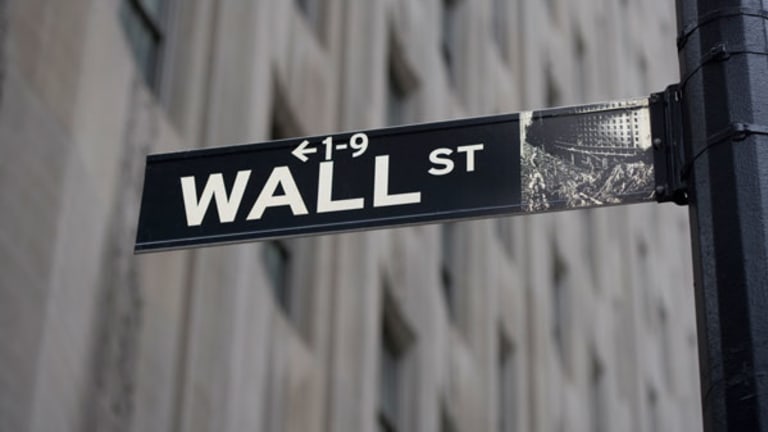 Jim Cramer on the Stock Market: Here Are 12 Sectors to Bet On
A look at the sectors and top stocks in each
NEW YORK (Real Money) -- We are nearing the home stretch, and in the home stretch, we get a pattern that plays out whenever the indices are having a terrific year, something that you have only really participated in if you are invested in the S&P 500.
The combination of seemingly endless takeovers and the concentration of winners in areas that were least expected -- namely companies that do well when rates plummet and commodity inflation is in check -- has eluded most stock pickers. It makes sense: from the very beginning of the year, the group think revolved around the need for higher rates. The macro, that the Federal Reserve would have to take action -- totally defeated the micro with these managers. But the micro ruled.
The sectors that stand out? I have found 12 of them, 12 sectors where you can almost throw darts and win with a couple of rare exceptions. I think the gravitational pull of these sectors is so strong that you can expect some of these stocks within these sectors will be anointed, meaning they will be adopted on every dip and will be "go to" as if they are wide receivers that will be targeted over and over because they have such obvious support.
Going into December, I always identified the best of the best, the stocks I expected would be supported no matter what. So I would begin to accumulate them using deep-in-the-money calls out several months, and I would simply buy more calls on every single dip.
So let me give you the 12 sectors and the best of the best within those sectors starting with the strongest, namely health care.
The health group is ideal in a slow- growth low- inflation environment. It's become obvious of late that our growth, aided by lower petroleum prices, is better than expected. But somehow this group just won't quit, in part because there are so many takeovers in it and, in part, because many investors STILL don't believe the strength can continue.
VRX
data by
The distribution in health care is highly unusual. First, none of the big dogs fits in. This was not a Pfizer (PFE) - Get Pfizer Inc. Report -Merck (MRK) - Get Merck & Co., Inc. (MRK) Report year; Valeant (VRX) and Actavis (ACT) - Get AdvisorShares Vice ETF Report have replaced that tandem.
It's been a year of McKesson (MCK) - Get McKesson Corporation (MCK) Report , AmerisourceBergen (ABC) - Get AmerisourceBergen Corporation Report and Cardinal Health (CAH) - Get Cardinal Health, Inc. Report to control health care cost.
It's an Edwards Lifesciences (EW) - Get Edwards Lifesciences Corporation Report , Bardundefined , Becton, Dickenson (BDX) - Get Becton, Dickinson and Company Report , Hospira (HSP) , Stryker (SYK) - Get Stryker Corporation Report , Zimmer (ZMH) kind of year for consolidations.
Then if you just want to marvel at a small group consider the dental-supply companies Henry Schein (HSIC) - Get Henry Schein, Inc. (HSIC) Report , Patterson Dental (PDCO) - Get Patterson Companies, Inc. Report and Dentsply (XRAY) - Get DENTSPLY SIRONA, Inc. Report .
The health care cost containers came on strong and the obvious one is UnitedHealth (UNH) - Get UnitedHealth Group Incorporated Report because it's a Dow stock, but Humana (HUM) - Get Humana Inc. (HUM) Report , Aetna (AET) , Cigna (CI) - Get Cigna Corporation Report and WellPoint (WLP) all have a ton of game.
You want to know what else works: the real estate investment trust companies with Ventas (VTR) - Get Ventas, Inc. Report and Health Care REIT (HCN) stand out (real estate investment trusts have been terrific, but the health care ones I think have the most to run. That said I think you could make a case to just buy the IYR (iShares Dow Jones U.S. Real Estate ETF).
If you want the strongest and most visible, it's going to be Actavis. McKesson's the easiest; that group is loved so much it's hilarious. UnitedHealth for visibility. Ventas for yield.
Biotech's monstrous this year. You really don't want to out think this. We have senior and junior biotechs that work. Celgene (CELG) - Get Celgene Corporation Report and Regeneron (REGN) - Get Regeneron Pharmaceuticals, Inc. Report are coin flips, both have remarkable years on new products that weren't even in the numbers at the beginning of the year: Celgene with a psoriatic arthritis therapy and Regeneron with cholesterol and asthma answers.
Some think that the last move in Amgen (AMGN) - Get Amgen Inc. Report may be the beginning of something big. However, I don't like guesswork. Same with Gilead (GILD) - Get Gilead Sciences, Inc. (GILD) Report and Biogen Idec (BIIB) - Get Biogen Inc. Report . They are resting. We won't know Gilead until we see more from competitor Abbvie on Hepatitis C. Biogen Idec need to put up a better next quarter.
CELG
data by
The juniors: ISIS Pharmaceuticals (ISIS) , BioMarin (BMRN) - Get BioMarin Pharmaceutical Inc. Report and Agios (AGIO) - Get Agios Pharmaceuticals, Inc. Report make the most sense. ISIS has several drugs in Phase III that seem on the verge of blockbuster status, BioMarin just made a well-acclaimed acquisition and Agios has a new kind of method of killing cancer.
With the Senate going Republican and a wartime Secretary of Defense coming, this is a moment where any defense stock's going to win because it is inconceivable to most investors that the defense budget gets restored to pre-sequester levels.
These are dart throws: General Dynamcis (GD) - Get General Dynamics Corporation (GD) Report , Lockheed Martin (LMT) - Get Lockheed Martin Corporation (LMT) Report and Raytheon (RTN) - Get Raytheon Company Report all work. My favorite is NOC if only because Lockheed didn't have good things to say after last quarter.
Here's an oddity: the auto companies are just beginning to perk up on the decline in oil; that breeds bigger truck purchases where the gross margins are bountiful. But the stars of the group? Auto parts.
You have to marvel at O'Reilly Automotive (ORLY) - Get O'Reilly Automotive, Inc. Report , Genuine Parts (GPC) - Get Genuine Parts Company (GPC) Report , Snap-On Tools (SNA) - Get Snap-on Incorporated Report , Advanced Auto Parts (AAP) - Get Advance Auto Parts, Inc. Report and AutoZone (AZO) - Get AutoZone, Inc. Report . The latter's got that amazing buyback, but ORLY's become the loved stock. I am partial to Snap-On Tools but it doesn't have O'Reilly's momentum.
It's taken sometime, but housing's finally become a favorite. How did this happen? I think it's the easier lending standards that are being adopted allowing lower FICO scores. It can also be lower gasoline as a spending boost.
data by
When it comes to pure housing, it's all about Lennar (LEN) - Get Lennar Corporation Class A Report , and you just can't go down to Horton (DHI) - Get D.R. Horton, Inc. Report or Pulte (PHM) - Get PulteGroup, Inc. Report .
How much do people love Sherwin-Williams (SHW) - Get Sherwin-Williams Company Report with a consolidation in the group, although don't rule out PPG (PPG) - Get PPG Industries, Inc. Report if you want a little more industrial bent.
Whirlpool (WHR) - Get Whirlpool Corporation (WHR) Report is having a standout run, but if that's the case, do you go with Home Depot (HD) - Get Home Depot, Inc. (HD) Report and Lowe's (LOW) - Get Lowe's Companies, Inc. (LOW) Report ; they sure haven't let you down.
Oh, and Williams-Sonoma (WSM) - Get Williams-Sonoma, Inc. Report works for the high end for certain. Don't overlook Stanley Black & Decker (SWK) - Get Stanley Black & Decker, Inc. Report , with Home Depot saying the tool aisles are hot, although you have to deal with some European exposure there.
That lower gasoline price is putting money in peoples' pockets and that last decline is going to make this group even hotter than dreamed.
Walmart (WMT) - Get Walmart Inc. Report and Target (TGT) - Get Target Corporation Report have been laggards until now. I think that they have been stuck in the mud and are now unleashed.
We've got some really strong earnings stories: CVS (CVS) - Get CVS Health Corporation Report and L Brands (LB) - Get L Brands, Inc. (LB) Report , both of which can go higher still.
Ross Stores (ROST) - Get Ross Stores, Inc. Report had been a great growth story, and now it looks like it is back.
Any dollar store works -- I like Dollar General (DG) - Get Dollar General Corporation Report .
VF Corp.'s (VFC) - Get V.F. Corporation Report a fantastic weather story, which is all about North Face and TImberland.
Best Buy's (BBY) - Get Best Buy Co., Inc. Report strong. Oh and don't forget two holidays stories: Best Buy back from the dead and GoPro (GPRO) - Get GoPro, Inc. Class A Report which acted funky after that secondary but is now roaring.
Restaurants are working although the roadside player, Cracker Barrel (CBRL) - Get Cracker Barrel Old Country Store, Inc. Report , has beaten out Chipotle (CMG) - Get Chipotle Mexican Grill, Inc. Report , Brinker (EAT) - Get Brinker International, Inc. Report and Darden (DRI) - Get Darden Restaurants, Inc. Report for the stealth play.
You like supermarkets? I know Whole Foods (WFM) is coming on; nevertheless the smart money's betting that Kroger's (KR) - Get Kroger Co. (KR) Report going to $60, and maybe in a straight line.
Small-cap aficionados will want to be in a resurgent Tractor Supply (TSCO) - Get Tractor Supply Company Report .
But let's not out think this: the smart money's all on Costco (COST) - Get Costco Wholesale Corporation Report , which NEVER missed for retail, and NIke (NKE) - Get NIKE, Inc. (NKE) Report , which had a remarkable run since the last quarter. Calls on both, please.
Remember how everyone got the rates wrong? You would think that would mean the insurers wouldn't be able make a stand. You would be wrong. Allstate (ALL) - Get Allstate Corporation Report , Hartford (HIG) - Get Hartford Financial Services Group, Inc. (HIG) Report and Chubb (CB) - Get Chubb Limited Report are all incredible.
Again, though, you know it's Travelers (TRV) - Get Travelers Companies, Inc. Report by a nose, mainly a nose that's a Dow stock. What's behind the move? I think benign pricing, easy comparisons and anything in their investment portfolios that hadn't come back to life sure has now.
data by
Here's a must for any stock picker to show genius: transports. Every rail, I mean every rail, from Kansas City Southern (KSU) - Get Kansas City Southern (KSU) Report and Norfolk Southern (NSC) - Get Norfolk Southern Corporation Report to Union Pacific (UNP) - Get Union Pacific Corporation Report and CSX (CSX) - Get CSX Corporation Report are all red hot. I like Union Pacific best: less coal; more visibility.
I think the world's going to pile into Federal Express (FDX) - Get FedEx Corporation Report , even though United Parcel (UPS) - Get United Parcel Service, Inc. Class B Report is cheaper -- remember, though, this is about anointing and that means FDX.
It's rough to sort through the airlines for a winner: they are all winners. Delta (DAL) - Get Delta Air Lines, Inc. Report , American (AAL) - Get American Airlines Group, Inc. Report , Southwest (LUV) - Get Southwest Airlines Co. Report , and even JetBlue (JBLU) - Get JetBlue Airways Corporation Report , but it's Southwest that has the percentages. It's the one to bet on.
Maybe it's an aversion to owning the banks, but the bank-relateds look awfully good here, the processors, the ancillary businesses and alike. Take a stock like Dun & Bradstreet (DNB) under Bob Carrigan is a monster; no losing with that one.
The mutual funds look terrific including a Bill Gross-aided Janus (JNS) . And there are Legg Mason (LM) - Get Legg Mason, Inc. Report and BlackRock (BLK) - Get BlackRock, Inc. Report . Both totally work.
Again, though you want visibility which means Mastercard (MA) - Get Mastercard Inc. (MA) Report and Visa (V) - Get Visa Inc. Class A Report . Each had a terrific quarter. I like them both.
The rest of the winning segments are a little hit or miss with some extraordinary standouts. Take tech. You know that Apple (AAPL) - Get Apple Inc. (AAPL) Report , at two discount points to the average S&P 500 stock, will be THE stock that people must show they own.
The chip stocks, Intel (INTC) - Get Intel Corporation (INTC) Report , Micron (MU) - Get Micron Technology, Inc. (MU) Report , Altera (ALTR) - Get Altair Engineering Inc. Class A Report and best of all, RF Micro( RFM) off a merger. look good.
However, it's the semiconductor equipment group is incredible: KLA-Tencor (KLAC) - Get KLA Corporation (KLAC) Report , Applied Materials (AMAT) - Get Applied Materials, Inc. Report and best of all, Lam Research (LRCX) - Get Lam Research Corporation (LRCX) Report . The latter came on Mad Money recently and I sense a multiyear move. A must own.
The best call play in the group shy of Apple. That last quarter will draw money toward Hewlett-Packard (HPQ) - Get HP Inc. (HPQ) Report , though, and you can do much worse than that. Of course, Yahoo! (YHOO) gets money if Alibaba (BABA) - Get Alibaba Group Holding Ltd. Sponsored ADR Report gets marked up and that's exactly what I think will happen.
Another oddity: packaged goods stocks. I think the decline in raw costs, which will come on a delay pattern because of hedges, has boosted Procter & Gamble (PG) - Get Procter & Gamble Company Report , Kimberly Clark (KMB) - Get Kimberly-Clark Corporation (KMB) Report and Clorox (CLX) - Get Clorox Company Report .
data by
It's the carbonated stocks that have shown the best game, though. I don't know if there's enough consciousness about Dr Pepper Snapple (DPS) to be anointed.
Mondelez (MDLZ) - Get Mondelez International, Inc. Class A (MDLZ) Report may have made its move too late. Which brings the hot money to PepsiCo (PEP) - Get PepsiCo, Inc. Report , which has delivered the best earnings, the best momentum and the most high-profile activist action. Don't forget Monster Beverage (MNST) - Get Monster Beverage Corporation (MNST) Report ; its takeover and earnings that can let this one roll higher.
Finally someone always wants an industrial. Parker-Hannifin (PH) - Get Parker-Hannifin Corporation Report delivered a remarkable last quarter. International Paper's (IP) - Get International Paper Company (IP) Report had a good move recently. As has Boeing (BA) - Get Boeing Company Report . Yet, I think that Honeywell (HON) - Get Honeywell International Inc. (HON) Report is the beacon, the one with the big five-year plan that's been delivering consistently.
It's funny, I came to the anointment process out of jealousy and anger. I would see these same stocks roll over and over again. I thought they were extended, overbought, too loved.
Yet, what happens in that last month is mesmerizing. The visible winners become like magnets for money. I picked calls, not common, for more extra juice. I just needed to play. I needed the action. It served me well in the last month of the year. I hope it serves you well, too.
Editor's Note: This article was originally published at 9:16 a.m. EST on Real Money on Dec. 1.
At the time of publication,
, which Cramer co-manages as a charitable trust, was long AAPL, ABBV, DG, MRK and UPS.