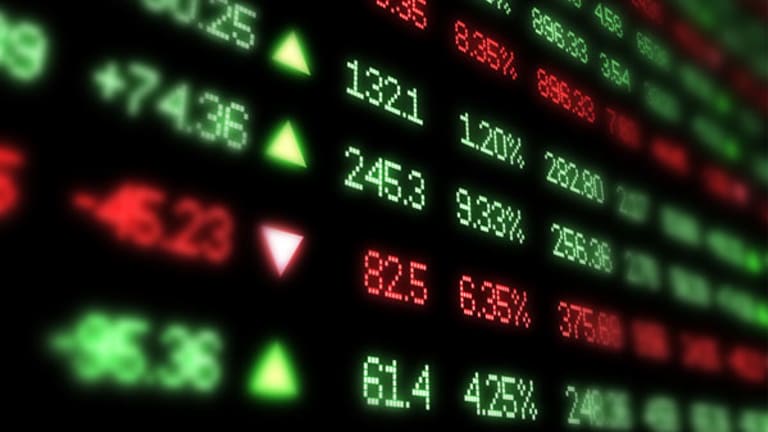 Jim Cramer on the Stock Market: Choose Growth Over Value
The division between the two is growing wider and wider.
NEW YORK (Real Money) -- Here are just some of the comments I have been hearing about various popular stocks recently:
E-commerce company Alibaba (BABA) - Get Report is overvalued and should go lower. Social Media upstart Twitter (TWTR) - Get Report is overvalued and should go lower. Social media darling wunderkind Facebook (FB) - Get Report is overvalued and should go lower. Online Yellow pages Yelp (YELP) - Get Report is overvalued and should go lower. Search dominant Google (GOOG) - Get Report , (GOOGL) - Get Report is overvalued and should go lower. Super electric-car maker Tesla (TSLA) - Get Report is overvalued and should go lower. Mobile camera company GoPro (GPRO) - Get Report is overvalued and should go lower. Auto safety software company Mobileye (MBLY) is overvalued and should go lower. (None of them has dividend protection or buybacks.) Entertainment company Netflix (NFLX) - Get Report is overvalued and should go lower. Biotech drug juggernaut Regeneron (REGN) - Get Report is overvalued and should go lower.
Meanwhile, copper miner Freeport McMoRan (FCX) - Get Report is undervalued and should go higher. Oil platform colossus Transocean (RIG) - Get Report is undervalued and should go higher. Iron stalwart Vale (VALE) - Get Report is undervalued and should go higher. Well-managed oil drilling platform play Ensco (ESV) is undervalued and should go higher. They all offer big dividends -- much better than Treasuries -- especially after taxes.
In each case, I have heard these comments over and over again: You have to avoid what's expensive and buy what is cheap. But it is rare in my career that I have seen a bigger -- and accelerating -- gulf between value and growth. We have even acted on them. Right now, the Action Alerts PLUS charitable trust is making a stand in Vale and Ensco and Freeport, and they have become nightmares for us, embarrassing houses of pain. They are so much cheaper than the above mentioned ultrafast-moving companies I mentioned at the beginning of this column, that it is like night and day.
With Freeport, you get all that excellent copper and gold as well as some terrific oil properties and the beautiful 3.67% yield. But it's been a runaway train to the downside. Or how about Ensco with is new best-in-class rigs and that 6% yield that they just swore by? No one trusts it.
Hey, speaking of value and yield, you would think there would be some attraction for Ensco competitor SeaDrill (SDRL) - Get Report with a 14% yield? Nope, that's another oft-asked about loser, with the company itself saying that next year is going to be tougher than this year. It has already preannounced bad numbers. Plus, it's really the only company where earnings must be cut because of Russian sanctions, as Exxon Mobil (XOM) - Get Report was using one of its rigs in a Russian program that's now on hold. It's been down for nine straight days. That's a relentless streak. I say why not just cut the darned dividend already in some sort of mercy killing? Or at least stop trapping people in the darned thing!
Yep, it is easier to champion value and sound wise than it is to buy value and be stupid. Buying value, whether it is in minerals, oil drilling or even agricultural and housing is deadly and has been deadly for ages. The whole year, anyone who has been attracted by "cheap" has been crushed, and bottom fishing is a thankless game.
Now, contrast that with the growth stocks that I cited before. These seem to have no limit to as to where they can go. The buyers are already owners who just keep getting money in because they have the best performance. Plus, while there is little fascination for stocks among the masses, these stocks in particular have captured the attention of the remaining regular investors because they prize momentum.
Willy-nilly growth has been met with love, affection, higher multiples and even takeover bids, as we saw this morning with the acquisition Sigma-Aldrich (SIAL) , a terrific life sciences/chemistry company by Germany's Merck. In fact, this deal is really a metaphor for the moment. The value stocks get no love and no bids. The growth stocks get bids even after they have run. The two ways to win, growth and mergers, work for the new high-list members but not the new low-list dwellers.
Of course, any attempt to call a top in any of these growth hounds has been a horrendous idea -- yet it has happened over and over. The notion that they are "expensive" has meant nothing at all.
All the same, people think the others in the litany are overvalued. It makes me angry because, frankly, everything that is any good right now is expensive and everything that is cheap is awful by the only standards that matter: the standards of making or losing money.
Let me tell you how difficult it is to be a public commentator about all of this. When I heard the price talk about Alibaba, meaning what the deal might come public at, I immediately realized it would be a bargain vs. other growth companies. That's why I suggested that people ought to be willing to pay $82 for the stock. The cat callers and the geniuses who disparage my valuation work were all over me for encouraging speculation. I found it hard to believe the criticism or to take it seriously, because I knew that at $82 the company represented great value vs. all the other growth stocks that I mentioned at the beginning.
In other words, sure, the valuation is rich vs. the S&P 500, as rich as a Freeport is cheap, but it doesn't matter. Big money looks at what is out there and makes a judgment about where Alibaba at $60, $70, $80 and $90 is valued. Big money then figures out how much that first buy is and how much stock was bought in the initial public offering (IPO) and takes a blended average.
So, let's say a big fund got one million shares at $68 on the deal and then it goes and buys one million shares at $92 at the opening on the deal. That gives the fund a terrific $83 basis, both vs. where the stock ultimately traded -- these funds were up $10 at the end of the day -- and also vs. all the other growth stocks that I mentioned.
Now go back to my thinking about $82. I was hoping that there would be enough stock kicking around that you could buy it at $82 and watch it go to $92, which I judged to be the upper limit of what these big institutions would pay to still get a cheap average, which is all they really care about. What did the critics want me to do? Disparage the whole deal. But, remember, my goal is to help you make money, not to make a judgment that a stock shouldn't be bought on some vague principle that doesn't hold up under close scrutiny.
So they got half -- the preferred way this deal was put out – and then went into the open market to buy the other half. They were indifferent to price because all they cared about was the end-of-the-day average.
So I made a statement that I would pay up to $82 for the stock. Given that the usual top callers who have no idea how the stock market works were already saying it was super expensive at $68, my call was hated by many, especially on Twitter.
I laughed at these cat callers because they are so clueless about how syndicate desks work. I was just trying to pick a price that wasn't too absurd hoping they could open it only up $10 so you could grab some shares and run the stock up another $10.
Now, none of this logic makes any sense to those who view the market as growth vs. value. But it makes a ton of sense to those who view the market as growth vs. growth. On that standard you could easily pay $92 and get an average that's just much "cheaper" than the growth cohort even as it is much more "expensive" than rest of the market.
Forget the rest of the market right now. It will not reward you. Focus on the part that can reward you and you will make much more money. Times could change, but the bottom line is that after Alibaba, you can see the divide between value and growth is just getting wider and wider. The value group is wrecking years and careers while the growth group is making them.
Action Alerts PLUS, which Cramer co-manages as a charitable trust, is long ESV, FCX, GOOGL and VALE.
Editor's Note: This article was originally published at 12:12 p.m. EDT on Real Money on Sept. 22.