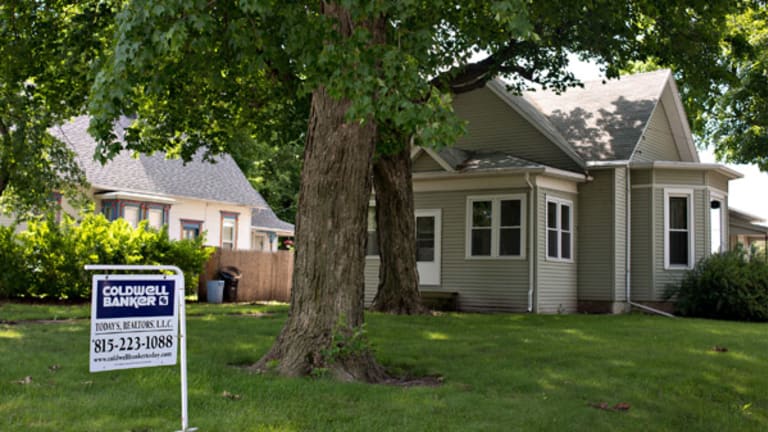 Jim Cramer on the Housing Market: Why Defaults on Loans Are Good
If you want a strong housing market, allow loan defaults.
NEW YORK (Real Money) -- Are the homebuilders about to break out?
The group, as represented by the XHB, the homebuilder ETF, has been one of the most poorly performing sectors in the economy. We build about as many homes in this country these days as we did when we had half the population we have now.
Stuart Miller, the CEO of Lennar (LEN) - Get Report , one of the few homebuilders that has outperformed, says we are muddling along at recession levels five years after the crisis peaked.
It's been pretty pathetic.
But I am seeing signs that this group is about to join the party; specifically two signs: a thaw in lending and lower gasoline prices.
There's a little story in The New York Times about Fannie Mae (FNMA) , and in it is the following paragraph: "Even as the government is moving ahead with the changes, some housing analysts had concerns, contending that the program could lead to higher defaults."
I know some of you might think this strange, but frankly that's a good thing. We have, in the country, been headed toward a policy of zero defaults, meaning no one should be able to get a loan who can't pay it back, and if they can't, there has to be enough collateral that a bank won't take a loss. In fact, it might have a gain.
And that's one of the chief reasons why we have recession levels of homebuilding even as we are still a growth nation and a nation that is creating jobs. Now the article goes on to create a bizarre contrast between two different views: those who want to lower the down payment for a home from 20% to 3% and those who want to ease credit ratings for homebuyers.
I know the former would be huge. You need about a 730 FICO score to get a standard loan these days from a typical bank. That's way too high a standard for most Americans. In fact, it's ridiculously high, unless you don't want to make a loan or fear any default.
The 20% vs. the 3% debate seems to be a bit of a canard. There's a range in between that would make a lot more sense for Fannie Mae to extend down to. There are deals to be made with private mortgage insurance too that would make it so Fannie Mae is not as exposed as in the old days.
But what's really at work here is something that Sandy Weill, the former head of Citigroup (C) - Get Report , talked about to me last night at the CNBC 25 gala. He pointed out that the whole banking system has been pushed toward taking no risks by the federal government, the same government that is now trying to re-stimulate housing. With that mindset, you aren't going to see a return to the old days when we had twice the number of housing starts.
The mindset has to change; the regulators have to let up a tad and the bankers have to be less fearful. That's why this extension of credit would be good news; the  bankers are reluctant to keep any mortgages on their balance sheet and they sell most of them to Fannie Mae anyway.
Either the bankers have to have more latitude to loan and keep those loans or Fannie's got to take more loans that are not to perfect borrowers.
The other change that could help? Lower gasoline. Why does that matter? Because before the crisis the chief building areas were moving further and further away from the primary job areas. These commuter developments were cheaper than the close to job centers housing. They were also available to immigrants that didn't have to fear that they would be deported, so they went with low to no doc loans. Immigrants can't apply any more without risking deportation.
There are no low to no doc loans post crisis. But there's cheaper gasoline, which could embolden commuters to take the risk of buying a home farther from their job. That could spur homebuilding where many of these builders own land but have been reluctant to build.
You get Fannie Mae making it easier, you get credit standards lower and you get cheaper gasoline, then you might just return to a robust housing market. Sure, there will be more defaults. But, frankly, that's the price of returning to a more realistic, ultimately stronger, housing market.
Action Alerts PLUS, which Cramer co-manages as a charitable trust, has no positions in the stocks mentioned.
Editor's Note: This article was originally published at 8:18 a.m. EST on Real Money on Nov. 7.
At the time of publication, Cramer was long ___.