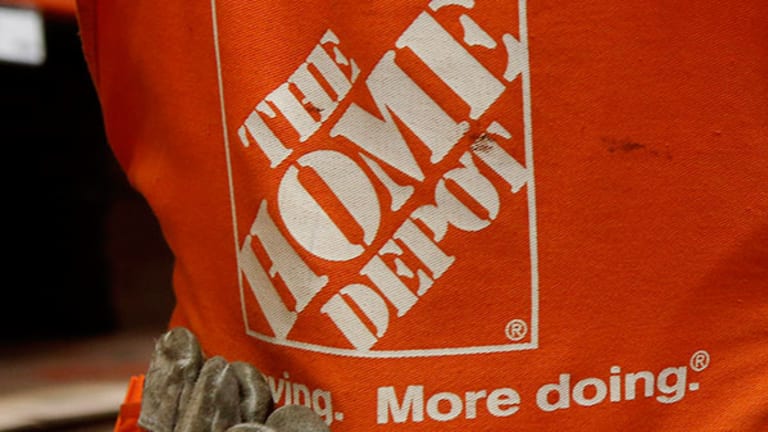 Jim Cramer on the Housing Market: The Boom Under the Radar
A boring, plain recovery is being overlooked, and that's good.
NEW YORK (Real Money) -- It wasn't making any sense, no sense at all -- until the most brilliant person in the world of home retailing gave us the answer we were looking for.
I am talking about the great conundrum of the most recent era: How could there be such robust spending on housing, and yet so few homes be built? How could there be so many materials being purchased to improve homes, and yet the housing starts numbers huddle along a million unit flat line, half of what they were we when we were a country half this size, and still far below where we were before the great recession hit? If housing isn't advancing much in price -- as we know, because it has stalled -- if credit availability is still tight -- as every bank would admit -- then where are all of these building materials going?
The answer, it turns out, is that a preponderance of the home building purchases, the materials purchased, the tools bought, the millwork, kitchen, bath and appliances, could be ending up in completed homes that have been rented out for years and are now coming to the market.
That's the thesis propounded by the woman from whom everyone seeks wisdom, the brilliant chief financial officer of Home Depot (HD) , Carol Tome. She laid it out for all to see near the end of the tour de force Home Depot conference call, the one in which it was very clear that Home Depot performed far above expectations, but the puzzlement of where that performance is coming from streamed throughout the session.
"There have been 3.6 million homes added to the rental stock between 2006 and 2013," she methodically pointed out when asked about this aberration. "Those 3.6 million homes, they are under-maintained. As those homes are moving out of rental and into home ownership, they badly need remodel."
She then acknowledged some work of a less rigorous source, the Harvard Joint Center for Housing Studies -- just kidding about the rigor, but believe me, I bet there were tickled to be invoked by her on this call -- saying "2014 was the first year since 2005 that remodel dollars were up, so could it be some of that? I think yes."
Makes sense, right? It's all of the little stuff: the hand tools, the sinks, the cabinets, lighting, doors, millwork around those doors, that's what selling. The professional category numbers were up big at the Depot, but that's not translating to more homes being built. We gleaned that same insight from the terrific Toll Brothers (TOL) conference call. The big gains for the quarter came not from a radical step up in the number of homes built, but from the production of far fewer, much more expensive homes, like the Pier House units in Brooklyn that have moved up steadily in price from the two million range to the four million mark -- a much lucrative line than $700,000 homes outside of Charlotte or Chicago. We know from the United Rental (URI) earnings that while some residential construction is stirring, it's non-residential that's leading the pace.
So, we put it all together and what we realize is that there's plenty of construction going on, but it isn't new construction, with its tens of thousands of new jobs, with the concomitant roads and schools and shopping centers. It's rehab! Boring, plain rehab that explains the bulge in the Depot's numbers -- something that doesn't have the multiplier effect, something that's just catch-up. That can explain, though, how it is possible for all sorts of retailers selling home goods to be doing better without the building of new homes. You have four years' worth of home stock coming to market, except it's  existing homes.
The puzzle's solved as far as I am concerned, and it can explain how we can have a building supply boom without any new building at all. And maybe that's why it is sustainable, because if we had new housing starts, they'd be right in the face of the Fed and rates would be crushing the turn already. Instead, it's deliciously under the radar screen and destined to last a lot longer than anyone thinks. Thanks, Ms. Tome, for solving the puzzle as befitting the best there is at her craft.
Get an email alert each time I write an article for Real Money. Click "+Follow" next to my byline on this article.
Action Alerts PLUS, which Cramer co-manages as a charitable trust, had no positions in stocks mentioned.

Editor's Note: This article was originally published at 6:37 a.m. EST on Real Money on Feb. 25.