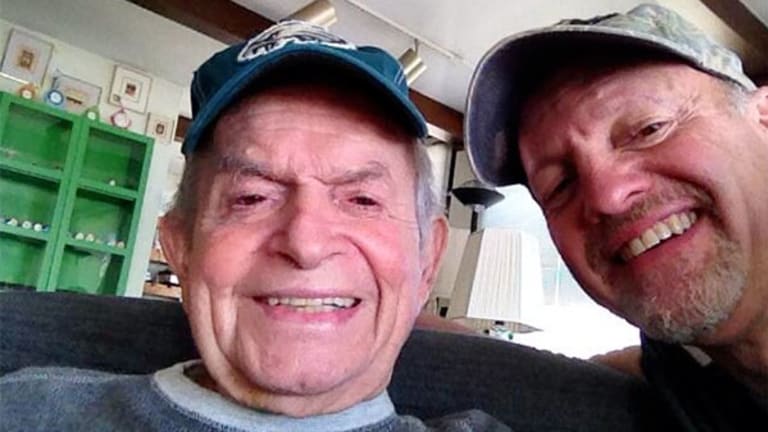 Jim Cramer on His Dad: 'Our Last Day Together Was Our Best One'
A tribute to Ken Cramer, or 'Pop', father of TheStreet.com founder, 'Jimmy'.
Editor's note: Jim Cramer's father, Ken Cramer, passed away earlier this week. The following piece is Jim's tribute to him.
NEW YORK (Real Money) -- Pop loved seven things: his business, the stock market, his independence, his workouts, his country, the Eagles and his family. He talked about them until he died Wednesday night at a hospital in Philadelphia.
Pop worked all his life. He was supposed to have retired when he turned 90, a little more than two years ago, but he couldn't bring himself to stop working. He had built a jobber business over 50 years, which was first called National Gift Wrap & Box Company and then International Packaging Products. He changed the name because it encompassed more products and sounded bigger. He sold gift wrap, tape, stretch bands, boxes, mostly 5-by-9-inch, and ribbon and everything else retailers needed -- mostly to men's and women's apparel shops and jewelry stores.
When most of his customers were wiped out by the big-box chains like Wal-Mart and Target, he switched to an idea that he knew would work: doggie bags. He said Philadelphians were thrifty -- actually he said they were cheap -- and would always take home leftovers from fancy restaurants. So he sketched restaurant logos, knocked on doors and sold them bags. He got them made in China -- the Chinese loved him -- and in his 70s he rebuilt his business with beautiful takeout bags. Most of his gift-wrap mills that he repped went out of business, wiped out by takeovers or the Chinese. Same with the boxes and bags. He was an if-you-can't-beat-'em-join-'em kind of guy, though, so he worked with a Chinese mill. His last order was for Bar San Miguel, my restaurant in Brooklyn.
People love the bags. He said I bought the second-highest-quality one he sold, after the Four Seasons in Philadelphia. He officially closed shop in 2012, but I caught him trying to type an invoice earlier this year, even as his fingers started failing him. He said he didn't want to let his customers down.
He got an MBA from Temple University after the war, and he taught me everything about business, as I made sales calls with him for years and years. Some people treated my father terribly, especially at Christmas time. He worked seven days a week from Thanksgiving until Christmas. We never saw him during that period. We had many lean years. His customers were always going under, getting him stuck with printed bags that he had bought on credit for them. For years I used lunch bags from "Moana," some deadbeat women's-clothing store that stiffed my dad and wrecked his year. That's how it works with small businesses.
Inventory was the bane of his existence. Too much Christmas wrap after the holidays meant it was hard to put food on the table. Rich people should know that's how real business works. It's why you should hate recessions and love anyone who tries to make things better for the economy. He thought former Fed Chairman Ben Bernanke did a great job. Didn't care for the other pols.
Pop loved the stock market. He loved CNBC and TheStreet.com. He watched Mad Money and Squawk on the Street religiously. He loved Mark Haines. He loved all our shows, and was thrilled when he got to meet anchors like Scott Wapner and David Faber, Brian Sullivan and Carl Quintanilla and many others. He followed hundreds of stocks. He loved the interviews. We talked at 7:01 p.m. many nights to go over the show.
On his last night he told me to be careful of Priceline because Trivago had more compelling ads. I won't reveal a name, but he told me a recent guest was a big phony and didn't know his stuff and that his company's stock should be sold. He loved that my nephew, Cliff Mason (my sister Nan's kid), wrote Mad Money with me. He took Action Alerts PLUS and thought co-portfolio manager Stephanie Link was terrific, and he stayed active watching the network all day with his computer by his side, reading the alerts as they came out.
He was a CNBC junkie, for sure, and loved the bosses for treating me right, and also loved my lawyer Bruce Birenboim and my agent Henry Reisch for keeping me out of trouble. He loved when I was on the Today Show and he hated a certain comedian who embarrassed me for no reason. I won't mention his name, either. He thought Regina Gilgan, our executive producer, was amazing. I am sorry if I left anyone else out.
My mom died in 1985, but he still loved her and never remarried. He talked lovingly about her the night he died and wished she had been there. He thought she was an angel, which, of course, she was. But he took his independence seriously and lived alone in Society Hill Towers in Philadelphia for almost 30 years. He bought that long-term care insurance so he could be independent.
When he had a stroke three years ago and needed round-the-clock help, we had to fight those sons of bitches who wrote the policies to get the money they owed him to pay the nurse. I hate those guys because they tried to beat their obligations. We wouldn't let them get away with it, but don't tell Pop, because getting them to keep their word cost us almost as much as what the reimbursement was worth. I won't mention the company's name, but it was a disgrace, and if you have that insurance or your loved ones do, be prepared for them to try to screw you. I hope they won't. But many will try. I know that now.
My father loved working out. He did so almost every day until his mid-80s, and he was strong as an ox. They called him The Animal, and he had a huge number of friends from the gym. If you are old, keep working out. If your parents are old, buy 'em a gym membership. Do that today. He also had to lift all of the boxes and bags that came from the mill. The truckers were unionized, and they usually didn't help. Even in his 80s. Thanks for nothing, guys -- except you kept him strong.
My Pop loved his country. He volunteered for World War II and made nine hot landings in the Pacific. I went through his papers yesterday and I found his honorable discharge and learned he had won the Bronze Star for valor in the battle to retake the Philippines. I didn't know that. He didn't talk about the war. He said it was too horrible and that they had to kill too many people. He was part of the occupying force in Tokyo, and he said the Japanese were humbled and very respectful. He liked that. He met Tyrone Power, then a soldier, in Kyoto, and Power was nice to him. He never forgot that. He liked that war remembrance.
Pop loved going to the Eagles games with me. We had season tickets with my buddy Tom McGrath. Pop got pneumonia sitting outside during a playoff game in 2005. He never wore more than a light jacket. He was real sick when we went to the Super Bowl in Jacksonville, Fla., to see us lose to the Pats. He wasn't going to miss it. After his bout with pneumonia, Tommy and I split a box so he wouldn't get cold again. We didn't like to miss games. He couldn't go this year, as he was too frail, but three weeks ago he told me he was going to the Titans game this Sunday and that he would be willing to use his walker or a wheelchair.
We sat next to each other every game and he loved cheering, especially on their third down, so the opposing quarterback wouldn't be able to think. He loved the crowd in the box, including the CNBCers I brought. Especially the crew. He loved the crew guys. And the anchors. He always said, "Call me Ken," but they always called him Mr. Cramer. He will always be Mr. Cramer. I will always be Jimmy. We buried him with his Eagles hat.
Most of all, he loved me and my sister and his grandkids, as well as my sister's husband Todd Mason and my wife-to-be Lisa Detwiler. Nan took care of him much better than I did. We were at his bedside when he died at 1:40 a.m. on Nov. 20. He was lucid to the end and, at 10:30 p.m., he said, "Now we know why Sanchez was just the backup quarterback to Foles." He was upset that his last game was the Packer beat-down. He told me former Florida Governor Jeb Bush could win the presidency if he ran. He knew politics well. He gave me some concrete ideas about business two hours before he died, even though he had an oxygen tube in his mouth, which he hated.
My sister and I slept on couches next to Pop at the hospital. He said he was glad he had his pals around him and that he loved us. We said the same. It was the last thing we said other than, "See you in the mernin'," which is how he always pronounced it. But we didn't see him. We went to sleep and when we awoke he was no longer alive. Our last day together was our best one. That's how it should be. Strong to the end.
So long, Pop. We love you.
At the time of publication, Action Alerts PLUS, which Cramer co-manages as a charitable trust, had no positions in the securities mentioned.