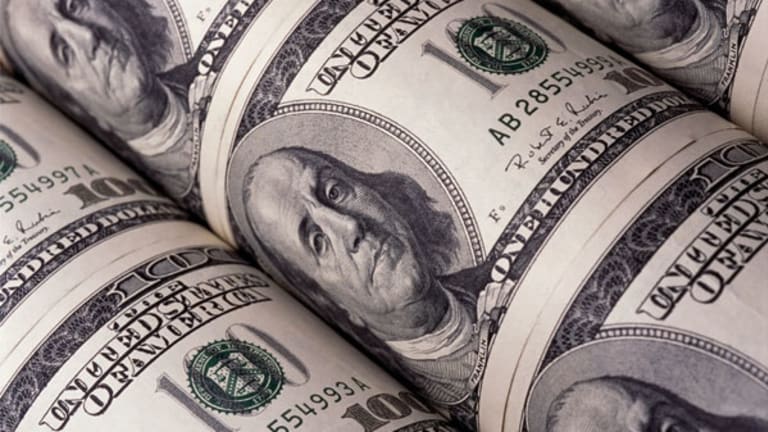 Jim Cramer: On Foolish Knee-Jerk Reactions
It happened again, this time in Apple.
NEW YORK (Real Money) -- It happened again. It's just totally ridiculous. I'm talking about the moronic trading in Apple (AAPL) right after the headlines came out. What did you know? You knew that things were basically in-line on most metrics, and while you didn't get the big guide-down on gross margins, you didn't get much good news on that front, either.
Yet, on the strength of that limited knowledge base, people sent this stock down 15 points on hundreds of thousands of shares. It was lunatic.
If you were involved in this sham of a process, you rightfully got your head handed to you, because the earnings release didn't capture the main reason you might have been negative -- the reason why gross margin didn't go higher: Apple made an accounting change that depressed the announced gross-margin number somewhat artificially. Some revenue that would have normally been included in the quarter got deferred, and that fell right out of the bottom line.
It was pretty shocking to see the scramble back up when the explanation came out on the call.
We are dealing with complicated companies here. Their results are not lending themselves to headline writers who do not understand the complexities that companies face when they try to make their earnings reports as simple as possible. The journalists who follow Apple are almost all uniformly excellent, but, in the end, they are in a race to get the story told. This is race in which there are no winners, because they are all looking at the same models of and the same analysts' forecasts and plugging in what they see and spitting out a story that has none of the nuances of what management might have to say on the quarter.
It's not just Apple. We saw the identical kind of nonsense occurring with
Eaton
(ETN)
last Friday when, you learned, only on the conference call, that orders had turned up in the last month of the quarter and had gotten better in October. A stock that's down $1 is suddenly up $3 not long after.
We even saw it with
Merck
(MRK)
in premarket trading, too. Taking the other side of the buyers there, enthused by an earnings-per-share beat, was like taking candy from a baby, because the revenue was weaker than expected. Plus, any cursory look at the release told you that the much-vaunted diabetes franchise, a big growth engine for a company without a lot of engines, had declining sales. That was a total shocker.
Sure, there have been plenty of instances when it's been worth beating people to the punch. I have seen times this year when so many people had been short the stock of a company with good news that sometimes, psychologically, it was just worth it to take some in when the shares were up a bunch of points. The possibility of a monster squeeze that can wreck a month, after all, is always on the table.
For the most part, though, it has been a stupid thing to do. And, for the life of me, given all of the metrics that now determine what happens with a stock, many of which you do not even hear about until right before the question and answer session, it's often more worthwhile just to take the other side of the trade.
At the time of publication, Action Alerts PLUS, which Cramer co-manages as a charitable trust, was long AAPL and ETN.
Editor's Note: This article was originally published at 6:51 a.m. EDT on Real Money on Oct. 29.