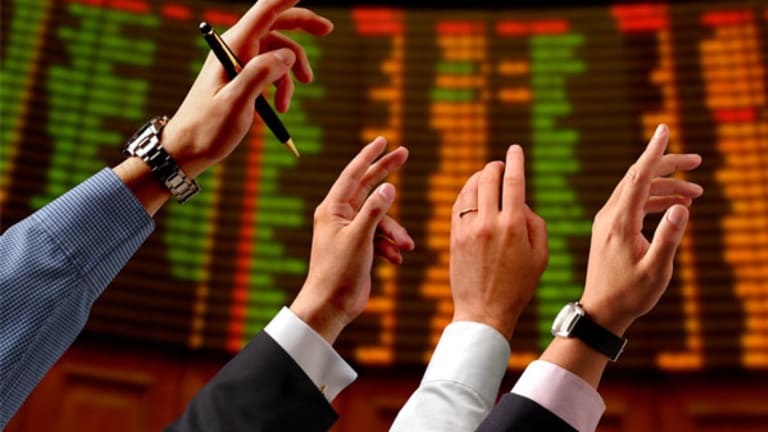 Jim Cramer on Facebook's Pricing
"We need a high price for it to work, but not uncomfortably so -- because that would be a deal hijacked by a frenzied public.
NEW YORK (Real Money) -- We want things to be compliant with Facebook (FB) - Get Free Report. That means we need to see oil stabilize, which it can, since the Cushing, Okla., oil glut is being alleviated by the Seaway pipeline. We need to see Europe stabilize, which it can, given that every short is worried about something good happening this weekend. We need to see gold rise, which is what happens each time the Germans give in to some growth initiative that could be considered inflationary.
We also need to see earnings be smooth -- and the last major company that talked was
Salesforce.com
(CRM) - Get Free Report
with a 38% revenue growth rate, astounding for a multi-billion-dollar company. Plus, Salesforce CEO Mark Benioff confirmed to me that Europe was a major positive because of some huge contract wins, including with
Vodafone
(VOD) - Get Free Report
.
So we have a decent backdrop, for certain.
But we also need to see the frenzy die down -- and that, well, that's not going to happen.
So if we balance the über-exuberance of Facebook with the über-depression of an oversold stock market, maybe -- just maybe -- we'll get a decent day. Of course, that sure hasn't been the case on many Europe-dominated Fridays.
Now, as for the parameters on Facebook: Many institutions are trying to get full positions on the deal. My understanding is that a lot of the buy guys got one-third of a position. There are those who want to be weighted for a big $100 billion-plus company who believe in the $2 earnings-per-share number for 2015, and they would be more than thrilled to pay roughly a 25x multiple -- higher than
Google
(GOOG) - Get Free Report
, lower than Salesforce.com. So I wouldn't be surprised, despite all the flipping and all of the stock supply, if we saw institutions paying up to $50.
If the price goes north of $50, I think they'll back away and that retail investors will control the opening. South of $50 and I bet you'll see some buying for a decently blended average. It would mean they didn't ratchet things up in price at the last minute, and that would be good news. It would eliminate institutions from saying, "It was high at the road show -- now it is ridiculous."
A $38 pricing, plus a $50 close, would give you a nice blended average of what point to which institutions might have feared the actual IPO deal would come.
Less than $40 and you will have real buyers, but people will be scared that it will break the syndicate.
So we need a high price for it to work, but not uncomfortably so -- because uncomfortably high would be a deal hijacked by a frenzied public that must be sold into.
Remember, once this deal happens, Europe news will be in control. That's bad, per se, unless you hear the rumors of worldwide coordination. Of course, without that I think owning Facebook through the weekend would be a high-risk strategy.
It's very high-risk, because nobody I know has a solution for Europe other than a couple of trillion-dollar firewalls that protect the life savings of the ne'erdowell countries' people.
It could also be very high-reward because, if they do it, we will have the short squeeze of a lifetime.
This is fulcrum at work. Be careful.
At the time of publication, Action Alerts PLUS, which Cramer co-manages as a charitable trust, had no positions in the stocks mentioned.