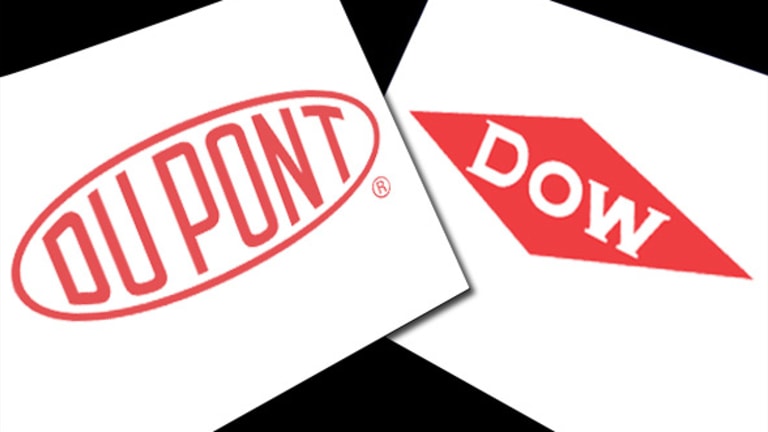 Jim Cramer on DuPont and Dow; Buy Alcoa but Watch Out for Whole Foods
Jim Cramer takes viewer questions from the floor of the New York Stock Exchange. He looks at DuPont and Dow, plus Alcoa, Whole Foods and more.
Taking questions from viewers, TheStreet's Jim Cramer, Portfolio Manager of the Action Alerts PLUS Charitable Trust Portfolio, said Chart Industries (GTLS) is a stressed stock. The drop in oil prices means less shifting to natural gas engines, Cramer said, and this will undoubtedly weigh on the company's performance.
In response to a viewer's question on a potential management shake-up at Whole Foods Market (WFM) , Cramer said the upscale supermarket's brass could help their cause by releasing a detailed strategy for Whole Foods' smaller format stores. Cramer remains cautious on the stock right now because "it's still expensive on earnings."
A viewer inquired about WhiteWave Foods (WWAV) , wondering about the organics space. Cramer said there is concern about the entire group as a result of "knockoffs." Still, he said he owns it for Action Alerts PLUS because his belief remains that "plant-based foods are the future" and WhiteWave is best of breed in that respect.
Exclusive Look Inside:
You see Jim Cramer on TV. Now, see where he invests his money and why WhiteWave Foods is a core holding of his multi-million dollar portfolio.
Want to be alerted before Jim Cramer buys or sells WWAV?Learn more now.
Cramer also responded to a question about whether the sum-of-the-parts valuation for the breakup of Alcoa (AA) still makes it a buy. Cramer said he remains positive on the stock because at $7 per share, investors are "getting the aluminum part for free when they break it up."
When questioned about the outlook for DuPont's (DD) stock in the wake of its merger withDow Chemical (DOW) , Cramer said he is bullish on the company's future. He said that when DuPont CEO Ed Breen takes the helm over the combined entity, he will create tremendous value giving investors "three for the price of two."
Finally, Cramer told a viewer asking about GoPro (GPRO) that it's an "overvalued situation." Remember that it's a speculative stock in a volatile environment, Cramer cautioned, and professional money managers are seeking the stability of blue chips.
Cramer answers viewers' questions in a daily segment with TheStreetTV. Send your questions to him on his Facebook FB page, or on Twitter TWTR. Send questions to him @JimCramer with the hashtag #CramerQ.