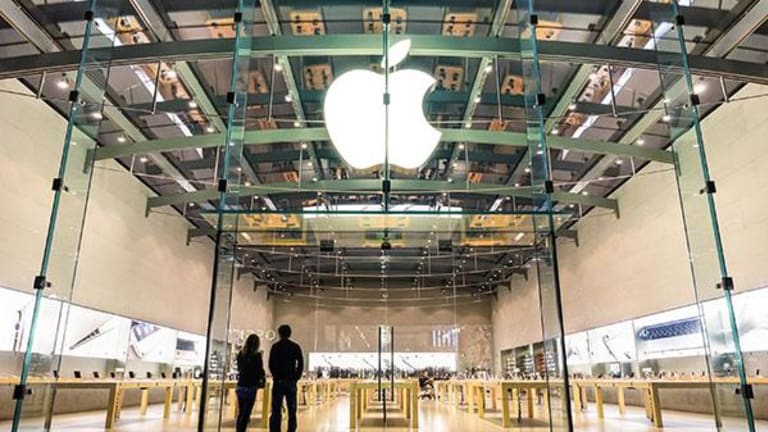 Jim Cramer: Let's Make This Clear -- I'm Not Selling Apple
If you want to sell Apple, go right ahead, Cramer says. He's staying put.
"Turning on Apple (AAPL) - Get Free Report now?" It was a simple tweet and nothing meant by it. Yet, I took it personally.
I'm talking about how on Scott Wapner's Halftime Report and in Real Money I mentioned that Action Alerts PLUS charity portfolio holding Apple had the worst chart in the book, a real rollover pattern, but that I wouldn't try to trade it.
I answered as courteously as I could, saying simply that I was commenting on the chart, not the company. A hideous chart is not enough to make me want to sell the inexpensive shares of a company that makes products I love.
But I totally get where the tweeter is coming from. How can I not turn on the stock of Apple if I think the chart is bad? Isn't it stocks, not companies, that I opine on? If I think the chart is bad, why not just say sell, sell, sell?
Let me answer it in a couple of ways. First, the stock does look like it is rolling over. Given that you have both a European Union tax bill -- one that I think is outrageously unfair, but who cares what I think -- and you have an iPhone 7 launch that does sound totally uninspiring unless you have a cracked screen, the chart is ominous.
Second, the stock's had a terrific run since Tim Cook came on Mad Money after the last quarter and said that the company's products basically speak for themselves. I can see a pullback after any run of this dimension. But as long as the product is the best and the service stream continues to bulk up, it is difficult to say the best days of Apple are behind it and then count the company out.
How good is the product? We each have our stories: The only time I have been separated from my Apple iPhone 5 this summer is when I went into the pool, and that's only because it was so hot that I didn't want it to burn out. Otherwise, I would have risked having it poolside just in case.
Third, can the chart be wrong? In my opinion, a pattern as horrendous as that exhibited by Apple's stock is right now is hardly ever wrong. In fact, it is almost self-fulfilling, given the news flow. Now, I have shorted stocks at times off the charts only to be met with takeover bids, short squeezed and negative news that was met by buying because a stock had already rolled over.
So don't get me started on the idea that it has to be sold.
More important, what happens after the news of the "unexpected" tax bill, which is about as expected as anything I can recall? This could be what the chart was signaling, but as big as $13 billion might be, it is not that big for a company with more than $200 billion in cash.
What happens after the ho-hum 7 comes out, which is about as ho-hum as anyone has ever predicted?
What if Apple, instead of endlessly buying back stock, takes me up on my idea of bolstering its service stream by buyingSirius XM (SIRI) - Get Free Report ? What if the iPhone has something, anything, that we haven't seen? What if there's other news no one has thought of?
What would I have accomplished warning you about the stock's chart? Exactly what I have tried to not have you do: trade it.
Go back to $93, where Tim Cook appeared on Mad Money. The stock looked terrible. If you had traded it, how could you have gotten back in?
What happens if Apple trades down to $100 or $102? Am I going to tell you, after selling it at $106, to get back in at $101? What is this? A hedge fund tutorial? Yes, Karen Cramer, when she was running the trading desk, would have booted Apple the moment I went for a Diet Coke.
But she would scale right back in as it got closer to $100.
And if it went up after the sale? Holy hell.
So my take is this: If you want to trade it, be my guest. The chart says sell. But the company? Bigger than the chart. Worth owning, not trading.
Sorry, I am just not good enough to get you out and then get you back in when the time is right. If you are, be my guest.
Editor's Note: This article was originally published at 6:45 a.m. EDT on Real Money on Aug. 30.
Action Alerts PLUS, which Cramer co-manages as a charitable trust, is long AAPL.