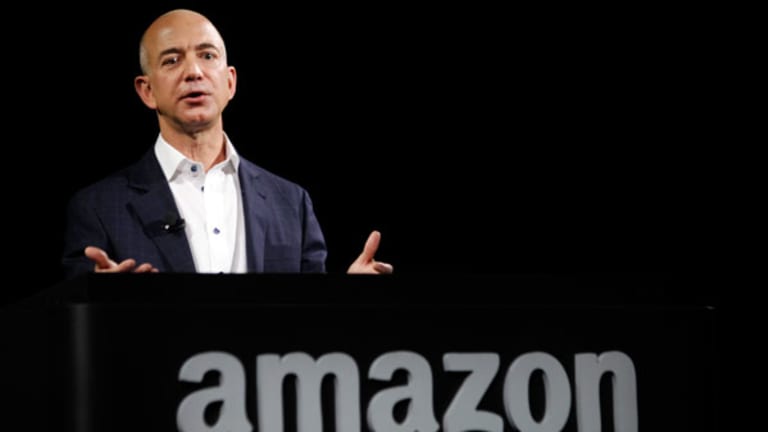 Jim Cramer Is Watching Amazon's Quarterly Results on Thursday
TheStreet's Action Alerts PLUS portfolio manager is keeping an eye on earnings from Amazon, which will be released on Thursday after the markets close.
TheStreet'sAction Alerts PLUS portfolio manager Jim Cramer is keeping an eye on earnings from Amazon (AMZN) , which will be released on Thursday after the markets close. Analysts expect the Seattle-based company to report earnings of $1.58 per share on sales of about $36 billion. During the same quarter last year, the e-commerce giant posted net income of $0.45 per share with revenue of $29.3 billion.
"One of the things people are interested in about Amazon is are they going to compete with FedEx (FDX) and UPS (UPS) ?" Cramer said. "Frankly, they have so much business they can compete -- they need them both and they're obviously very tough to everybody."
Cramer said Amazon is using every single delivery method possible. For those who believe an Amazon-owned shipping and logistics business will hurt FedEx and UPS, Cramer said these are fluid situations, and it will be important to watch for commentary from the earnings report and call on Thursday.
"Amazon desires to take over the world," Cramer said, adding that of the FANG stocks - Facebook (FB) , Amazon, Netflix (NFLX) and the former Google, now Alphabet (GOOGL) , Amazon is the hardest to value.
"[This is] because they don't try to show earnings, but what they do give you is a very big revenue stream," Cramer added. "I remain convinced that Amazon down 100 points from where it was at the high is a decent spec for those who are willing to think long-term. It may go down after the quarter and that may be your best chance to buy."
The aforementioned Facebook is a holding of Cramer's charitable trust, Action Alerts PLUS.
Shares of Amazon are down 12.2% since the start of the year, compared to the broad S&P 500's 6.6% drop. The stock is down 14.2% since its recent high on Dec. 29 of last year. Amazon is up 28.5% since its six-month low on Aug. 24, 2015.