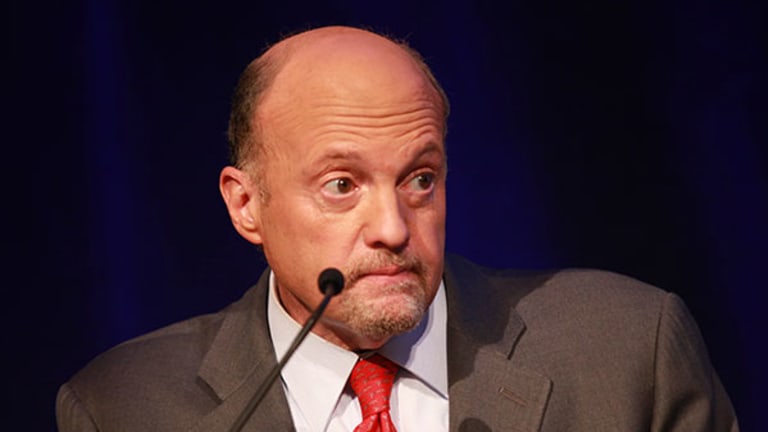 Jim Cramer Is Putting His Money Where His Coffee Cup Is
Jim Cramer doesn't like it when the market has an up opening. But that doesn't mean he's not ready to act when the prices are right.
NEW YORK (TheStreet) -- When it comes to "up" market openings like the one we had today, TheStreet's Jim Cramer says he just doesn't like them. However, he does see an up opening as an opportunity "to get rid of the stuff you don't like."
But what Twitter questioners wanted to know was: Which stocks does Cramer like?
One Twitter questioner asked whether they should hold restaurant stocks Texas Roadhouse (TXRH) - Get Texas Roadhouse, Inc. Report and Cracker Barrel (CBRL) - Get Cracker Barrel Old Country Store, Inc. Report. In Cramer's view, restaurant stocks should benefit from lower gas prices, because consumers should have more money to spend on eating out.
Another Twitter questioner asked if AT&T's (T) - Get AT&T Inc. Report dividend is safe. Cramer said he prefers Verizon (VZ) - Get Verizon Communications Inc. Report to AT&T because the "5% yield is terrific."
Next Cramer talked about where good entry point for Netflix (NFLX) - Get Netflix, Inc. (NFLX) Report would be. "I think Netflix is a great story," he said, "and the entry point is anytime it dips below where it was when it reported that great quarter. If you can get it below $98 or $96, it would be great. I'm not going to tell you to come in now."
Finally, a viewer asked whether Cramer thought Starbucks (SBUX) - Get Starbucks Corporation Report was a stock to hold onto or whether it will go below its pre-split price. "My charitable trust, Action Alerts PLUS, is buying Starbucks," Cramer answered. "There's nothing like having that level of conviction. We're buying Starbucks and some other stocks. We waited and have just a huge cash position and it has really helped us. It's the biggest cash position I can recall, and we're putting some of that money to work now and the stocks are not rallying, or just rallying slightly, given that they've come down so much and Starbucks is one of them."