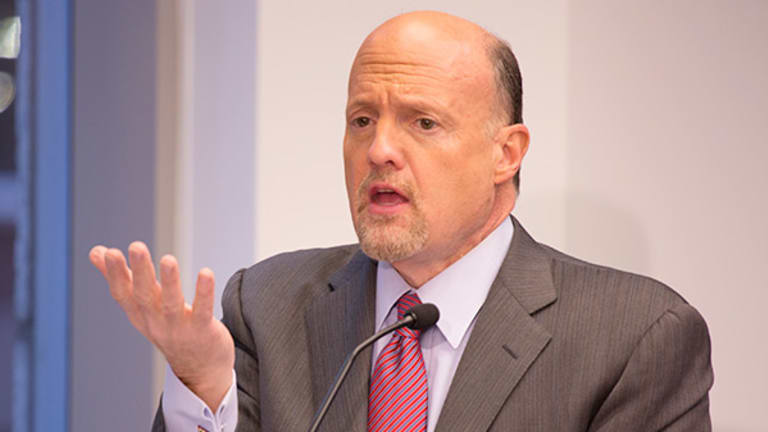 Jim Cramer: How Stocks Will Be Affected by Rising Interest Rates
Having an optimistic outlook is essential to investing. It's going to be harder to find winners in the months ahead, but the positive person unearths them.
I am an optimist by nature. You need to be an optimist in order to invest. You need to because you need to have faith that things can be good for a long time or get better than they are now. You have to bet on progress -- as I have on discouraging days, or middling days like this one -- and that a positive albeit skeptical stance makes you a better investor.
I know some of you may regard that worldview as obvious, but believe me, it is anything but. That's because we are on the eve of a tightening cycle, where the Fed is going to raise rates, perhaps multiple times, over the next year. Each hike will test your ability to stay in stocks. Each hike will make stocks more risky to own. That's why I think it's important to emphasize that a positive bias might put you in good stead because there are many stocks of many companies that will do quite well even if the Fed is measured and considered about its hikes, making sure the economy absorbs them without too much of a slowdown.
Why do I care about that risk? Because as much as I accept the fact that the Fed will need to raise rates because employment is too strong not to do so, I also see so many areas of the economy that are weak that I surely wish they didn't feel they had to take rates up.
Manufacturing, for example, has slowed as a strong dollar has made many of our companies uncompetitive overseas versus those entities that sell in local currencies.
Retailers and restaurants are reporting very weak numbers, so weak that the stocks have been caught up in a vicious bear market.
Oil and gas companies have had to cut back their efforts to find out and build pipelines dramatically because there's such a glut of both.
The strength is in housing and autos. But take today. We got a fantastic earnings and order report from DR Horton (DHI) - Get D.R. Horton, Inc. Report , the gigantic homebuilder, and its stock rallied more than 8% and is on the verge of a 52-week high. The first thing I thought of when I saw the report wasn't "Wow, what a terrific quarter." Instead I said, "Oh, man, I hope the Fed doesn't say housing's doing too well, we have to raise rates immediately." No doubt Horton's strength will not be used against it.
I feel the same way every time I see strong auto numbers. I just am concerned that the Fed is wary about any strength and doesn't recognize that the strength is in pockets and can be taken away at a moment's notice.
So if I am so concerned, what's there to be optimistic about? What can go right during a series of rate hikes that would make you want to own stocks?
First, we could use some help from overseas. If Europe were to start growing with some alacrity, then it wouldn't be so determined to debase the euro at our expense. If China were to suddenly pick up steam, then we would be able to sell more exports to them. If somehow Latin America were to stabilize, with Brazil getting something right, it would be terrific. We wouldn't have to worry so much about this soaring dollar if any of these places actually got better.
Second, we need help from the government. We need it to stay the heck away from business. If it wants to do something right, spend some money on infrastructure to rebuild our crumbling roads and rails. Spend some money on defense to deal with our enemies and show our would-be opponents we mean business. Boy, wouldn't it be something if our government just stayed out of the way of companies trying to hire and grow?
Third, credit has to get easier. It's one thing if rates go higher -- the market can handle slow, steady increases in rates. It is another thing if rates go higher and credit stays tight as it is now. That means fewer projects, less expansion, and cancellation or postponement of major decisions for fear of where rates ultimately will go. But if credit is easier to come by even though it is slightly more expensive, it can balance out.
Fourth, we need to find particular kinds of companies that can raise prices in this environment because when rates go higher investors aren't willing to pay as much for future earnings. The price-to-earnings multiples shrink. Some of that is because we don't care as much about the yields stocks give us, because if we just want income we can go buy bonds that yield as much as stocks but don't present as much risk. But much of the reason to pay less for stocks has to do with the inability of companies to make as much money in a rising-rate environment as they did in a lower rate-environment.
But some can?
What are examples? First, the banks. Remember, they are literally putting through a price increase with every quarter-point increase. Remember, stocks go higher when earnings go higher -- even in a rising rate environment, especially when they exceed the estimates. Banks will all exceed current estimates each time the Fed raises because most people are not looking for multiple rate hikes, and I think we will get them.
Who else can put through price increases? Companies without much competition, which is why, for example, I like Constellation Brands (STZ) - Get Constellation Brands, Inc. Class A Report , which sells Modelo and Corona here and competes against a handful of beer companies that seem very inclined not to have a price war.
Or companies like those that make up FANG: Facebook (FB) - Get Meta Platforms Inc. Class A Report , Amazon (AMZN) - Get Amazon.com, Inc. Report , Netflix (NFLX) - Get Netflix, Inc. Report and Google, which is now called Alphabet (GOOGL) - Get Alphabet Inc. Class A Report but still has the Google stock symbol, and along with Facebook are both part of the Action Alerts PLUS portfolio.
Think about it. Who is going to have a price war with Facebook? It doesn't even have any competition! And in a world where content is both king and expensive, you make up the content and advertisers love it!
Everyone wants to be Amazon but no one has spent the money to compete. That's why Amazon could raise the price for Amazon Prime and I doubt anyone would balk.
Netflix? There's a soon-to-be international service that seems radically underpriced given its library and its original programming.
Who is going to get into a price war with Google? It has been taking share in search for years and YouTube is a de facto homegrown worldwide television show with millions of entries that don't cost Google anything to make.
I have tons of other situations that will work, too -- situations such as McDonald's (MCD) - Get McDonald's Corporation Report , where CEO Steve Easterbrook announced changes today that will bring out even more value than he has done already. Or companies such as Allergan (AGN) - Get Allergan plc Report -- another part of the Action Alerts PLUS portfolio -- that are taking share from a pitifully hobbled Valeant (VRX) as they are head to head in so many different markets.
The main thing you need to know, though, is that it's going to be harder to find winners, but an optimist finds them. A pessimist dismisses them. Take it from me -- the pessimist will win a few portfolio battles, but he will definitely lose the bank account war.
Action Alerts PLUS, which Jim Cramer co-manages as a charitable trust, is long FB, GOOGL and AGN.