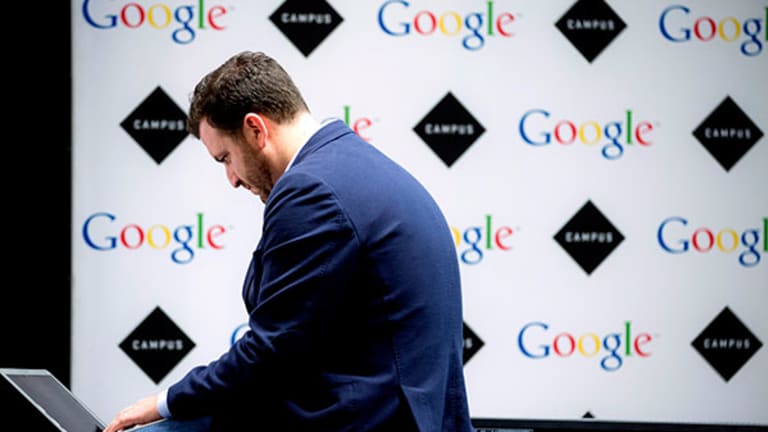 Jim Cramer -- Here's How Rivals Can Profit While Google Is Down
In a host of industries, everyone expects Google will either buy key service providers, or launch competing services. But while the FTC stalls Google, other companies could outflank it.
NEW YORK ( Real Money) -- The natural buyer for every major service vertical has left the building, and it is time for others, who want to have relevance on the web, to step up.
When you sit down with anyone of import in the restaurant, hospitality, travel, entertainment and real estate businesses, it doesn't take long before they get around to the idea that Google (GOOGL) is either going to develop a competing service to the ones they use, or that Google is going to buy the one that they are stuck with or have to use it because it owns the space.
But right now, because the scrutiny is on Google, whoever else is out there -- Microsoft (MSFT) or Yahoo! (YHOO) or Pricelineundefined or even Gannett (GCI) being the most obvious -- has a chance to make a bold move that checkmates Google before it even starts to acquire or spend a lot of money to develop a competing service -- although of those four, only first three have the stock and cash to be able to make it worthwhile.
Think about it like this. Is there any doubt that the restaurant and hotel ratings businesses are going to be terrific businesses as the web becomes more persuasive? How about home rentals? How about real estate buying?
But because of the weird dichotomy between the private markets, where the valuations are pretty ridiculous even as they will probably hold up if the market gets more buoyant, and the public markets where only profitable growth is tolerated, there is a once-in-a-lifetime chance to move while Gulliver Google is tied down by the feds.
What should be done? I would roll 'em all up: Zillow (Z) for real estate, Grubhub undefined for delivery, Yelp (YELP) for ratings, HomeAway (AWAY) for housing rental and TripAdvisor (TRIP) for research (Priceline can't buy it, too anti-competitive, and Gannett doesn't have the money). I would put them in one huge travel, entertainment, real estate and leisure vertical, and I would bill myself as the one-stop location for all going out and going away needs.
Put simply, what you would be doing is recreating an online but viral newspaper that would allow you to figure out what you want to do -- stay in, stay out, go away, rent, buy -- and the site could be both advertising- and subscription-supported.
Right now, the kingpins in these areas are still solidifying their grasp, but still worry about Google using its reach to wreck them. Zillow just bought Trulia for game-set-match in real estate. Yet the market value of the company reflects none of that dominance, because the market won't tolerate the spending right now. HomeAway doesn't have the growth that some would want, but with the right deep-pocketed partner, it could morph into Airbnb, meaning an insane valuation could be right around the corner. TripAdvisor is really about the only player left in a fabulous space -- I would have loved to have married it with Concur Technologies (CNQR) , but SAP swallowed it up as part of a suite of cloud products.
The long knives are out for Yelp but, trust me, if the market didn't demand profitability, it could really extend its reach. Grubhub seemed like a simple delivery service, but has taken New York by storm and is building out its network everywhere. It turns out that staying at home and ordering in is something that's loved, even though the restaurants hate the cut they have to give Grubhub. So what. They do.
It's extraordinary what's for sale and what can be accomplished by a forward-looking company that doesn't have to fear Google anymore because of the FTC. How can one of these companies not recreate the newspaper that's viral and customer-driven, meaning little to no cost to those who operate it if it settles into dominance?
All of the potential acquirers have capital, but aren't showing the growth the market wants. All of the targets have growth, but don't make enough money to build out. Nobody wanted these properties, for fear of Google coming in. The time to take advantage of Google's weakness is now, before a new administration comes in and looks the other way again. Will they take it? Wrong question. Should they? Absolutely.
Editor's Note: This article was originally published at 7:08 a.m. EDT, March 31, on Real Money.

Must Read:7 Top Science Fiction Projects That Could Make or Break Google, Amazon or Facebook
At the time of publication, Jim Cramer's charitable trust Action Alerts PLUS held positions in Google and Microsoft.