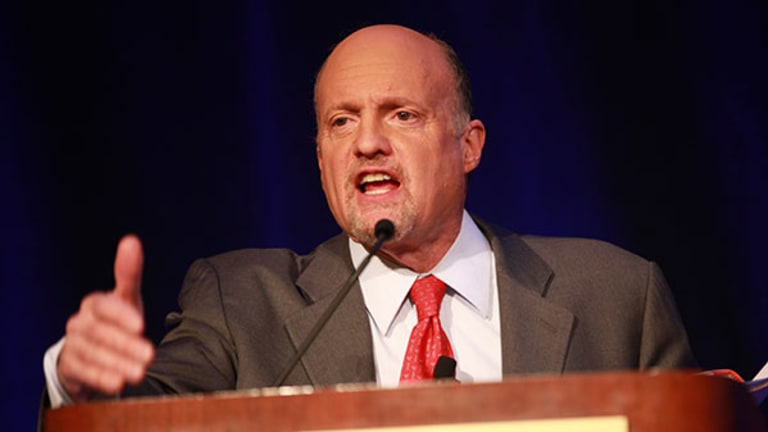 Jim Cramer: Focus on Shales
Horizontal drilling in the U.S. leads to domestic -- and profitable -- bliss.
Editor's note (Part 7 of 7): The following is text from Jim Cramer's keynote speech at The Deal Economy Event on Dec. 5 at the New York Stock Exchange, New York City. To watch video replays of the event, click here. To read more content from Jim Cramer on Real Money, click here.
NEW YORK (TheStreet) -- Final theme? Oil and gas. We hear a lot about this revolution in our country and there are multiple ways to play it. I think we have to focus on the success of four shales, the Bakken in North Dakota, The Eagle Ford and Permian in Texas and the Niobrara in Colorado. These are the most oil-rich plays, with both the Eagle Ford and the old Permian being the biggest beneficiaries of the new form of horizontal drilling that's allowing us to find much more oil than we ever thought still existed in this country.
The Eagle Ford and the Permian can best be played with EOG (EOG) - Get EOG Resources, Inc. Report
If he's right, and we will know in 2014 if he is or not, you could see the stock advance 30-40% after a couple of excellent quarters where guidance is raised and production increased dramatically.
But my favorite, the independent that might be the next major, is Noble (NBL) - Get Noble Energy, Inc. Report, which dominates the Niobrara and also has the biggest natural gas field perhaps in the world adjacent to Israel. This field, the Leviathan, is incredibly important because it is able to break the stranglehold that a newly-threatening Russia currently has on the natural gas market in Europe. I think it's a double.
More aggressive types might want to buy Linn Energy (LINE)  ahead of its closing of the Berry Petroleum deal next month. That company with its almost 10% yield, should be able to travel from $30-36 in a short period of time once that deal's finished. EOG and Pioneer are natural takeover targets, particularly the former now that the man who built it, Mark Papa, is stepping down this year. It's up 50% on a takeout at a minimum.

Best Ideas from AAP
I can't leave you without some ideas that my charitable trust, Action Alerts PLUS, has recently been buying. Our biggest position is Johnson & Johnson (JNJ) - Get Johnson & Johnson Report, a company I featured last year as a breakup candidate and which I believe is, at last, on the verge of doing so. This is a stock that's rallied some 30% under Alex Gorsky, the hard-charging CEO who has had to spend the last 18 months cleaning up from his processor, but is now ready to grow the company and split off laggard divisions.

We like Emerson (EMR) - Get Emerson Electric Co. Report, the next big industrial that we think is ready to roar on a turn in China. Finally, there's the position that I think has the most short-term potential but nobody really champions and that's Bank of America (BAC) - Get Bank of America Corp Report because it's finally gotten its litigation woes behind it and is now focusing on growth with a terrific deposit base to work from.
Morgan Stanley (MS) - Get Morgan Stanley Report, an excellent performer in the last year, still has a lot of upside too.
Can 2014 repeat the performance of 2013? I have no idea.Can the stocks that fit these themes beat the market? Ah hah, I think they could have the same success as last year's picks although, unlike last year, I sure don't have the luxury of speaking to you at the lows of 2013. I know if any of the deals I alluded to finally happen we could have a shot at beating last year's performance.
Considering that the stocks of the acquirers often rise as much as the targets these days, you would think that the cyclical trough in M&A will now be upon us. To this I say anything's possible ... but, above all, do not hold your breath.
Best of luck to all in 2014.
Click here for Part 6.
At the time of publication, Cramer's Action Alerts PLUS had positions in NBL, LINE, JNJ, EMR, BAC and MS.