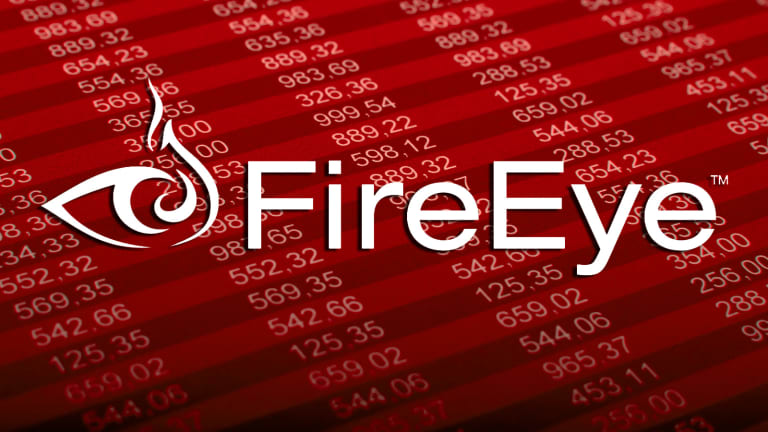 Jim Cramer -- FireEye and Other Cybersecurity Firms Are a Long-Term Play
In the view of TheStreet's Jim Cramer, while some cybersecurity companies aren't making money now, they're likely to later.
NEW YORK (TheStreet) -- In light of the recently revealed breach of taxpayers' data from the IRS, Jim Cramer thinks its a good time to talk about investing in  cybersecurity firms such as FireEye (FEYE) .
In Cramer's view, FireEye's CEO told a compelling story last week on CNBC's "Mad Money." The company held a convertible offering on Tuesday, some of the proceeds of which will go toward a stock buyback. Cramer noted that while FireEye and other companies in its arena aren't making money right now, hackers are a long-term problem, cybersecurity is a long-term need, and investors should take the view that these shares are long-term positions.
Cramer also commented on the Shopify (SHOP) IPO, noting that he likes its affiliation with Tesla (TSLA) . He's not sure if it will have the same success as Shake Shack (SHAK) , and thinks there will be some sellers in Shopify.  Moving on to a more traditional retailer -- J.C. Penney (JCP) -- Cramer said it had an OK quarter, but apparel is not selling well. He prefers Target (TGT) , which has a big analyst meeting coming up. In fact, that's a stock he's included in his Action Alerts Portfolio.
Jim also answered questions on some pharmaceutical stocks, including Raptor Pharmaceuticals (RPTP) , which he likes. He's done a lot of research into Raptor, and says they have interesting products. In his view, the stock has a lot of street support already, but it could go higher.  In his upcoming webinar, he will focus on some of the more interesting takeover prospects in the biotech world, and Raptor is one of them. Speaking of mergers and acquisitions, Cramer also said he does not think Teva Pharmaceuticals (TEVA) will be successful in its bid to take over Mylan (MYL) . The companies "hate" each other, he said, and while Teva needs to make a move, he doesn't think it will get Mylan. 
Finally, Cramer discussed gaming stocks: Watch the earnings report of GameStop (GME) , he said -- its numbers could hurt the related stocks of Electronic Arts EA, Activision (ATVI) and Take-Two Interactive Software (TTWO) . If that happens, he said, consider it an opportunity to buy shares of Activision.
Must Read: Jim Cramer -- Here's Why I'm Buy, Buy, Buying J&J and Selling Merck