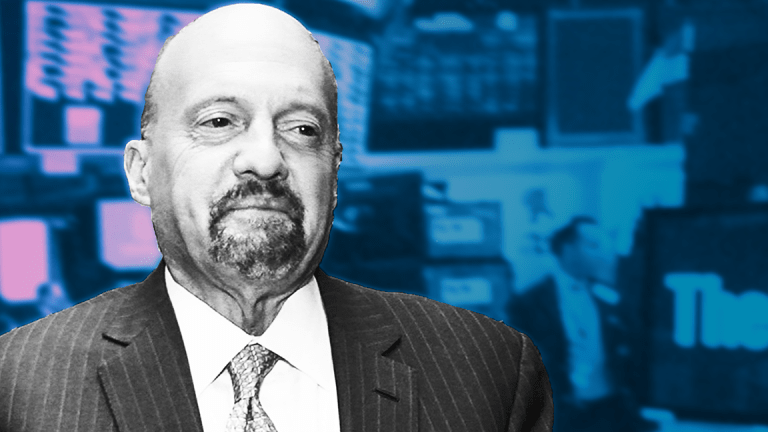 Jim Cramer Says 'Cloud Kings' Are a Better Bet Than FANG Stocks Right Now
Jim Cramer encourages investors to consider his newly crowned group of seven stocks in a speech made at TheStreet's Investor Boot Camp in New York this past Saturday.
Respect the kings of the cloud. 
At TheStreet's Investor Boot Camp conference this month, TheStreet's founder Jim Cramer said a group of data firms that leverage cloud computing are better bets in today's market than even the FANG (Facebook (FB) , Amazon (AMZN) , Netflix (NFLX) , Alphabet (GOOGL) ) stocks. 
Cramer listed seven data companies that he believes "offer the best opportunities for trading," referring to them as "Cloud Kings." "I genuinely believe that we are early on in sophisticated cloud adoption that can harness these companies' tools," Cramer noted. 
The seven companies cited by Cramer are Salesforce.com Inc.  (CRM) , Workday Inc. (WDAY) , ServiceNow Inc. (NOW) , Splunk Inc. (SPLK) , New Relic Inc. (NEWR) , VMWare Inc. (VMW) , and Adobe Systems Incorporated (ADBE) .
"We, fortunately, do not have an ETF [exchange-traded fund] for what I call these newly anointed Cloud Kings so they still trade on their own. As much as I like FAANG, and I do...I think the Cloud Kings offer the best opportunities for trading if only for one reason -- the media has become obsessed with FAANG...[and they] saturate our brains endlessly with 'FAANG is dead' stories on any day that they are down [in the market]," said Cramer towards the end of his speech.  
Facebook, Amazon and Alphabet are holdings in Jim Cramer's Action Alerts PLUS.