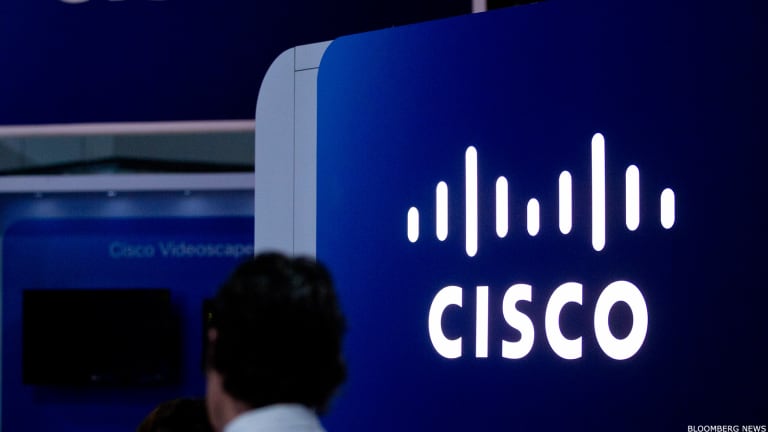 Jim Cramer -- Cisco-Synata Deal Is a Game-Changer
Cisco Systems recently announced it has acquired cloud-based search startup Synata in a deal that Jim Cramer considers hugely significant.
Editors' pick: Originally published March 11.
Cisco Systems (CSCO) - Get Report recently announced it had acquired cloud-based search startup Synata in a deal that we consider game-changing.
To characterize Synata as a nice yet modest addition to Cisco Spark would be a gross understatement. The cloud-based communication platform underpins the majority of the company's $4 billion Collaboration business and enables customers of all sizes to message, meet or call within a secure, cloud-based platform.
Our deep-dive analysis over the past two days has led us to this surprising conclusion: The deal is uniquely transformative as it solves the once-impossible task of marrying impermeable security with world-class search functionality. We believe the partnership has the potential to revolutionize cloud-based communications and, in doing so, unlock a previously untapped addressable market while empowering Cisco's existing ecosystem.
Exclusive Look Inside:
You see Jim Cramer on TV. Now, see where he invests his money and why Cisco is a core holding of his multi-million dollar portfolio.
Want to be alerted before Jim Cramer buys or sells CSCO?Learn more now.
Silicon Valley has long dismissed the possibility that a cloud-based collaboration/messaging platform could provide complete security along with optimized search capabilities. The objection is understandable -- if you want to encrypt your data end to end, you naturally lose the ability to search (in other words, how can you search for something you can't see?). When it comes to its cloud business, Cisco has made security its top priority, often at the expense of user adoption and growth.
Enter Slack, the San Francisco-based venture capital darling that provides text and video messaging and collaboration apps that enable users to communicate in a user-friendly but unencrypted format. As Slack gobbled up users (to the tune of 2.3 million daily active users, 700,000 of whom are paying) and commanded high valuations (most recently, Tech Crunch reported Microsoft (MSFT) - Get Report was at one point considering Slack as a potential buyout target for as much as $8 billion), Cisco felt increasing pressure to ditch its security efforts for the sake of enhancing functionality and general usability.
Instead, management -- particularly Collaboration head Rowan Trollope -- remained resolute and refused to sacrifice Cisco's relentless focus on security, well-knowing that it would put them at a competitive disadvantage in terms of adoption and growth. Cisco has not watched Slack's rise idly, however; over the past three years it has aggressively built the cloud business from the ground up via strategic business acquisitions, talent acquisitions (poaching the chief technology officer at Skype as well as a small army of consumer technology, security and software experts) and the creation of the Collaboration Development Center.
The security bet paid off.
Just under a year ago, Slack's central user database was hacked for up to four days, compromising data, including email addresses, usernames, encrypted passwords and, in some cases, phone numbers. While it did not kill Slack's steam with the venture capital community, it exposed the vulnerability inherent to any cloud-based communications model that lacked end- to-end encryption. Cisco's patented communication encryption technology became increasingly relevant to any business -- large or small -- that has zero margin for error when it comes to privacy.
So why was this week's announcement so transformative?
While Cisco Spark had proven its worth as the most secure video, voice and messaging platform in the world, Synata's technology allows users to search highly encrypted data in the cloud; once integrated, customers will be able to search rooms and content within Cisco Spark to find the most relevant information quickly, intelligently and securely.
Cisco also announced it has established a $150 million Spark Innovation Fund to spur select app development startups (particularly in hot areas like artificial intelligence bots and security integration) to design apps for corporations on the Spark platform. The investments will range from direct equity stakes to joint partnerships, all of which facilitates the sharing and incubation of ideas on top of Cisco's platform.
Cisco will allow developers to build apps on the Spark platform for free. This is a strategic move intended to create a two-sided marketplace that is mutually beneficial for software developers and enterprise customers alike, where enterprise customers benefit from the burst of custom apps, integration tools and software solutions, and developers benefit from unfettered access to Cisco's sophisticated, secure and unified platform.
The bottom line is that Cisco's announcement should not be overlooked. Collaboration -- already the company's fastest-growing business (and largest behind switching and routing) -- appears to have increasingly emerged as not only a leader but an innovator in enterprise messaging and collaboration, all while creating a virtuous ecosystem around which future innovation is likely to rotate.
We expect to learn more about the potential; what remains clear is that Cisco is emerging from the depths of old tech and into the forefront of the future.
Editor's Note: This article was originally sent to Action Alerts PLUS subscribers at 5:42 p.m. on March 10.
At the time of publication, Jim Cramer's charitable trust Action Alerts PLUS was long CSCO.