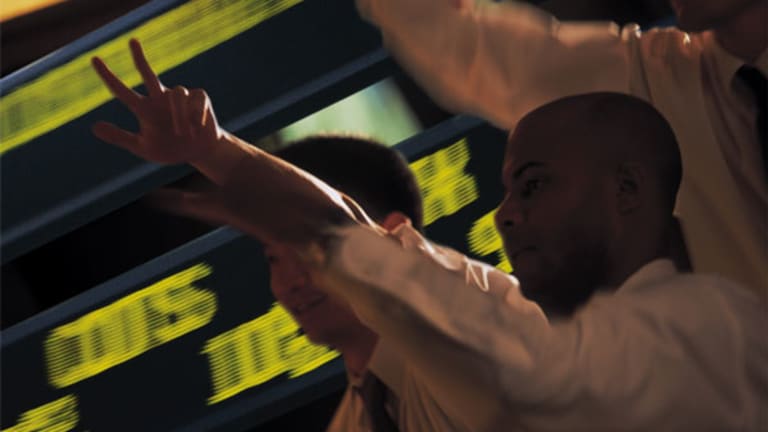 Jim Cramer: Chipotle's Simple Winning Ways
It just sold a ton more burritos than you thought it could.
NEW YORK (Real Money) -- And the winner is, Chipotle (CMG) - Get Chipotle Mexican Grill, Inc. Report!
Lots of times people ask me how a stock can jump so much in one particular day. Usually I have to talk about gross margin inflection points or shrinking to grow or some sort of fancy explanation involving a cut in capital expenditures at the same time as an acceleration in revenues.
Then Chipotle will come along and make it all so easy.
It just sold a ton more burritos than you thought it could.

WATCH: Jim Cramer says Chipotle is 'Remarkable'
This quarter is a testament to everything that Chipotle is and everything that McDonald's (MCD) - Get McDonald's Corporation Report isn't. If you had to bet, you would think that the new customers came from its former owners, streaming there as they watch incredibly funny Farmed and Dangerous film clips (and how brilliant is that name, anyway?).
But Chipotle is more than just natural and organic, even as its ethos is clearly food-chain oriented. It is all about promoting the best people and getting them to be able to move traffic along throughout the day in an orderly way so that more customers can be served at peak hours. Both Chipotle and Starbucks (SBUX) - Get Starbucks Corporation Report have wrestled with this and largely succeeded, where many others, including, lately, Panera Bread (PNRA) , have failed. You only get so many minutes to capture and process those patrons and nobody does it in quick-serve better than Chipotle.
Plus, people like the fact that they are going into pizza now, not just the Asian kitchen initiative. I found myself thinking that chipotle could one day be the natural and organic Yum! Brands (YUM) - Get Yum! Brands, Inc. Report.
But still, it does come back to the overarching theme that people, particularly younger people, hate the food chain and would do anything to be sure they are not connected with it. The same cord-cutting, cellphone-strutting demo wants to try the vegetarian offering, the Safrita, not because they are vegetarians, but because they are health conscious and think that vegetables actually taste better than meat and chicken.
Look out bears. Today Chipotle is Unfarmed and Dangerous.
Action Alerts PLUS, which Cramer co-manages as a charitable trust, is long YUM.
Editor's Note: This article was originally published at 5:55 a.m. EST on Real Money on Jan. 31.