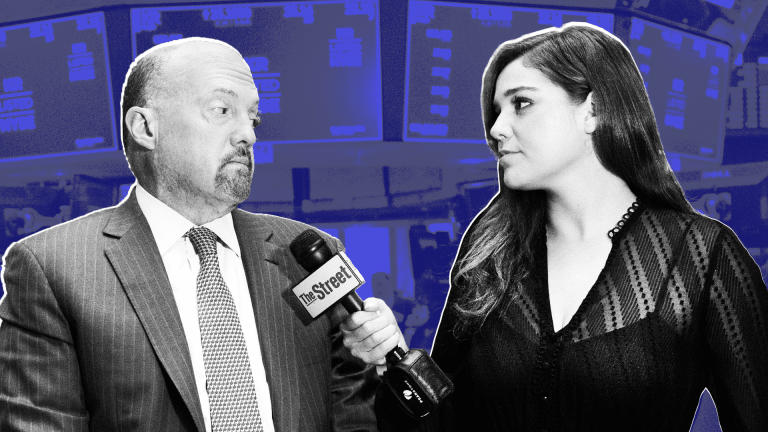 Happy Veterans Day: Jim Cramer on Caterpillar, Trade War and Apple
Let's talk about Caterpillar, the trade war and Apple's credit card with Goldman Sachs.
Let's take a moment to thank any and all veterans who have served.
Jim Cramer is talking Caterpillar (CAT) - Get Report , and the scrutiny that Apple's (AAPL) - Get Report credit card with Goldman Sachs (GS) - Get Report has come under. 
Let's Talk Trade
So, looks like we're not getting a trade truce.
President Donald Trump said on Friday that he's not planning on rolling back tariffs. 
Cramer took a look at a company--CAT--which has been able to come back from being dragged down by the negative headlines in China. 
"But I know of no one who expected it to put on an amazing rally, one that doesn't even seem linked to China. Now, a couple of things are in play here. One is that the company has actually been diligently working to cut down exposure to China as part of its mosaic of business. They aren't simpletons at this great company. When it became clear that China was no longer a trough to feed in they worked hard to diversify away from the PRC," wrote Cramer. 
So, why is Cramer focused on Caterpillar?
What's Going on With Apple and Goldman Sachs?
The New York Department of Financial Services will investigate Goldman Sachs for possible sex discrimination in the way it sets credit limits.
The investigation follows a series of viral tweets by entrepreneur and web developer David Heinemeier Hansson about algorithms used for the Apple Card, which Goldman Sachs manages in partnership with Apple.
Cramer focuses in on the long-term impacts the headline could have on Apple stock. 
Bull Market Fantasy: LIVE TUESDAY & THURSDAY @10:45AM
Subscribe to our Youtube Channel for more videos : Listen our latest Podcasts on Soundcloud
Catch Up: Today's Top News Videos Below