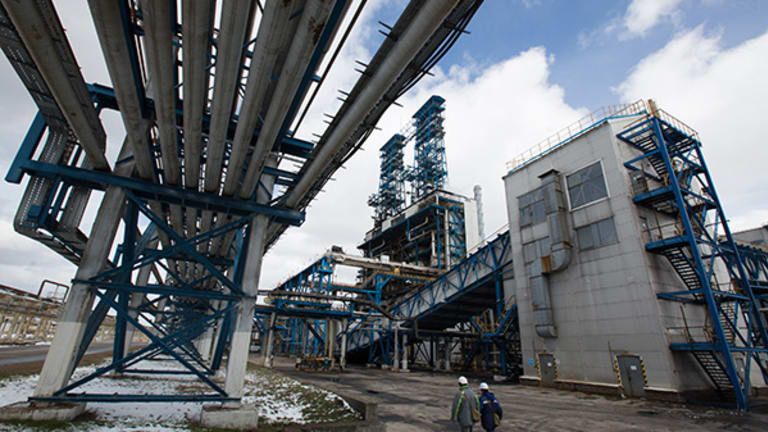 Publish date:
Jim Cramer Calls Saudi Arabia, Russia Oil Deal a Hoax
Banks are going to be suffering because of lower oil prices.
Banks are going to be suffering because of lower oil prices.
It was always a hoax. That's what I have to say about the so-called deal between Saudi Arabia and Russia to limit oil production to slightly more than 10 million barrels each if Iraq and Iran don't raise their production further than current levels roughly between 3.5 million and 3.25 million barrels a day.
It was always the stated goal of both Iraq and Iran to dramatically raise production, which would then put pressure on Russia and the Saudis to raise, too.
So I don't know why anyone would possibly be shocked when the Iranian oil minister last night called the proposal ridiculous, especially because of the billions in oil contracts being let to oil service and oil companies to boost production in that now unsanctioned country.
Given that this whole chimerical agreement was struck when oil was at $26, causing short covering to the $33 level, it seems realistic to expect oil to go back down to that level or even further now that Iran has ridiculed the proposal.
Now, there's an overwhelming sense from pretty much everyone I hear on air that we should expect very big declines in North American energy production that could somehow allay fears that the decline will accelerate in 2016.
But the figures, according to RBN -- the only outfit that has gotten it right so far, run by Rusty Braziel, author of the best-selling book The Domino Effect -- show only a very slight decline in production, because of all of the oil coming on from the Gulf of Mexico, where post-Macondo projects are just ramping up; we are getting an acceleration of heavy crude coming from Canada too, as the oil sands gook finally flows in earnest, even as the companies are making nothing per barrel or even losing some in their inability to turn off the valves.
The Gulf of Mexico numbers are really daunting for the oil bulls, as production should hit 1.84 million barrels in the first quarter of 2017, a 16% increase year over year. It won't make up for the expected decrease from 7.4 million barrels a day in 2015 in the lower $48 to 6.6 million in 2016 and 6.2 million in 2017, but all in that's hardly a drastic decline. The net impact: U.S. crude all in will slip from 9.43 million barrels a day in 2015 to 8.7 million in 2016, to 8.4 million in 2017. That's only a one million barrel reduction from last year to 2017!
Let's make it worse: the incredibly expensive Canadian oil coming to the U.S. will actually ramp up in 2016, going from 3.9 million barrels per day in January to 4.1 million barrels in December. Since Canada already is full up, that overage is coming here. Now you are talking about only a drop of 800,000 barrels a day in 2016 for Canada and the U.S., which is a pittance.
Given that the now stated goal of the Saudis is to knock out our production in 2016, you now know that can't happen. So they will play the long game and keep pumping, even if Russia is maxed out here. You could see an additional 3-4 million barrels of oversupply from Iran, Iraq and the Saudis more than making up for any drops.
The impact? Good for those who believe the consumer is going to like lower for longer gasoline prices. But disastrous for the independent energy companies and therefore, as we now know, for the U.S. banks.
Yesterday's revelation of the real exposure of JPMorgan (JPM) - Get Report to oil and gas -- $44 billion, with almost 40% coming from the highly endangered exploration and production companies and 19% from the oil service companies -- means that you are talking about $26 billion at-risk loans even if senior secured might be worth much less than that, even as JPM has only reserved $1.3 billion for its entire portfolio and said it would add another $1.5 billion if oil goes down to $25 a barrel. Well, here we come!
Wells Fargo (WFC) - Get Report has $42 billion in exposure to the sector, with 45% being exploration and production and 20% oil field services. It has reserved $1.2 billion for its oil and gas, which, again, even though it is relatively secured, would seem to be way too low. Bank of America (BAC) - Get Report has only revealed its utilized exposure -- not its entire exposure, as Wells and JPM have -- and that comes to $21 billion and it, too, has underserved at these prices. We are holding Bank of America and Wells Fargo in our Action Alerts PLUS charity portfolio.
So put it all together and you have some real hurt coming for the E&Ps and the banks, as oil goes lower. We just haven't seen it yet. That's right, even after all of these declines, we've not had the pain you can expect for both banks and oils as we trend back to $26 a barrel, where we were before the faux deal came about.
Get an email alert each time I write an article for Real Money. Click the "+Follow" next to my byline to this article.
Action Alerts PLUS
, which Cramer co-manages as a charitable trust, is long BAC, WFC.