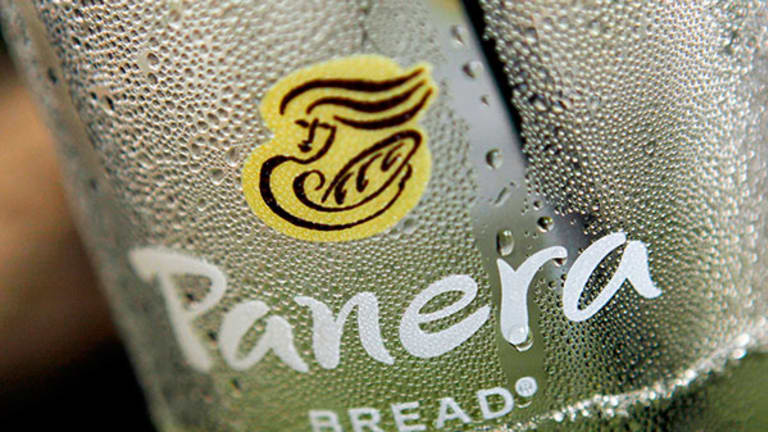 Jim Cramer -- Buy Panera, WhiteWave, Target Now; Don't Fall for GoPro
TheStreet's Jim Cramer, Action Alerts Plus Portfolio Manager and host of CNBC's 'Mad Money,' talked about Exxon and Chevron Friday from the floor of the New York Stock Exchange.
TheStreet's Jim Cramer, Action Alerts PLUS portfolio manager and host of CNBC's "Mad Money," talked about Exxon Mobil (XOM) - Get Exxon Mobil Corporation Report and Chevron (CVX) - Get Chevron Corporation Report Friday from the floor of the New York Stock Exchange.  Both companies reported better-than-expected earnings. 
Cramer said the earnings benefited from refining operations, and the stocks have been rising because Exxon and Chevron have reduced their capital expenditures.  Cramer added that the companies have figured out what to do in a low oil price environment, but at this point he thinks the stocks are a little too high. 
One viewer asked about Panera (PNRA) , which Cramer said he wants to buy. He noted the last quarter was not good for the company due to increased labor and technology costs, which might keep some investors away. But Cramer said it's a mistake not to be in the stock, and the company is buying back a huge amount of shares.
Cramer was asked if GoPro (GPRO) - Get GoPro Inc. Report is a buy on Friday, given its big decline on Thursday. He responded that he continues to be negative on the stock.
Another viewer asked if there was anything wrong with WhiteWave (WWAV) . Cramer said the stock "acts really horribly" and will go lower, but he wants to buy more. The stock is a big position in the Action Alerts PLUS portfolio.
Cramer points out that other stocks, like Hain Celestial (HAIN) - Get The Hain Celestial Group Inc. Report and Whole Foods Market (WFM) also have not performed well, but there is a move toward healthier foods that even Hormel (HRL) - Get Hormel Foods Corporation Report and General Mills (GIS) - Get General Mills Inc. Report have adopted. He said if WhiteWave falls to $35 or $36 it would be a gift, and that investors shouldn't take a short-term view on the stock. 
Cramer was also asked if Build-a-Bear Workshop (BBW) - Get Build-A-Bear Workshop Inc. Report is a good holiday play, and he responded that it was not.
His holiday retail play is Target (TGT) - Get Target Corporation Report , and he said Target, along with Costco (COST) - Get Costco Wholesale Corporation Report and Amazon (AMZN) - Get Amazon.com Inc. Report , are squeezing Wal-Mart (WMT) - Get Walmart Inc. Report .
Cramer answers viewers' social media questions during a daily segment with TheStreet TV. Find him on Facebook (FB) - Get Meta Platforms Inc. Report and on Twitter (TWTR) - Get Twitter Inc. Report . Send him questions on Twitter @JimCramer, using #CramerQ.

At the time of publication, Jim Cramer's charitable trust Action Alerts PLUS was long COST, FB, PNRA, TGT, TWTR and WWAV.