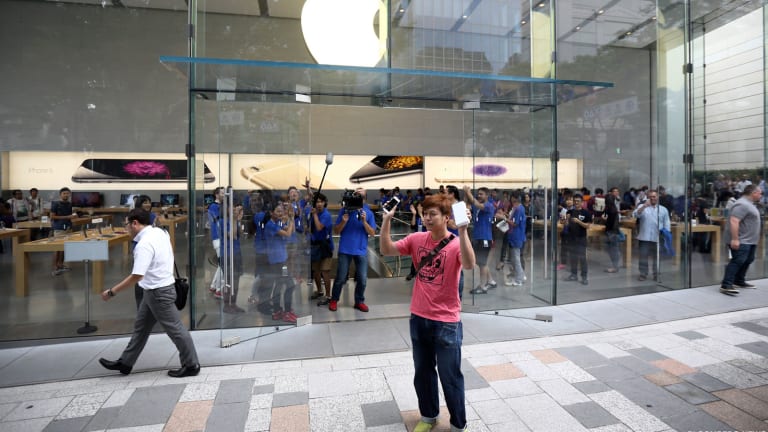 Jim Cramer -- Apple's Earnings Beat Is a Relief
Cramer is 'encouraged' by what has the makings of momentum in high-profit, high-growth and highly predictable recurring revenue streams.
Apple (AAPL) - Get Reportreported a solid beat after Tuesday's close amid low expectations, with fiscal third-quarter (June-end) earnings per share of $1.42, beating consensus by 4 cents, revenue of $42.4 billion modestly beating Street consensus of $42.2 billion and iPhone units of 40.4 million topping the Street's 40 million consensus. Management's September-end (fourth quarter) sales guidance of $46.5 billion at the midpoint beat the Street's $46 billion and buy-side whisper expectations for $44.5 billion. (Apple is part of TheStreet'sAction Alerts PLUS portfolio.)
Shares surged in after-hours trading Tuesday in what appeared to be a relief rally predicated on "better than feared" results along with $6 billion (+20% year over year) increase in Services revenue and better-than-expected growth in both iPads and Macs.
We are excited, albeit somewhat surprised, by the after-hours reaction, which we believe is being driven by a combination of solid results amid low expectations. We have always told members to own, not trade, shares of Apple and after listening to the company's conference call, our message remains unchanged. We would encourage members who own the name to stand pat for now -- we would be neither buyers nor sellers into the rally -- as investors and analysts alike digest the matrix of information, color and data.
We are encouraged by what has the makings of momentum in high-profit, high-growth and highly predictable recurring revenue streams, most prominently the company's Services business, which includes iCloud, data usage, App Store (and associated licensing/royalties), along with Apple Music, Apple Pay and Apple Care.
In an interview with CNBC following the release, CEO Tim Cook claimed the Services business alone will be the size of a Fortune 500 company by this time next year (when asked if that means $28 billion, the smallest of the Fortune 500, Cook indicated it would be much higher). We expect Services to comprise one-third of the company's profits within the next three years, and view the stronger-than-expected iPhone unit sales as a sign the momentum is sustainable.
Within the all-important iPhone sales figures, strength in terms of units sold (40.4 million) was driven largely by outsized demand for the company's cheaper iPhone 6 SE, which weighed on the average selling price (ASP) per unit of $594 from $642 in March. Apple hopes to boost ASPs through its September iPhone 7 launch, which it expects will drive upgrades (250 million phones in circulation are made up of pre-iPhone 6 versions).
Despite the margin drag, sales of the SE are likely reasons why Apple managed to drive such remarkable sales growth in emerging markets such as India, which saw a 51% year-over-year increase in iPhone sales, Japan (+23% year over year) and an acceleration in both Brazil and Russia, with sweeping strength in these markets a result of customer switching activity (according to Cook, Apple experienced record switching rates during the June quarter, as a flood of Android users migrated to the iPhone).
It appears the better-than-expected guidance for fiscal fourth quarter 2016 comes as a direct result of the high switching rates as Apple takes more share from Samsung.
Thus is the delicate balance between reeling in new customers by offering a slimmed-down, cheaper version of the iPhone (SE in this case) and protecting against margin deterioration. During the call, Cook explained that while the potential market share opportunity from Android users remains significant (having tapped into merely 42% of global smartphone users), the remaining 58% are very cost-sensitive and unlikely to switch in the absence of a cheaper offering to follow each new iPhone launch. Ultimately, Apple has decided that any cannibalization as a result of SE sales is outweighed by the potential to expand Apple's total addressable market.
Although we continue to dig into the results and color, we believe the solid results and subsequent rally demonstrate the undervalued nature of Apple shares -- ranked as a top-three value in our investment index since inception -- which trade at roughly 11x earnings, not including cash. We will be out with incremental analysis but in the meantime appreciate the improving backdrop, diversified revenue stream and stabilization in growth, all of which contribute to the post-market action.
Editor's Note: This article was originally published at 8 a.m. EDT on Real Money on July 27 after being sent to Action Alerts PLUSsubscribers on July 26 at 7:04 p.m. EDT.
At the time of publication, Jim Cramer's charitable trust Action Alerts PLUS held a position in AAPL.