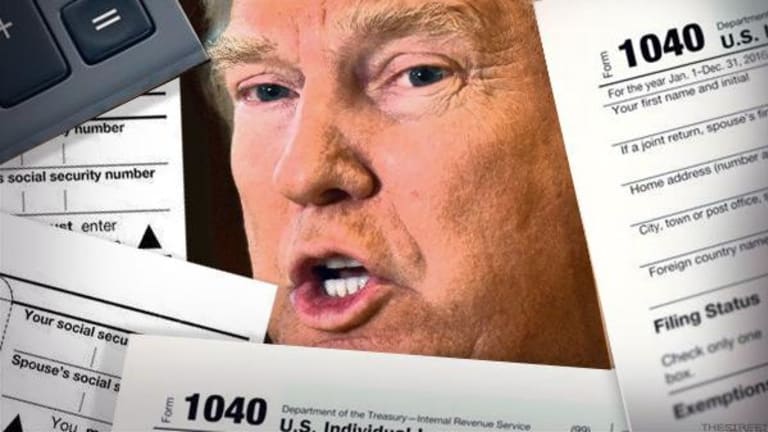 Jim Cramer and the Experts Tell You How to Play Trump's Tax Plan
Join Cramer for a roundtable discussion on how to position your portfolio.
How will President Trump's tax proposals affect stocks and bonds? What about the dollar and gold?
Jim Cramer sat down Wednesday with four great experts for a roundtable discussion on Trump, taxes and investing as part of TheStreet's monthly Trading Strategies series:
Cramer spoke with:
Stephen "Sarge" Guilfoyle, equities expert. Guilfoyle is the founder and president of Sarge986 LLC, a family run trading operation. A New York Stock Exchange floor trader for over 30 years, he previously served as chief market economist for Stuart Frankel & Co., U.S. economist for Meridian Equity Partners and as a vice president in block trading and investment banking with Credit Suisse. Guilfoyle earned his nickname by serving as an actual sergeant in reserve components of the U.S. Marine Corps and U.S. Army while simultaneously working on Wall Street.
Watch more of Sarge's comments from the discussion:
Sarge breaks down his strategies for playing the anticipated Trump tax cuts.
Cramer and Sarge give their thoughts on Trump's Tax Package
Peter Tchir, fixed-income expert. Tchir currently serves as managing director of macro income strategy at Brean Capital LLC. He started his career at Bankers Trust and later at Deutsche Bank running high-yield derivatives. Tchir has traded all manner of fixed-income products, both on the sell side as a market maker and as a portfolio manager at a fixed-income hedge fund. During the financial crisis, he ran the U.S. CDS-index business (made famous by The Big Short) for RBS.
Watch more of Peter Tchir's comments from the discussion:
Why Floating Rate Assets Are Your Friend
Small Businesses, European Banks to Benefit Under Trump
Douglas Borthwick, foreign-exchange expert. Borthwick has served as managing director of Chapdelaine FX since its inception in October 2012. He has made many correct calls to his clients and the press regarding macro events -- most recently correctly calling the Brexit, Donald Trump's presidential win and the change in the "Strong U.S. Dollar" policy. The expert was formerly a managing director and head of research and trading at Faros Trading LLC. Borthwick also spent 10 years with Morgan Stanley in New York and London managing the Asian NDF and the G20 deliverable forwards desks. He also ran proprietary trading with Merrill Lynch and ran the Latin American FX trading desk at Standard Chartered Bank.
Watch more of Douglas' comments from the discussion:
Doug Borthwick Makes the Case the Dollar is in a Bubble
David Yoe Williams, commodities/gold expert. Williams is a principal at Strategic Gold, a Naples, Fla.-based firm that buys and stores physical gold for investors. He was an NYSE floor trader for 29 years for Richardson Greenshields, Glenwood Securities and other firms. Williams holds a b.s. in civil engineering from the U.S. Military Academy at West Point.
Watch more of David's comments from the discussion:
Gold expert says that if you want the safety of gold, you need to buy the bullion.

Watch More: Making America's Infrastructure Great Again Through...Bonds?
This article was written by a staff member of TheStreet.