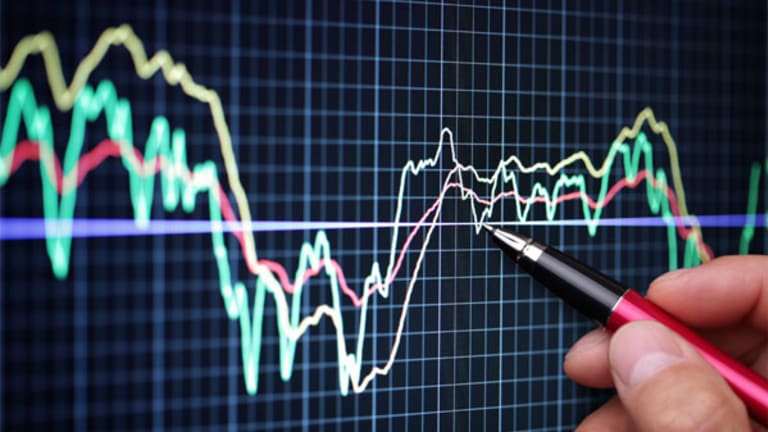 Jim Cramer: A Momentum Monsters Manifesto
This strategy is a hedge against momentum-oriented money managers -- nothing more, nothing less.
NEW YORK (Real Money) -- My hallmark is opportunism. I try to be opportunistic when the market gives you a chance to make some big money.
Sometimes that means simply looking for the stocks of undervalued companies and being patient with them as the marketplace or the executives who run these companies bring out value. That's classic investing.
But sometimes that means accepting the peculiar aspects of the money-management business. Namely, at times you must accept the imperative to outperform by taking on a huge amount of risk in order to buy the most aggressive growth companies, particularly at a time when the world is facing subpar growth.
Everyone's happy when I outline the very rational process of attempting to find companies that sell for cheaper prices than they should. This is when I either believe these companies can beat expectations and raise them, or when management is so motivated to help shareholders that it takes matters into its own hands.
So you may be able to spot undervalued companies or recognize when executives are superior coaches that produce winning teams. Or you may be able to predict that executives are going to shrink their companies to grow or, perhaps, restructure out of slower-growing divisions and into faster ones. Alternatively, perhaps they're likely to buy another company in order to help consolidate an industry that would therefore diminish competition and increase gross. If you can pick out these names, then you should beat the performance of the average stock.
That's classic investing and I love it. That's what most of Get Rich Carefully is about.
However, I have discovered that there is another way to profit from stocks, and that's by recognizing the imperatives not of the managers and their companies, but of the money managers themselves. A huge cohort of money managers do not seek to find traditionally undervalued stocks, meaning those of companies that don't recognize the potential for bigger profit.
Instead, these managers attempt to find the highest-growth companies, regardless of their actual profit potential. These are capital allocators who believe the best way to beat the averages -- and, believe me, that's the game I am gaming with this strategy -- is to buy companies with the highest revenue growth and the most fantastic opportunities to dominate the total addressable markets in which they toil.
Or, to use shorthand, these are the money managers who are driven to find the biggest momentum names at any given time, even if the valuations can't be justified by traditional price-to-earnings analysis.
I have, of late, focused on these stocks in my writings, on my shows and in Get Rich Carefully. That's because, like it or not, they have been the real winners in this stock market. I want to repeat that, like it or not, they have been the biggest winners.
My philosophy, which is a little complex, endorses finding some of the momentum monsters of the market and making peace with them as a hedge against the performance and asset collection of these momentum-oriented managers. I have always thought, as someone who has been paid based on performance, that I had to hedge myself both against the downside of the stock market as well as the upside. That upside hedging often meant having some exposure to stocks that are momentum-driven, even if they are overvalued and riskier than I would like.
So what I have always attempted to do is to divine which stocks fit the patterns these money managers like, and then to exploit the process. It's the process by which these managers derive assets from their own generated performance, and then get more money in and put that money to work in these same stocks over and over again. As I explain in Get Rich Carefully, these managers are not sensitive to short-term valuations. They are sensitive to the big score, the out-years, when they hope these companies and their CEOs will successfully execute on their game plans.
I have always thought you need to hedge against that process, lest you fall behind these managers. These people have a virtuous circle going for them: They own high-growth stocks that go higher, which then bring in more money, and then they can send these same stocks even higher with their own buying. When you couple their buying with the possibility of a short squeeze that comes from hedge fund managers who bet against these companies -- and if they don't stumble -- well, let's just say you have some pretty powerful performers.
This is why, last week, I set out to identify which stocks really fit the Momentum Monsters pattern -- the stocks these momentum investors are using now as vehicles of performance. (See here, here and here.)
Now, notice I am never saying, not once, that this is my style of investing. I am simply saying that, just as you have to hedge against the downside with short positions or some cash, you have to hedge against the upside. You do this by picking a couple of these names, getting comfortable with them when they go down and then picking them up, in stages, into weakness that is not generated by issues in the companies themselves. So if the federal government shuts down, or if partisan politics causes debt-ceiling gridlock, or if Argentina or Turkey or Brazil or other emerging-market woes infect all stocks, you are ready to buy the momentum names that you can handle.
I am not endorsing the out-and-out chasing of the Momentum Monsters: Amazon (AMZN) - Get Free Report, Chipotle (CMG) - Get Free Report, Facebook (FB) - Get Free Report, Google (GOOG) - Get Free Report, Michael Kors (KORS) , Netflix (NFLX) - Get Free Report, Priceline undefined, Regeneron (REGN) - Get Free Report, SolarCity (SCTY) , Stratasys (SSYS) - Get Free Report, Tesla (TSLA) - Get Free Report, Twitter (TWTR) - Get Free Report, Under Armour (UA) - Get Free Report, Workday (WDAY) - Get Free Report and Yelp (YELP) - Get Free Report. I am saying that you must find a couple of these that you like. Then, as they go down from a market-wide selloff, and not from some particular company-specific execution failure, you have to be ready to leg into them because of the way the business of money management works. You have to hedge, if you will, against these managers themselves.
When I detail this strategy, it always comes out as if I am endorsing momentum itself. For the unsophisticated, just the act of naming these stocks is to say, "Cramer loves these stocks." In actuality, it is quite the opposite. I am not a thrill-seeker. I am trying to find the most performance with the least risk. These stocks give you the most performance with the most risk. But buying them when they go down for non-company-specific reasons has worked, and worked well, since the market bottomed in 2009.
Now, some of these stocks go so high that they become too dangerous to just go out and buy, and I have flagged two of them of late -- Netflix and Tesla. While almost all of these stocks have run and run hard, those two are of great concern, because they have broken away from just about every mooring I can think of. Buying such a name worked once, and only once, in my career: with the success of Amazon, an amazing company with amazing growth, but no profits to speak of.
But even those stocks, on a big pullback, can still make sense as a hedge to the momentum managers' performance.
I wish there were more to this analysis. What I attempt to do in several chapters in Get Rich Carefully is to explain how these managers evaluate stocks so you can get comfortable with their process, not mine. That's all I am saying when I identify these managers' growth vehicles. I want you to profit from the mechanics of money management, not from the valuations of the stocks themselves. That's way too often lost on people.
I hope now you will understand that endorsing a concept of how others make money, and not necessarily loving the stocks that they use to do so, can be a legitimate way to make money without saying, "Look at me, I am a super bull, and these stocks are the cheapest and the best." Those stocks can turn out to be the most expensive and the worst. However, right now the opposite is true, so you have to wait until a selloff before you pick and choose one or two of them.
In this way, you can hedge yourself from falling too far behind the performance of other managers who regard themselves as disciplined in a very different way -- a way has worked for a long time. The strategy will continue to work, as well, so as long as overall worldwide growth remains sluggish and investors seek money managers who understand and exploit that environment.
Nothing fancy. Nothing flashy. Just the facts of the way the business works, gleaned over 35 years of picking stocks I like and mimicking the work of others who anoint stocks that I would otherwise stay away from.
At the time of publication, Action Alerts PLUS, which Cramer co-manages as a charitable trust, was long FB and GOOG.
Editor's Note: This article was originally published at 8:48 a.m. EST on Real Money on Feb. 26.