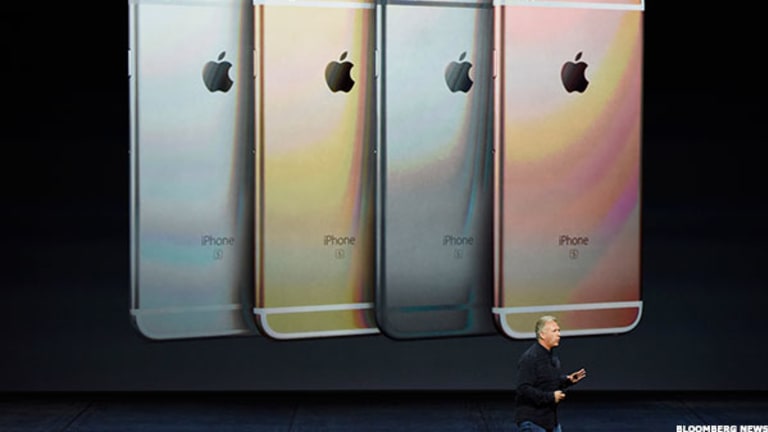 Jim Cramer -- A Market View From 32,000 Feet
Trying to keep up on a day like today while on a plane to Colorado for CNBC's Republican presidential debate is nuts, but Cramer just has to try.
Trying to keep up on a day like today while on a plane to Colorado for CNBC's Republican presidential debate is just nuts, but I have to give it a try.
First, is Action Alerts PLUS component Apple (AAPL) - Get Apple Inc. Report . I am increasingly convinced that people aren't even listening to what Apple is saying on its conference call. The cognoscenti somehow, have decided that the law of large numbers has ended this company's ability to grow.
I don't know. I was on a different call I guess.
I heard that gross margins are going higher, that average selling price of an iPhone went up, that penetration in China is in its infancy, that it is just beginning to take on the enterprise and all of that juicy Dell/Hewlett-Packard business, that the watch is just getting started and that Apple TV is their oyster.
I heard about a huge amount of cash and no end to it. I heard about how there's no real competition on high-end phones right now, and more than 60% haven't even upgraded who already have Apple.
I loved what I heard.
Most important, has it dawned on the naysayers that the stock was at $134 in April? Who says it can't go higher? Own it; don't trade it.
Then the takeovers -- Starwood Hotels (HOT) was supposed to be a total dog. (Like Apple, we own it in the charitable trust). All dogs should hunt this well. I love the bid, and it might not even be the last one. OK, maybe Walgreens Boots (WBA) - Get Walgreens Boots Alliance Inc. Report -- another holding of ours -- doesn't get Rite Aid (RAD) - Get Rite Aid Corporation Report . But Rite Aid's for sale, and who's to say that someone who wants to be in the pharmacy benefit manager business doesn't take a run at it? I know Walgreens is down -- we sold some yesterday -- but it's a terrific long-term story when things die down.
Diamond Foods (DMND) wasn't even supposed to exist. It almost went under. Now it is being swallowed up by Snyder's-Lance (LNCE) for $1.9 billion. A win -- an out-of-nowhere win.
Then there's Northrop's (NOC) - Get Northrop Grumman Corporation Report new bomber contract. It's huge -- much more than the stock is up. Still an opportunity, and a big one. And the fact that Lockheed Martin (LMT) - Get Lockheed Martin Corporation Report is going higher, even though it lost the deal, what does that tell you about defense spending?
But there are also refutations of the bear. Yesterday, the rails were trashed because of commentary from the coal companies. Today Norfolk Southern (NSC) - Get Norfolk Southern Corporation Report beat and everyone came right back in.
Of course, as usual, the bears are roving: biotech, health maintenance, health care. Just lunatic selling. But I have to point out that this market keeps finding ways to not go down. They are all one-off, to some degree. Yet they keep happening, and it is really hard to keep up with them.
Action Alerts PLUS, which Cramer co-manages as a charitable trust, is long AAPL, HOT and WBA.