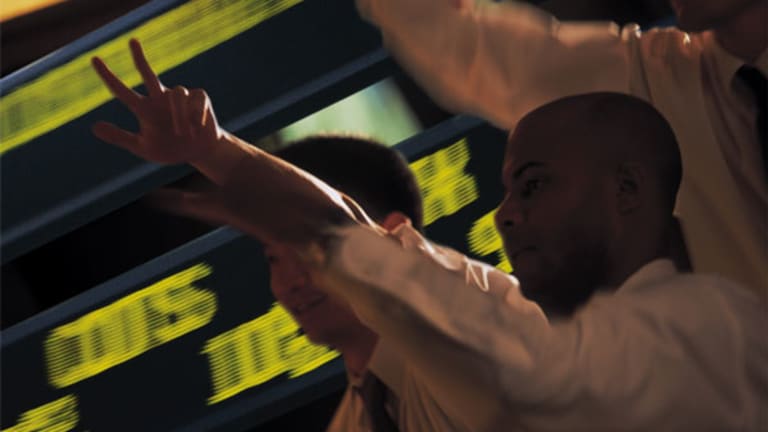 Jim Cramer: A Forward-Looking Fed
Unlike the bond bears, Bernanke knows that what matters is the future, not the past.
Editor's Note: This article was originally published at 7:15 a.m. EDT on Real Money on Sept. 19. To see Jim Cramer's latest commentary as it's published, sign up for a free trial of Real Money.
NEW YORK (
) -- Let's say
Federal Reserve
Chairman Ben Bernanke ran the nation's biggest retailer instead of the world's biggest hedge fund. Let's say you are a retail analyst. Given what you know -- which is that a repeat of the 1995-1996 government shutdown is about to occur -- would you be taking numbers up or would you be slashing them?
I think the answer's pretty clear: You would be slashing them. You know that a shutdown is bad for business. It was bad back then when the economy was very robust, and it will be much worse right now. You would not be saying, "Hey, there's been a decent amount of hiring in the last months. I am raising numbers." You would be saying, "I have to cut numbers because the last government shutdown slowed down all spending and really hurt commerce."
If you hadn't cut numbers, you wouldn't have been a terrible analyst. You would have been looking backward, not forward.
Yet, on Wednesday I heard a great deal that was about how things are so much more robust now than when the Fed first hinted at a scaledown of the bond-buying program. I heard about how Bernanke is nuts to be cautious, and that he should have followed through with some cutback.
Why?
Why should he have?
What's happened since he first started talking about cutting back?
First, interest rates spiked well beyond innate demand, and mortgage and refinancing rates went up so much that there's been a dramatic plunge in applications. Ever since the spike, banks have been trying to fire as many people as possible. They're doing so with a level of alacrity that is shocking and frightening if you've worked at one of these places.
Second, retail sales crumbled. We tend to forget which firms had shortfalls, but it is a real "who's who" of retailing:
Macy's
(
),
Sears
(SHLD)
,
Wal-Mart
(WMT)
,
Target
(TGT)
,
Nordstrom
(JWN)
,
Saks
(SKS)
,
Gap
(GPS)
and
J.C. Penney
(JCP)
. Every one of them said that things are softer than expected. I think it is safe to say that this has been the worst back-to-school season since the Great Recession began.
Third, we've been about to lose the prop of housing. We know that the homebuilding stocks have been telling the truth about this market for months now, with their lackadaisical rallies and very large selloffs. But the real tell of how troubled things were going to get was the selloff in
Home Depot
(HD)
shares after the company reported a very good quarter. That was a sign that you have seen the last of the housing comeback -- and the housing comeback, not worldwide growth that's pulling America with it -- was central to Bernanke's chances to create sustained growth.
Remember, we are only one-third of the way back when it comes to single-family home construction. Last year the U.S. built units at a rate of about 500,000, which is dramatically lower still than the 1.5 million we averaged between 2004 and 2006. That's nowhere near where Bernanke wants those numbers to be and, given the decline in mortgage applications, we all know it's reasonable to think we have seen a high for the cycle. It's hard to see through all of the obfuscation of the industry, as no homebuilder ever wants to come out and say that they aren't selling. That's bad for business. But if you look through the linearity of all of the homebuilders' numbers, you will see that's what has been happening.
So, in that environment, why in heck does the Fed have to taper quantitative easing? If Bernanke studied the 1995-1996 tapering, he would know that gross domestic product growth will be fairly likely to see a very big decline in the fourth quarter because of the coming government shutdown.
I know I spoke to a lot of people yesterday who were mesmerized by the stock market into thinking that all was well going
into
the meeting. That's wrong. It is entirely possible that the stock market could be misreading politics, as it has done every time in the Obama era. Just because the market isn't yet reacting to a shutdown worry doesn't mean it won't still do so. Just because they were all buying opportunities doesn't mean that they won't go down first. We have established endlessly that this market has no memory. So why should it remember the huge declines ahead of the 2011 debt downgrade, the fiscal cliff and, to a lesser extent, the sequestration?
Fortunately Bernanke, unlike the bulls in the stock market, knows that a shutdown could destroy confidence and drastically cut back business. In that light, it is pretty amazing that more didn't see his nonmove coming. But, then again, the most overcrowded trade in the era was to be short the 10-year Treasury. When the biggest buyer of the 10-year said it still wanted to buy, there was no supply there at all. None.
That's because, in reality, there's no real demand for money up where the 10-year was a week ago, and there will be even less as we get closer to the shutdown. Bernanke knows that what matters is the future, not the past. But the bond bears? They were living in the past. And they were crushed for doing so.
At the time of publication,
, which Cramer co-manages as a charitable trust, had no positions in the securities mentioned.