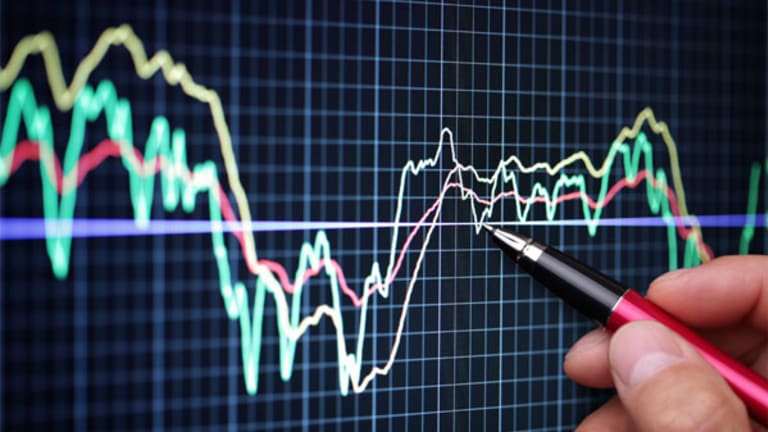 NEW YORK (RealMoney) --  Here's what the Federal Reserve should be thinking about.
What happens if you give every household a $1,000 tax break? That's right, what if you rebate $1,000 to all 117 million taxpaying households in the U.S.?
First, it would reverse the direction of the federal government's budget deficit. The annual deficit fell to $483 billion last year, taking it to a manageable 2.8% of the gross domestic product. You would be headed back to the bad old levels, which were three times that in 2009.
So, the government would have to increase its borrowing and perhaps raise taxes this year or cut spending away from the $1,000 rebate. We would be back in the old soup.
Second, some would argue it would mean nothing to the U.S. economy. What's one thousand dollars? Well, it's 1.3% of household income. That's a big chunk for many.
Now, what if I told you that the $1,000 didn't come from the Treasury? What if I told you that one-sixth of that $1,000 came from Persian Gulf nations rebating money to the U.S.? Another two-sixth of it comes from non-OPEC trading partners. And three-sixth comes from U.S. oil companies, most of which made huge profits last year, perhaps as much as $200 billion in total.
That's right; the $1,000 rebate comes from these entities, and we actually want those outside U.S. entities to bear the cost, as they have borne the gains for years and years -- gains that are obviously part of some cartel that kept oil unnaturally high.
That's the math of it.
Now, let's put it in the context of the Fed.
The Fed's been trying to get disposable income to increase and therefore stimulate demand and purchasing power. How do you do that? It can't cut taxes. It can't increase wages. It can't find a way to cut the necessary spending of people to keep their jobs and their lifestyle.
But OPEC and the non-state producers of oil can. We used to speak of the ill-gotten gains of the oil companies as windfall profits.
Now we have windfall savings for the average household, shaving off $1,000 from the average of $2,912 it spent every year on gasoline. That's a big increase in disposable income because when gasoline was twice what it is in this country now, back in 2012, that amounted to 4% of household disposable income.
So, instead of the budget deficit expanding, instead of tax increases on, say, the wealthy to generate that $1,000 rebate -- something that couldn't be ruled out with this current administration -- you get the rebate from the Saudis, the Canadians and the likes of Exxon (XOM) - Get Exxon Mobil Corporation Report , Chevron (CVX) - Get Chevron Corporation Report , Conoco (COP) - Get ConocoPhillips Report , Shell (RDS.A) and some smaller companies, some of which can afford to give a windfall to the consumer and some can't.
The $1,000 rebate comes to households in perhaps the most benign way possible. Yet, we seem so focused on how hard this industry will be hit and how much capital expenditure and job growth will be cut, even though capital expenditures will still be ample and layoffs concentrated. Please recall that only 1% of the job growth of the last four years came from this industry. Not 1% of jobs, just 1% of the growth.
Small price to pay.
So what should the minutes say? How about, "We don't need to tighten because, even though we got an expansion in purchasing power, it came from deflation, not inflation, so why crimp the growth that comes out of the profits of mostly overseas tax masters?"
They can add "especially because the rest of the world is so weak and will just be made weaker if we do raise rates?"
Instead, here's the chatter we will get: Oil companies continue to go bust, capital expenditures continue to be slashed and the Fed's not standing up to down-the-road inflation. What a ridiculous dialogue!
One oil company has gone bust. One company has had 700 layoffs. I expect several thousand more. Some companies will get cuts in orders. And $1,000 will be coming to households who need it.
I say it's a small price to pay to increase demand and do the Fed's work for it.
This article was originally published at 7:07 am, Jan. 7, on Real Money.
At the time of publication, Jim Cramer's charitable trust Action Alerts PLUS was long RDS.A.