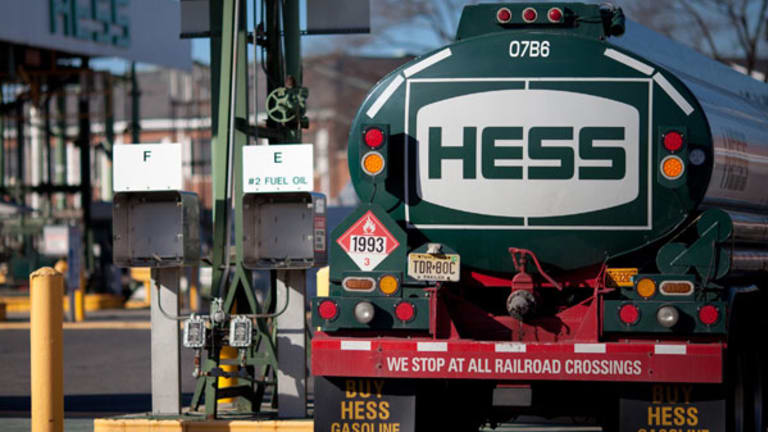 Jim Cramer: 10 Stock Picks for 2013 (Updated With Videos)
In late November, Jim Cramer predicted that Hess would shoot higher in 2013 on spin-off news; this week, it happened. Here are the rest of Jim's 2013 deal predictions.
Editor's Note: In late Nov. 2012, Jim Cramer delivered the following speech at The Deal Economy 2013 event held at the New York Stock Exchange. During this speech, Cramer noted that Hess, then at $50 per share, was ripe for a spin-off. Monday, Jan. 28, 2013, Hess announced plans to exit its refining and marketing business to unlock value; analysts estimate about $7.00 per share in proceeds, sending the stock markedly higher.
Separately, Cramer noted that Hess' assets were worth more than the sum of their parts -- particularly the crown jewel Bakken acreage which has also benefitted companies like EOG and Continental Resources. This week, Elliott Associates is advocating the company spin-off its onshore U.S. shale assets, create an onshore MLP and divest international assets to close the gap to net asset value -- which Elliott pegs at $126/share. Read Jim Cramer's complete and prescient take on Hess, as well as nine other speculative stock ideas, reprinted in the speech below.
NEW YORK (
) -- It's a deal conference. It's
TheDeal conference
. So let's talk deals, namely the ten deals I see happening in 2013, ten companies that will be transformed in one way or another that will lead to dramatically higher prices. Yep, I have ten stocks that I think are worth owning on a speculative basis for next year, although my normal rules apply, I would never recommend a stock on the basis of a corporate control event unless the fundamentals warranted owning it anyway.
You aren't going to hear me tout
Dell
(DELL) - Get Dell Technologies Inc Class C Report
or
Hewlett-Packard
on a merger of equals, for example, because they are both equally bad and I wouldn't own either. Who would have Autonomy in that deal? Couldn't resist a little M&A black humor.
As tempting as it is to suggest that
Microsoft
(MSFT) - Get Microsoft Corporation Report
buy
Research in Motion
( RIMM), I think that the near 100% move off the bottom that the Blackberry maker has undergone, does preclude informed speculation in that ailing company. Sell sell sell right into the
Goldman Sachs
(GS) - Get Goldman Sachs Group, Inc. Report
upgrade this morning.
Most transactions in 2012 were done because of fright, a fear of missing numbers, fear of no growth, and fear of being trapped in a relentlessly negative cohort. The latter is a widely overlooked factor in deal making, call it the ETF ball and chain. Companies, good and bad are now all parts of ETFs and the hedge funds, desirous of trading vehicles with bigger volume and a reluctance to get trapped individual securities now use these as trading instruments of choice. The hedge funds have homogenized and pasteurized individual companies through the power of ETFs. The ETFs are now responsible for a gigantic amount of the performance or lack thereof of an individual company's stock.
That's too bad for the CEOs, most of whom are graded by sector when it comes to the compensation committees of the boards of directors and the consultants they rely on to handle and tally performance bonuses. The only way to assure a raise is to outperform the sector ETF, something which I believe will force a major amount of deal making in 2013.
Why am I so sure of that? Because as I reviewed the top 25 acquisitions, spins and breakups, I found that the vast majority of the acquirers and the initiators of transactions went higher. It was almost uniform and I have to believe with confidence improving, deal provokers in this room will be armed with the stats that I am putting together now that shows a "don't just stand there, do something," attitude is an attitude that has paid off for shareholders and managements alike. Do you know how hard it is to move a food giant like
Conagra
(CAG) - Get Conagra Brands, Inc. Report
one dollar and 47 cents? Yet it did so when it paid $5 billion for rival
Ralcorp
( RAH).
PVH
, the old Phillips Van Heusen, managed to rally 23 points from $91, when it bought out its Calvin Klein partner Warnaco. Believe me, nobody else in their industries had that kind of performance. Do a deal, or watch your stock die on the ETF vine, I say.
With that preamble, what deals am I looking for to happen next year? Let's start with the "breaking up is easy to do," transactions that I am anticipating. On Mad Money we have highlighted ten deals where companies have taken it into their own hands to split up their organizations, typically into fast growing divisions with faster growth, and slower-growing divisions with large dividends. That way the growth funds will have their chit and the balanced funds will have theirs in the world of mutual fund asset management.
The archetype for this transaction is the Altria-Phillip Morris split up of a few years ago where a tremendous amount of value was created simply by dividing one hybrid tobacco company into a plodding domestic tobacco entity,
Altria
(MO) - Get Altria Group Inc Report
, with an outsized dividend and a faster growing international play,
Phillip Morris
(PM) - Get Philip Morris International Inc. Report
, with a much smaller, but still larger than average dividend. That's the template. It worked. Now it is being imitated everywhere.
Who's next? Who else can do that? Let's start with a small one,
Manitowoc
(MTW) - Get Manitowoc Company, Inc. Report
.
10. Manitowoc Splits Into Two Businesses
Here's a one-hundred-year-old two- billion-dollar company that has no business whatsoever being under one roof. In 2013, I think it splits into two, a food service company and a crane and boom business.
Right now MTW gets 60% of its business from its heavy equipment segment, which is largely construction oriented and is 60% overseas. If you believe that China is coming back you have to believe construction is coming back. If so I think this business itself is worth $2.5 billion based on cyclical peak numbers during the last worldwide economic expansion.
On the other hand the food services business, which includes icemakers, refrigerators, frymasters and drink dispensers, provides 40% of the companies' sales. It's got a terrific secular growth business that includes equipment for the fast-growing fast food businesses, think equipment to make smoothies for
McDonald's
(MCD) - Get McDonald's Corporation Report
worldwide. That food service division is worth another $2.5 billion to a growth manager. After all who wants a crane business and a food service business in the same house. Or even the same block!
By unlocking this company you should be able to create as much as $12 in value. Or in arithmetical terms, $14 worth of Manitowoc goes to $24 almost immediately.
9. Johnson & Johnson Breaks Into Three Companies
Too much risk? Well how about a lower-risk play that could produce a very quick 20% return with the stroke of a pen, the break-up of the venerable
Johnson & Johnson
(JNJ) - Get Johnson & Johnson Report
into three companies, consumer products, medical devices, and fast-growing pharma business. This triple A balance sheeted company has been put together in unwieldy and non-performing fashion by William Weldon, one of the weakest CEOs I have ever come across, and yet totally lionized by Wall Street. Get me his P.R. man!
Weldon's been replaced by Alex Gorsky who is not wedded to a business that includes, Band-Aid, artificial body parts and cancer drugs.
Abbott Labs
(ABT) - Get Abbott Laboratories Report
, on its announcement of a similar spin increased by 20% before recently pulling back on a failed new drug. But
Bristol-Myers
(BMY) - Get Bristol-Myers Squibb Company Report
with its spin-off of
Mead Johnson
(MJN)
and
Covidien
(COV)
with its drug and device spin have far outperformed the drug stock cohort and the averages. Look for this stodgy company to pick up 20% with the stroke of the break-up pen.
8. Hess Separates Exploration and Production From Refining and Marketing
Finally, in the break-up world, I am looking for the worst performing major oil company of the last few years to become the best, simply by following a blue print executed well by
Marathon
and by
Conoco
(COP) - Get ConocoPhillips Report
. The underperformer?
Hess
(HES) - Get Hess Corporation Report
. The plan? Separate the exploration and production assets from the refining and marketing plays. This company, with its $49 stock, has a remarkable portfolio of worldwide assets, include premier properties in Malaysia, the North Sea, Equatorial Africa, Indonesia and Thailand. But perhaps the real crown jewel is the Bakken, where
EOG
(EOG) - Get EOG Resources, Inc. Report
and
Continental Resources
(CLR) - Get Continental Resources, Inc. Report
-- two of my favorite growth stocks -- have produced a remarkable amount of oil and have only scratched the surface of what might be the biggest find since Prudhoe Bay in Alaska almost 50 years ago. Did you know, though that the old Amerada Hess is the company that discovered the Bakken and may still have among the best properties in that play?
I conservatively tally these oil assets at $70 a share. Then its refining and marketing division, which rivals newly spun off
Marathon Petroleum
(MPC) - Get Marathon Petroleum Corporation Report
and Phillips 66, could shine on its own. I see $10 a share based on the performance of these two other spinoffs. The resulting value for this $49 stock? At least $81 a share almost immediately upon dissolution. Yes, there is that much pent-up value in a company that's become an industry joke for its terrible management except for its beautiful Hess toy trucks now available at a local station near you.
7. Fortune Brands Home & Security Merges With Masco
Next up, how about a merger of equals?
Fortune Brands Home & Security
(FBHS) - Get Fortune Brands Home & Security, Inc. Report
and the
Masco Corporation
(MAS) - Get Masco Corporation Report
. Both companies are dominant kitchen and bath parts makers, think Moen and Aristokraft for Fortune and Delta and Kraftmaid and Merillat for Masco. The merger could turn the tables on the
Home Depots
(HD) - Get Home Depot, Inc. Report
and the
Lowes
(LOW) - Get Lowe's Companies, Inc. Report
while riding the new housing boom wave, one that I think will cross back to a million starts a year in 2013, more than double where they were two years ago. Consider this one the son of the value-creating Black & Decker Stanley Works merger. Two plus two equals five here taking Masco up to the mid 20s from its $16 perch if they take my suggestion. I prefer playing this one with Masco if only because it is up much less and will have more room to run if no deal occurs.
6. Bed Bath and Beyond Is Taken Private
Some companies are sick of where they trade and some private equity firms are desperate to put money to work lest they lose it, which is why I expect
Bed Bath & Beyond
(BBBY) - Get Bed Bath & Beyond Inc. Report
will not be public next year at this time. I know, tall order on a $13 billion company. But this housewares and drug store chain with $2 billion in EBITDA in 2013, could get you perhaps as much as a 25% pop from its current $59 price, on a going private transaction. The company has been a relentless buyer of its own shares without borrowing a penny and it is sick and tired of its .88 PEG ratio despite consistent growth. Remember this is the company that put Linens and Things out of business, there's no one who could do the same to a private Bed Bath & Beyond. In the meantime you don't have to worry much about earnings. The stock is down $15 from its old high and my charitable trust, which you can and should follow along at
has been an aggressive buyer of the stock.
5. VF Corp Buys Decker's Outdoor
We need to put one company out of its misery and I know another company available to do so. The downtrodden and beleaguered company?
Deckers
(DECK) - Get Deckers Outdoor Corporation Report
, the makers of UGGs and Teva sandals, which has swooned from $100 to $39 in the last year. This virtually debt-free company has fallen on hard times because of a combination of much higher costs and a trend that seems tired. You know who resurrects just such brands?
VF Corp
(VFC) - Get V.F. Corporation Report
which took another tired old trendless brand, Timberland, and turned it into an international powerhouse in fewer than 18 months. VF is itching to do its next deal and Deckers is itching to help its crushed shareholders. While I don't expect this one billion dollar and change company to fetch three times its price ever again, as it would have to if it were go back to the old highs, I can see it almost doubling to $60 on a takeout, small potatoes for a global titan like VF Corp which is readily to reload its brand acquiring machine. Unlike all of the other stocks I am mentioning, there is genuine option speculation that this deal is about to occur and the stock's rallied ten percent on it. I say buy some now and then wait for it to cool and buy more as the quarter while not hideous will not be anything to write home about either.
4. Stalwarts Bid-Up Mine Safety Appliance
Not one, not two, but three firms should vie this year for
Mine Safety Appliance
(MSA) - Get MSA Safety, Inc. Report
, a dowdy $1.3 billion company that keeps missing its numbers because of an ill-timed expansion into Europe.
Dupont
(DD) - Get DuPont de Nemours, Inc. Report
,
3M
and
Honeywell
(HON) - Get Honeywell International Inc. Report
have all moved aggressively into safety gear in the last several years, because as, Dave Cote the CEO of Honeywell, and my next door neighbor, tells me, there's never been a serious rollback of safety regulations anywhere in the world and there will probably never be.
In fact, safety regs gain stream globally every year and Mine Safety has the top of the line products that are needed for fire detection, prevention and safety to fight them. Two years ago Honeywell paid $1.4 billion for Sperion products, a competitor of Mine Safety. MSA would be a natural doubling of that business. Dupont and MMM have expressed interest in being the biggest players in the safety game which is why I expect Mine Safety to almost double by the time this deal is done, $37 goes to $60.
3. A Packaged Food Giant Snaps-Up Hain Celestial
What do you do if you are
General Mills
(GIS) - Get General Mills, Inc. Report
,
Heinz
(HNZ)
,
Campbell's
(CPB) - Get Campbell Soup Company Report
, or
Kellogg
(K) - Get Kellogg Company Report
and you are stuck with products that the future of supermarkets,
Whole Foods
(WFM)
, doesn't care for? I think you can go pay $4 billion for the $2.8 billion purveyor of all natural and organic foods that is
Hain
(HAIN) - Get Hain Celestial Group, Inc. Report
. CEO Irwin Simon has no desire to sell but I can't say the same for the passive- but- always- one- step- from- active Carl Icahn. Hain, maker of Nature's Best, Celestial Seasonings Teas, Terra Chips, and a whole host of organic soups and juices and snacks, is the quick way for any acquirer to get the price-to-earnings multiple that has eluded it to date because its products don't pass Whole Foods muster, while Hain has become a dominant player in that growing supermarket's aisles.
I expect WFM to double in size in the next few years and it will take along any supplier that comes with it. After the run that Conagra just experienced earlier this week for paying $5 billion for Ralcorp, dropping $4 billion to buy Hain, to give you some growth and longevity in the natural food supermarkets, is worth it for the CEOs of these totally stagnant stocks, even with the admittedly horrendous dilution it would cause.
2. A Defense Giant Buys Alliant Techsystems
A few months from now the fiscal cliff will be resolved but it is already being resolved right now for the big military suppliers who know their budgets are going to be cut back drastically. Just recently Honeywell and Boeing announced they are ratcheting back their defense businesses in favor of faster growing commercial lines. But what's
Lockheed Martin
(LMT) - Get Lockheed Martin Corporation Report
supposed to do? Or
Northrop Grumman
(NOC) - Get Northrop Grumman Corporation Report
or
General Dynamics
(GD) - Get General Dynamics Corporation Report
? They are too big to merge with each other and the Defense Department as well as the antitrust division of a soon-to-be-more-active Obama Justice Department, would block any such deal. But would anyone really care about which of those companies buys
Alliant Tech
( ATS), the advanced missile system and bullet company that just secured the Pentagon's largest bullet contract of the era? This $2 billion company has been creeping up ever since it won that multi-year $8 billion contract a few months ago, a contract that I don't expect to be impacted by the dreaded sequestration. This stock used to trade at $100 a share, but the budget jitters have reduced it to $60 and I don't expect it can stay down there for long. .
I think that a bidding war could ensure that could give you a 50% increase in value.
1. DST Systems Hits the Auction Block
Finally best for last because this one, if management had any horse sense should occur in the next few weeks to beat the increase in capital gains taxes, and that's an auction for
DST
(DST)
, an information and computer processing company that sells for $2.5 billion but when you sort out the cats and dogs that it owns, including large real estate and stock holdings, you could see it easily fetching $70 up from the $56 it currently trades at. Aging founders with huge stakes, potentially agitating shareholders, including Greenlight which has been a buyer, make this one too obvious to ignore. I can't believe DST isn't trying to beat the increase in capital gain and get a transaction done in the next 30 days!
Ten companies, Manitowoc, Johnson & Johnson, Hess, Furniture Brands/Masco, Bed Bath & Beyond, Mine Safety Appliance, Hain Celestial, Deckers, Alliant Techsytems and DST, ten deals, all to happen in the next year as confidence and certainty return and the M&A machine kicks back into gear.
Yes, I suspect it's going to be a busy year, and I hope I have just given you a blue print for some calls to make, some visions to dance in your head, or at least, some new speculative ideas for your personal portfolios.
Thank you.
At the time of publication, Action Alerts PLUS, a charitable trust for which Jim Cramer is co-portfolio manager, was long ABT, BMY, DD, GS, and HD.