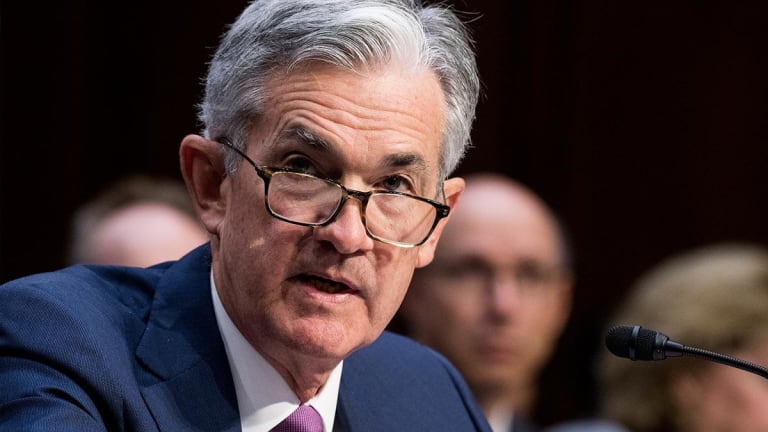 Fed Chair Powell Back on Capitol Hill for Second Day of Testimony: The Latest
Powell submitted identical opening remarks to the House Committee on Financial Services ahead of his second day of testimony.
Jerome Powell had more to say to lawmakers on Wednesday. 
Jerome Powell Faces Second Day of Questioning
Federal Reserve Chairman Jerome Powell appeared before the House Committee on Financial Services Wednesday, July 18, to face questioning from lawmakers on the Fed's plans going forward. Powell also faced questioning Tuesday.
Powell Decries Minority Employment Gap
While Powell lauded the historically low unemployment rate in the U.S., he also noted that African Americans and Hispanics are still unemployed at a higher rate than whites.
"Groups with higher unemployment rates have tended to benefit the most as the job market has strengthened. But jobless rates for these groups are still higher than those for whites. And while three-fourths of whites responded in a recent Federal Reserve survey that they were doing at least okay financially in 2017, only two-thirds of African Americans and Hispanics responded that way," Powell said.
Fed Chair's Plans for Historically High Balance Sheet
Powell plans to continue unwinding the Federal Reserve's $4.5 trillion balance sheet, but he said he does not have a timetable for when the central bank's balance sheet will reach an unspecified level. 
Powell did say that the plan is to return the balance sheet to a mainly Treasuries balance sheet. "My estimate has been three or four years. The public's demand for currency will dictate how much and how quickly the Fed winds down its balance sheet." 
Flattening Yield Curve
The Federal Reserve isn't too concerned about the direction of the Treasury yield curve, saying that it is a result of markets pricing in the anticipation of rising interest rates. 
"We know why the short end of the yield curve is moving up. The market is pricing in the Fed's raising of interest rates. The yield curve reflects the market's estimate of the long-term neutral rate," Powell said. 
Tax Cuts
Jerome Powell says "U.S. fiscal policy has been on an unsustainable path for some time," when asked about the tax cuts that Congress passed last year. "We need to get the economy growing faster than the debt."
Financial Stability
Powell was asked what the biggest threat to U.S. financial stability is and he responded that a successful large-scale cyber attack represented the biggest threat.
"The thing that is really hard is the idea of a successful cyber attack. We work hard to be prepared for that. In terms of financial stability, risks are at their normal levels. Nothing really is flashing red in the financial markets. Congress should do as much as possible and then double it," Powell said. 
On Cryptos
Cryptocurrencies are good for hiding money or laundering money, according to Powell, but the Federal Reserve is not the agency that is best equipped to regulate digital currencies, according to Powell. 
Powell also noted that cryptocurrencies tend to not satisfy the two basic tenets that legacy currencies tend to fulfill. 
"Currencies are supposed to be a means of payment and a store of value. Cryptos aren't used as a means of payment and in terms of stores of value, due to volatility, it's just not there," Powell said.