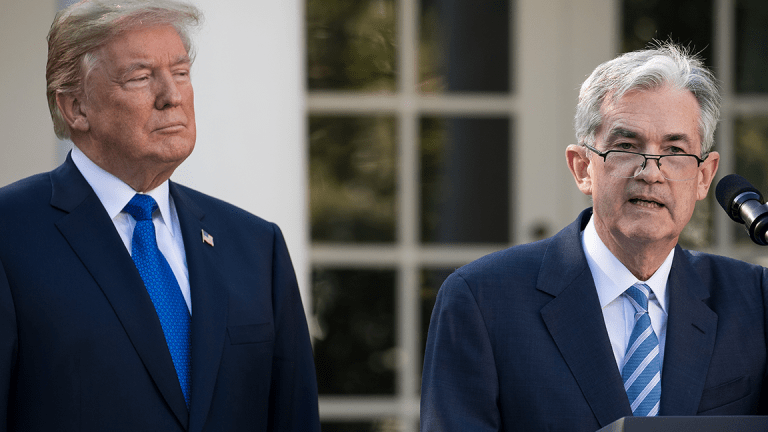 Trump's Fed Pick Deflects Tax-Cut Queries but Worries About U.S. Debt
Jerome Powell, a member of the Fed's board, was selected by President Donald Trump to succeed Janet Yellen earlier this month. It was a departure from the tradition of every president since Ronald Reagan of nominating the sitting chair for another term.
Jerome Powell, a member of the Fed's board, was selected by President Donald Trump to succeed Janet Yellen earlier this month. It was a departure from the tradition of every president since Ronald Reagan of nominating the sitting chair for another term.
Adding another $1.5 trillion to the U.S. debt would, in the abstract, make a bad situation worse, agreed President Donald Trump's nominee to lead the U.S. Federal Reserve.
The bad situation, of course, being the $20 trillion the government already owes.
But Jerome Powell made clear to the Senate Banking Committee during his Tuesday, Nov. 28, confirmation hearing that he was in no way opining about the Republican plan to overhaul the U.S. tax code, which is expected to widen the deficit by about $1.5 trillion over the next 10 years. 
Scoring such proposals "isn't our role," the 64-year-old Powell said in response to questions, largely from committee Democrats who theorized that the budget shortfall could be tacked on to the country's debt load. The tax bill, which eliminates a variety of deductions for individual taxpayers while cutting the top corporate rate to 20% from the current 35%, has passed the House of Representatives and may be voted on by the full Senate as soon as this week.
"Clearly, the debt needs to be on a sustainable path," Powell told Sen. Chris Van Hollen, a Maryland Democrat. "We all know that, we all agree on that, but it's not for us to take part in the discussion you and your colleagues are having."
Such exchanges, coming as the GOP-controlled Congress tries to give Trump a major legislative win before the end of his first year in office, illustrate the political minefield facing the president's nominees. Powell, who has served on the Federal Reserve's board of governors for five years, is a centrist who has largely supported the policies of current Chair Janet Yellen, but found himself fielding questions about hot-button topics from Trump's disputed appointment of a Consumer Financial Protection Bureau chief to the effects of immigration on the economy.
On matters closer to the Fed's assigned responsibilities, Powell sketched out his views on both future interest rates and the central bank's balance sheet as well as finance-industry regulations tightened since the 2008 financial crisis. While it's appropriate to tailor some of those rules based on the size and risk posed by lenders and other financial institutions, he said the central bank will move carefully as it reviews ways to do that.
"I'm not going to characterize what we're doing as deregulation," Powell told Sen. Elizabeth Warren, a Massachusetts Democrat who has supported stronger oversight of Wall Street. "I would rather think of it as looking back over eight years of what is very innovative regulation in many cases -- things that have never been done, like liquidity requirements, resolutions, stress-testing -- looking back over what we did and making sure it makes sense."
Both Congressional Republicans and Trump, a former real estate mogul whose companies sought bankruptcy protection six different times, have pushed for broad loosening of the rules governing Wall Street, arguing that excessive post-crisis regulation kept the U.S. economy from reaching previous growth levels.
Such rules include a requirement that firms from JPMorgan Chase & Co. (JPM) - Get Report to Citigroup Inc. (C) - Get Report and Bank of America Corp. (BAC) - Get Report undergo annual stress tests overseen by the Fed that gauge whether they have the reserves needed to weather a severe downturn. Additionally, they must regularly complete resolution plans, or living wills, detailing how they could be wound down in the event of a collapse.
Citigroup is a holding in Jim Cramer's Action Alerts PLUS charitable trust portfolio. Want to be alerted before Cramer and the AAP team buy or sell the stock? Learn more now.
The government intended the latter measure to prevent the confusion that followed the September 2008 failure of investment bank Lehman Brothers, which froze global credit markets and prompted billions of dollars in taxpayer bailouts.
Coupled with spiking unemployment and a slide in capital markets, the bailouts prompted criticism that Corporate America was benefiting at the expense of voters. Congress's subsequent decision to grant regulators the power to wind-down companies whose collapse might imperil the financial system, however, sparked concern that the government could arbitrarily select winners and losers during crisis situations.
While the system may not be perfect, Powell conceded, it's a vital tool during emergencies.
"Bankruptcy should be the preferred option for financial institutions, including very large financial institutions, however there may come a time when bankruptcy is not going to work in a very stressful situation that really threatens the economic health of the country," he said. "In that case, we really will need backup in the form of something like Orderly Liquidation Authority."
More of What's Trending on TheStreet:
Action Alerts PLUS, which Cramer manages as a charitable trust, is long C.