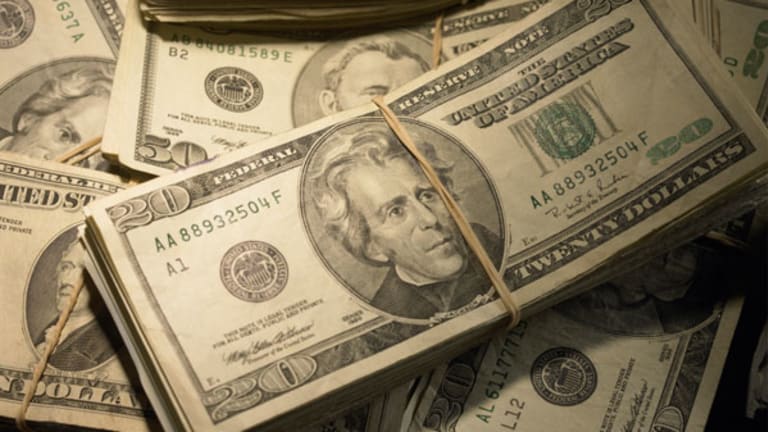 Jensen: Going for Growth
Finish Line and HD Supply are a pair of unappreciated value stories.
Editor's Note: This article was originally published at 2:00 p.m. EDT on Real Money on Aug. 8. To see Bret Jensen's latest commentary as it's published, sign up for a free trial of Real Money.
NEW YORK (
) -- Second-quarter earnings seasons has been solid but not spectacular so far. Of the companies reporting, earnings are up by just over 4% from this time last year. Revenue growth is much harder to come by and is just about flat year over year. I decided to use the recent decline in the market to add growth to my portfolio Wednesday. I picked up two unappreciated growth stocks that sell at very reasonable valuations.
The Finish Line
(FINL)
is a mall-based specialty retailer in the U.S. The company operates stores that offer performance and athletic casual shoes, as well as apparel and accessories for men, women and kids. The company also operates
Running Specialty
stores. The company is growing revenue in the low teens, and same-store sales are positive. Given this, the stock is reasonably priced at less than 14x this year's projected earnings.
What is exciting about this retailer is its growth catalysts in the pipeline. First, it is partnering as
Macy's
(M)
exclusive footwear provider both in stores and online. Finish Line will have a store within a store at 450 Macy's locations and manage the footwear department at the remaining stores. This is expected to add $250 million to $350 million in annual sales over the next 12 to 18 months as the rollout is completed.
Second, the company is doing a commendable job growing digital sales. Online revenues are growing in the mid-teens and margins are improving as well. Web-based sales now make up about 13% of overall revenues, and that percentage should increase in the future.
Lastly, the company sees an opportunity to take market share in the fragmented specialty running footwear segment. It has plans to grow to some 200 stores and eventually achieve up to $250 million in annual sales in this niche.
The second growth stock I added to my portfolio is
HD Supply Holdings
(HDS)
. The company is one of the largest industrial distributors in North America. HD Supply provides a broad range of products and value-added services to approximately half a million customers. The company just came public in June and has to deliver quarterly earnings results as a public company. It is a former subsidiary of
Home Depot
(HD)
.
Although new to the public market, the company has more than $8 billion in annual sales and is growing revenues in the teens. The stock is currently priced at just over $23 a share after coming public at $18. Several analysts have come out recently with positive ratings on the stock recently, including UBS, Raymond James, William Blair and Robert W Baird. J.P. Morgan believes the company can grow EBITDA at better than a 20% compound annual growth rate, and Deutsche Bank has the company making $1.75 a share in 2014 and earning more than $2.50 per share in 2015.
Risk factors are tied to the continuing recovery in the construction markets (about 35% of annual revenues). In addition, it does have some $6 billion in debt. Its debt maturities, however, are well staggered and do not start coming due until 2017. I took a small position in HDS and I will be monitoring it as the company starts to deliver results. HDS is priced at about 50% of annual revenues. The company could be a big winner if it can meet analysts' expectations, as the domestic economy continues to grow, and as it pares down debt.
At the time of publication, Jensen was long FINL and HDS.
At the time of publication, Jensen was long FINL and HDS.