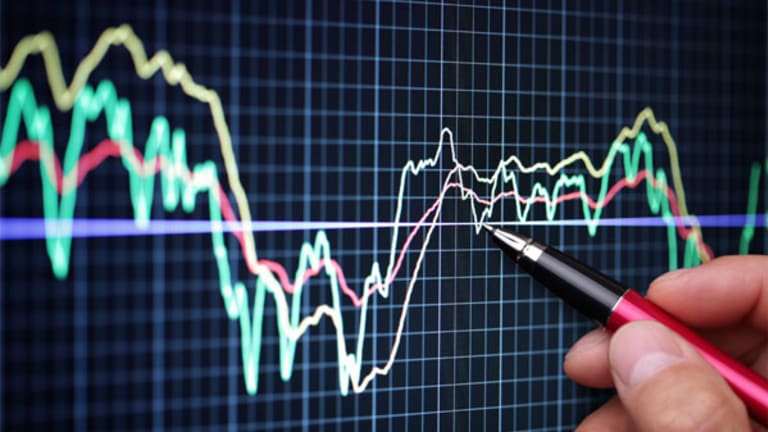 Jensen: EMES Still in Early Innings
I am more optimistic about some of the larger onshore plays.
This article originally appeared on RealMoney.com To read more content like this AND see inside Jim Cramers multi-million dollar portfolio for FREE - Click Here NOW.
The market staged a nice but unconvincing rally on Monday after last week's pullback in equities. This sort of back and forth movement in the market should continue until the market gets some clarity around domestic and global growth prospects.
On Monday, this column looked at some of the high yield/low beta plays that should outperform in an increasingly volatile market. I have a good portion of my portfolio in these value plays. For growth, I am trying to invest in themes that still look intact.
One of these continues to be the domestic energy boom that I still feel is in its early innings. I have covered a myriad of exploration and production plays I like in recent months. Let's take a look today at the landscape for energy services concerns that should do well as drilling continues unabated.
I believe it is important to differentiate between onshore and offshore drilling plays. I am underweight the offshore sector as that industry is seeing declining day rates, falling utilization rates and a rash of recent analyst downgrades. These concerns will offer eventually a great long-term entry point but it does not feel like we are quite there yet.
I am more optimistic about some of the larger onshore plays whose stocks spent most of 2012 and 2013 marking time, but have shown strength since the last quarter of 2013. WTI oil prices remain near $100 a barrel and natural gas prices have improved substantially of late.
One of the upgrades in the energy space that caught my eye yesterday was Bank of America taking its price target on frac sand provider Emerge Energy Services (EMES) from $50 to $61 a share. Bank of America believes this limited partnership will distribute $4.30 a share in FY2014 -- which is above the company's guidance of $3.80 to $4.00.
Bank of America has this jumping to $6.75 a share in FY2015 as the bank sees pricing power and increasing demand in the frac sand market. This is a precursor to strong onshore drilling activity.
Goldman Sachs also added the Patterson-UTI Energy (PTEN) to its "Conviction Buy" list Monday as it upgraded the second largest domestic land driller from "Neutral". It also raised its price target substantially from $28.50 to $37 a share. Goldman Sachs expects higher onshore pricing in North America, which  will help Patterson reach its margin targets.
One of my favorite plays in the onshore drilling space right now continues to be Halliburton (HAL) , another "Conviction Buy" holding of Goldman. I have covered this energy services play many times on these pages over the last year and have held the shares since the highs $30s. Although not the steal it once was at over $55 a share, it still offers good value and solid growth prospects at current levels.
Based on the current consensus, earnings should grow approximately 25% annually over the next two years on the back 8% to 10% revenue growth. The shares are reasonably priced at just over 11x FY2015's projected earnings per share and stock sports a five-year projected price/earnings to growth ratio of under 1 (.65).
Halliburton benefits from both domestic and international onshore activity. Slightly over half of its revenues comes from North America and the company has a commanding market share lead in the pressure pumping market in the U.S.
I believe this combination of high yield/low beta plays along with a dash of selected growth picks will form a portfolio that should outperform a challenging market in 2014. It also should allow me to sleep quite easy while we await for some more clarity on the direction for equities.
At the time of publication, Jensen was long HAL.