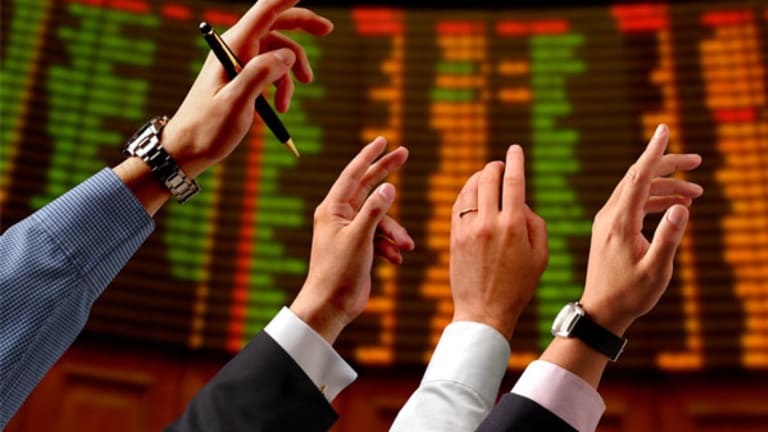 Jensen: Buy American
This Editor's Choice piece discusses investing in U.S. retail chains Macy's and Abercrombie & Fitch to mitigate European headwinds
A common theme in recent earnings reports from companies as diverse as FedEx (FDX) - Get FedEx Corporation Report and Oracle (ORCL) - Get Oracle Corporation Report are their falling revenues from Europe. Given the ongoing and accelerating debt crisis there, I would expect this headwind to remain in place for the near future. The BRICs are not providing many bright spots, either. China has slowed, Russia is Russia, India is in deep trouble, and Brazil's growth has decelerated from around 7% a year ago to below 3% now.
One of strategies I am using to mitigate these overseas headwinds is to allocate more of my portfolio to U.S.-centric companies. I particularly like some retail stocks for their low valuations, improved balance sheets and the fact that they should benefit from receding prices at the pump. Here are two of my favorites.
Macy's
operates more than 800 stores under the Macy's and Bloomingdale's names in 45 states, Guam and Puerto Rico.
Four reasons Macy's offers solid value at $36:
The company has a solid balance sheet, selling at 7x operating cash flow, and provides a 2.2% dividend yield.
The market undervalues Macy's growth prospects given it has a five-year projected price-earnings-growth ratio of 0.85. It also should benefit from the turmoil going on with one of its prime competitors, J.C. Penney (JCP) - Get J. C. Penney Company, Inc. Report.
The company has consistently beaten earnings estimates over the past three years. The average beat above consensus over the past four quarters has been north of 17%.
The stock is selling at a very reasonable 9.7x forward earnings, a discount to its five-year average (12.1).
Abercrombie & Fitch
(ANF) - Get Abercrombie & Fitch Co. Class A Report
operates more than 1000 stores primarily under the Abercrombie and Hollister brand names. Approximately 90% of its stores are located in the U.S.
Four reasons this former high flyer is a great bargain stock at $32:
Since falling more than 50% since last summer, ANF is now selling near the bottom of its five-year valuation range based on price/earnings, price/book, price/sales and price/cash flow.
The company has a robust balance sheet with almost $300 million in net cash on the books and it has a solid 2.2% dividend yield as well.
The stock has great relative value. Its market capitalization is two-thirds of competitor American Eagle (AEO) - Get American Eagle Outfitters, Inc. Report, even though it produces 50% more revenue, and analysts expect Abercrombie to have much faster sales growth over the next few years than AEO.
ANF is selling at around 7.5x forward earnings, a deep discount to its five-year average (17.2). It also has more than 50% upside to reach the median analysts' price target of $51 per share.
At the time of publication, Jensen was long ANF.