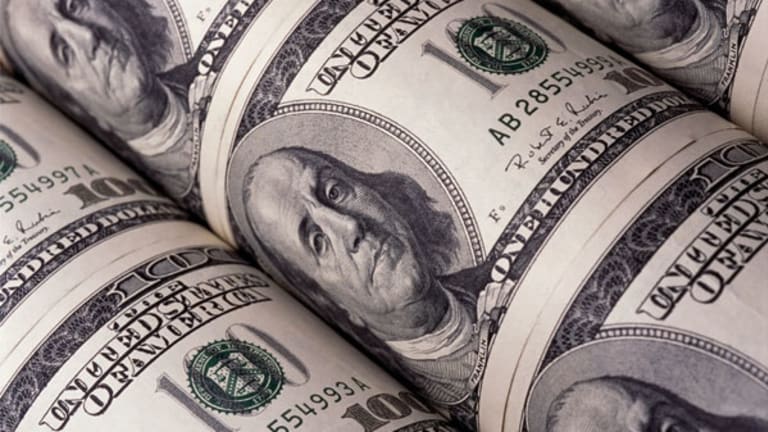 Jensen: A Couple of Enticing Regionals
These regional banks look like buys at current levels.
Editor's Note: This article was originally published at 1 p.m. EDT on
Real Money
on June 25. Sign up for a free trial of Real Money.
Of late, I've been
about
on every dip over at
-- but I'm going to take a day off from that, given the recent carnage in the high-income-equity sectors. Today, instead, I want to take a look at a couple of regional banks.
First, the regional-banking sector has held up quite well over the last few weeks, even as the majority of the market has sold off on the interest-rate back-up. This makes sense, because banks will benefit from the higher interest rates, provided that those higher rates don't significantly slow down the real economy. After all, the rate climb will help banks' net interest margins.
Beyond that, though, regional banks have some additional tailwinds. Obviously they should continue to perform more strongly as the housing market recovers and as the overall U.S. economy continues to grow, even if it is at a tepid rate. Smaller banks will also require less capital and have a lower regulatory burden than their bigger brethren -- those designated as "too big to fail." Finally, even after a nice run in the shares over the past few years, many of these smaller banks' stocks are still selling significantly under their post-crisis highs.
With all that in mind, here are two of the regional-bank stocks I still like at current levels.
First,
Huntington Bancshares
(HBAN)
has approximately 700 branches in Ohio, Michigan, Pennsylvania, Indiana, West Virginia and Kentucky. Among the regional banks that have preserved their net interest margins over the last few years in a very-low-rate environment, Huntington has been one of the best. In fact, Merrill Lynch recently named it one of the best-positioned regional banks for the impending rate climb.
Over the past six weeks, interest rates have seen one of their quickest percentage-based increases in recent decades. But, despite this, over that same time frame we haven't seen a climb in Huntington's consensus earnings estimates. As analysts factor these higher interest rates into their forecasts, those earnings targets should move higher. The bank has easily beat consensus in each of the last four quarters.
Huntington shares are selling at around 11x this year's expected earnings, a bit of a lower multiple than peer average. It also recently lifted its dividend payout by 25%, with a current yield of 2.6%. Along with that dividend hike, moreover, the company has announced a new $227 million stock-repurchase program.
Moving on to
Regions Financial
(RF)
, this firm has some 1,700 banking offices throughout the Southeast and Texas. Stern Agee has recommended the shares a few times over the last month, and the stock is not expensive at 11x this year's expected earnings. Standard & Poor's also recently upgraded its credit outlook on the bank from Stable to Positive.
That aside, the company tripled its dividend in April -- and, although it still yields just 1.3%, I would expect further payout increases over the next couple of years. Earnings estimates for both 2013 and 2014 have ticked up over the last three months, but I expect more upward revisions as the recent rate climb is taken into consideration. Finally, the Southeast and Texas -- the company's regional footprint -- should grow faster than the nation as a whole over next few years, according to most economic forecasts.
At the time of publication, Jensen was long HBAN.