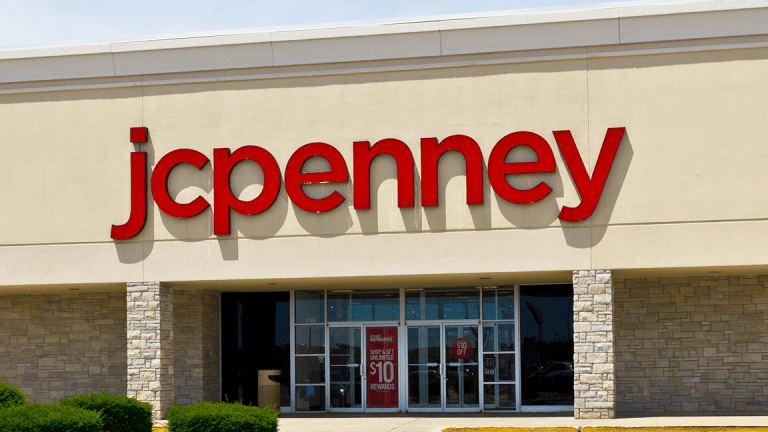 J.C. Penney Gets Obliterated After Issuing Weak Outlook
J.C. Penney suffers after it posts earnings below analysts' expectations.
J.C. Penney suffers after it posts earnings below analysts' expectations.
Uh oh.
J.C. Penney Co.  (JCP) - Get Report shares fell 11% on Thursday, May 17, after it posted first-quarter earnings that were lower than expected and issued an outlook that came in below forecast.
The retail giant posted earnings of $2.58 billion, but analysts had expected it to announce earnings of $2.61 billion for the first quarter.
The company lost $78 million, or 25 cents per share, in the first quarter. When adjusted, the loss was 22 cents a share.
Comparable-store sales are estimated to be between 0% and 2% in fiscal 2018.
On J.C. Penney's earnings call, CEO Marvin Ellison stated that the company suffered after unseasonable weather. When the temperatures normalized, Ellison stated that the sales increased. 
The company is currently entering the appliance market, which is a direct competitor to Sears Holding Corp. The appliances are slowly being rolled out in stores. So far, Ellison says, the appliance sales show growth and they're performing "great."
"When we see a Sears close, it's a significant benefit to our business," said Ellison. He followed up saying that over 100 Sears have closed in malls that also housed J.C. Penney's, allowing the company to understand the effect of the store closure on the company's business.
Unfortunately, J.C. Penney's website suffered after it hit multiple supply chain and process issues. Ellison stated that the retail giant has found the source of the problems and has corrected it. He does not believe that the issues will carry on to the next quarter.
J.C. Penney plans to roll out 27 new Sephora locations in its stores throughout the second quarter. 
Throughout the call, Ellison reiterated that a large issue for J.C. Penney this quarter was weather. However, on the Macy's Inc. earnings call on Wednesday, Jeffrey Gennette, CEO, stated that weather did not have an effect on sales. 
"We do accept that apparel sales were sluggish over the period, but in our view, this has more to do with the poor assortment at JCP than the vagaries of the weather. Despite some changes to clothing, we still believe that ranges lack conviction and coherence, especially in womenswear. In short, the offer is just not all that compelling," said Neil Saunders, managing director of GlobalData Retail.
TheStreet presents on May 22: "How to Stomach Market Volatility." Hosted by Fisher Investments, the exclusive live webinar will give you the tools to successfully navigate market volatility and discuss why having a wealth manager is more critical than ever before. Quickly register for the event here.