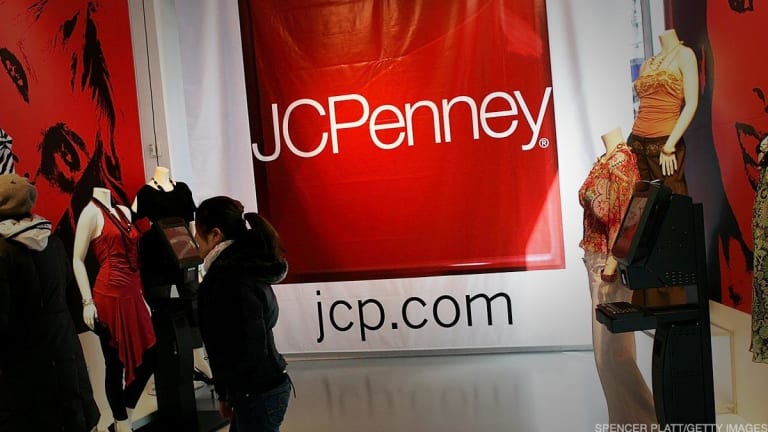 J.C. Penney Shares Gain Despite Holiday Sales Slide as 2018 Cashflow Target Held
J.C. Penney shares rise after the troubled retailer restates its 2018 cash flow forecasts even as holiday sales fall despite record consumer spending.
J.C. Penney (JCP) - Get Report shares rose sharply higher Wednesday after the troubled retailer restated its 2018 cash flow forecasts even as holiday sales fell despite record consumer spending.
J.C. Penney said comparable store sales for the nine weeks ended on Jan. 5, fell 3.5%, but reaffirmed its aim to generate positive free cash flow for the whole of 2018. The company also said it will have reduced inventory by more than $225 million, or 8%, and sees year end excess liquidity of around $2 billion. 
"J.C. Penney will initiate three preliminary store closings this spring as part of an ongoing evaluation of its store portfolio occurring over the next few months, which includes assessing locations that may not meet required financial targets or represent a market opportunity to capitalize on a beneficial real estate asset," the company said in a statement.
J.C. Penney shares were marked 10.7% higher in trading, changing hands at $1.34 each Wednesday, a near 30% gain since the record low of 97 cents just after Christmas.
The disappointing same-store sales figures highlight the retailer's struggles in a competitive market that has already pushed Sears Holdings into Chapter 11 bankruptcy despite a surge in consumer sentiment and spending.
U.S retail sales rose by a stronger-than-expected 0.9% in November, the Commerce Department said last month, after an upwardly revised 0.7% increase in October, and data Adobe Analytics suggests 2018 online holiday spending topped a record $126 billion.
JC Penney said sales at stores open for more than a year fell 5.4% in the group's third quarter, which ended on November 3, pushing the Plano, Tx.-based department store chain to a wider-than-expected loss of 48 cents a share. The group also scrapped its full-year profit guidance at the time. 
The demise of Sears, which avoided liquidation for at least a few more days after a judge gave chairman Edward Lampert's ESL Investments hedge fund until today to submit a revised offer to buy the chain as a going concern, has pushed some customers to rivals such as J.C. Penney and Burlington Stores Inc. (BURL) - Get Report over the holiday period, but analysts at Credit Suisse aren't sure it will last.
"We don't see this as sustainable customer acquisition for JCP given the increased risk of closing destabilized malls, limited visibility to an improved merchandise strategy, and leverage constraints to growth investing," the bank said in a client note Wednesday.