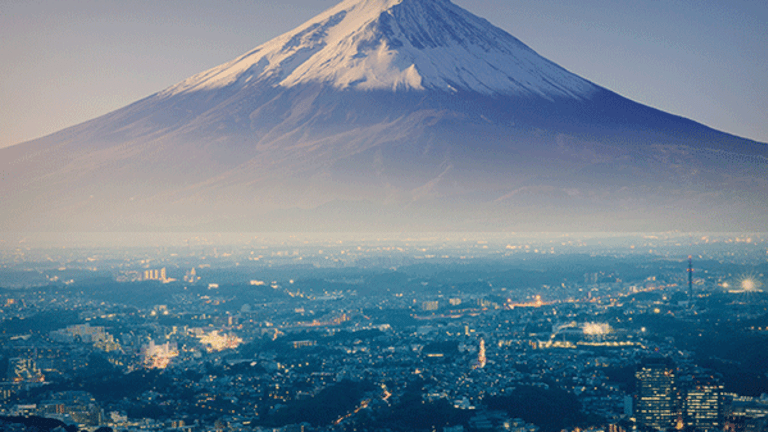 Japan's Big Brewers Hit Tough Times
Is the glass half full, or half empty? The "Big Four" beer companies in Japan are looking to international markets while losing market share and customers at home.
This article originally appeared at 11:00 ET on Real Money, our premium site for active traders. Click here to get great columns like this from Alex McMillan and other writers even earlier in the trading day.
These are tough times for Japan's brewers. The country's population is getting older, and the younger generations have been experimenting more with wine and whiskey. The white spirit shochu was once viewed as old fashioned, but has experienced a boom in popularity. Shochu sales have surpassed sake, and the drink has become trendy with younger drinkers, particularly women.
In contrast, the Japanese market for beer is shrinking at an annual average rate of 1% to 2% -- it was down 2% in 2016. That leaves the "Big Four" turning to other alcoholic options, soft drinks and international expansion to generate growth.
Beer is a subject close to my stomach -- or at least, it used to be. My December resolution to get in shape has resulted in a temporary ban on personal alcohol consumption that continues to this day!
I dread to think how much I've spent on beer and sake (my tipple of choice before sudden sobriety), but I've done my part to prop up the Japanese brewers. Investors should watch how they play current trends in Japan, with many households now dominated by heads in their 50s or 60s. They tend to "party" at home much more than at a traditional izakaya-style skewer bar, as I explained at the height of the holidays in late December.
AsahiGroup Holdings (ASBRY) , Kirin Holdings (KNBWY) , Suntory Beverage & Food (STBFY) and Sapporo Holdings (SOOBF) dominate the domestic market. They eat up 91% of sales, and have something of a stranglehold on distribution that independent brewers struggle to break.
That being said, their market share is shrinking ever so slightly. And a slice of any pie in the third largest economy in the world is worth a bite.
"In a country of this size, any small shift is a huge number to the new guys," Lorne Erenberg of the beer importer AMMS Export says. "The abundance of craft bars tells you people are going to places that don't force any of the Big Four beers on you. They actually give you a choice of beers and it works." 
AMMS Export, which imports only beers from Ontario into Japan, believes the future is female. Craft beers present a break from tradition, and department stores are targeting women shoppers, since they're often the person picking up the groceries for the family. Erenberg finds that fruity wheat beers and those tinged with raspberry or maple syrup sell well. 
One of the drawbacks of craft beers is that they have much shorter shelf lives than mass-produced brews. A "normal" can from the big breweries has a best-before stamp of around eight months on it. Bottled beer from small breweries typically has a list date of three to five months, since light will taint the beer's color in the end.
But higher-alcohol beers are a different story. Japanese bulk-brewed beer comes in at or around 5%. The seasonal specialty beers that the Japanese love might be a percentage point higher, but nothing more.
That's nothing like Double Dead Elephant from Railway City in St. Thomas, Ontario. At an alcohol volume of 7.5%, it can sit on the shelf for at least a year. Acadian Groove, a maple beer from the Flying Monkeys Craft Brewery, shoots through the roof at 10%.
Double Dead Elephant is a personal favorite of Erenberg, and something he would like to see spread across Japan, spreading smiles as it goes. "The world would be a much happier place if everyone had access to this beer," he explains.
In Japan, Kirin -- my personal favorite among the big beers -- saw sales slip 2% last year. But it expects a 5% climb in 2017.
Kirin has struggled with its international expansion. It finally sold out of its loss-making beer business in Brazil, with a mid-February deal to sell its Brasil Kirin operations to Heineken for $1 billion. It had paid $3.9 billion for 12 breweries in 2011, but consistently lost market share.
Beer sales within Japan rose 4% for Sapporo in calendar 2016, which is viewed as healthy in a down and mature market. But they also rose 4% in Vietnam, which is viewed as unhealthy.
Sapporo's 4% gain was the best beer performance last year for the big guys. It has gained market share in western Japan thanks to a promotional push. But it's turning an operating loss in Vietnam. Emerging markets should be posting outsize gains, it seems -- fitting when you consider that Vietnam's economy grew 6.2% last year. It is due to remain above 6% at least until 2021, according to Oxford Economics.
Vietnam's beer market, like China's, is highly fractured with a lot of regional brewers. You can even buy "bia hoi" or "fresh beer" on street corners and even in plastic bags, to drink with a straw on the go. So there's a lot of ground for foreign brands to gain. 
At home, Sapporo is targeting the premium segment, where craft beers compete. But that's contracting overall, while the mid-range market expands. The company has forecast an increase of 2% in beer sales this year, which the investment bank Nomura says it may exceed. But the bank predicts international sales will disappoint again.
Asahi has been the strongest performer among the Big Four. But that has also come through international expansion -- beer sales at home fell 3% last year.
The company has been expanding in Eastern and Western Europe, with a $7.9 billion deal to buy five brands from Anheuser-Busch InBev (BUD) . The most famous is Pilsner Urquell, the market leader in the Czech Republic, with Tyskie and Lecher in Poland and Dreier in Hungary thrown in. It has already bought Peroni and Grolsch in Western Europe from SABMiller (SAB) .
Suntory made the biggest acquisition by any Japanese brewer in history with its $14 billion deal to buy Beam Inc. in January 2014. That business boosted sales by 40% and now operates as the subsidiary Beam Suntory.
Suntory hasn't given estimates for 2017, but its sales fell 3% last year. Its focus this year? On premium beers, under its slogan "Make Fridays Great."
At the time of publication, Alex McMillan had no positions in the stocks mentioned.