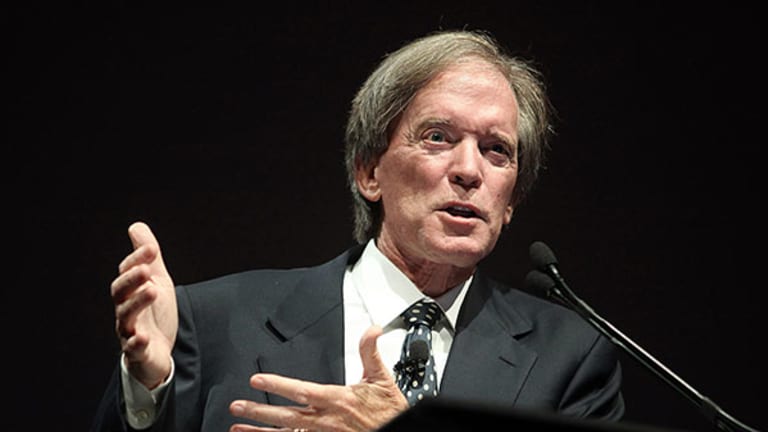 Janus's Bill Gross Sees Opportunity in Economies Revving Up at Different Speeds
Investors should choose the least overvalued asset to hold, and the most overvalued asset to sell," Janus Capital's Bill Gross said in a blog post.
NEW YORK (TheStreet) -- Janus Capital's Bill Gross, the former head of PIMCO, doesn't think much of current global economic policies and sees an opportunity for investors to profit playing one country's economy against another's.
The European Central Bank, for instance, is committed to buying 60 billion euros in securities a month through September 2016 to bolster the region's economy, while the Federal Reserve "is chomping at the bit" to raise interest rates in the U.S., Gross said. "Partially because of these differences, there remain significant disparities in global asset prices that potentially can be successfully arbitraged."
Ten-year Treasuries in the U.S., for instance, still trade at a 175-basis point premium to 10-year German Bunds, compared with a long-term historical average of about 25 basis points, Gross explained in a blog post Wednesday on Janus Capital's website.
"A purchase of Treasuries and a sale of Bunds allows for not only a potential capital gain if the spread narrows, but a yield pickup while the Rip Van Winkle investor potentially waits for a probable outcome," he said.
Central banks and their respective economies seem to be on different time cycles, Gross said, and the resulting differences in policy as well as the staggered implementation "allows for opportunities such as the above," he said. "Still, an investor cannot go too far with the assumption that global asset prices in any sector or location will inevitably revert to historical mean averages."
It's particularly important to compare growth in national economies, as reflected in their gross domestic product, he said.
A relative-value analysis of world GDP growth rates is "the primary determinant of yield and risk spreads," he said.
"In this modern era of mal-investment in financial assets, investors should want to choose the least overvalued asset to hold, and the most overvalued asset to sell," Gross concluded. "For an unconstrained fund that can both buy and sell, the current opportunity is a rare one."