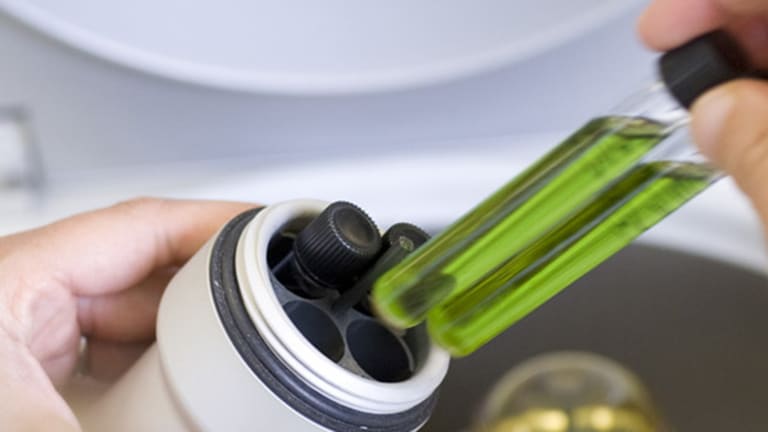 Janney Says Sell GW Pharma Despite Marijuana-Derived Drug Success In Seizures
Shares of GW Pharmaceuticals are on the rise after the company announced this morning positive Phase 3 results for its Epidiolex for the treatment of Lennox-Gastaut syndrome, or LGS.
Shares of GW Pharmaceuticals (GWPH) are on the rise after the company announced this morning positive Phase 3 results for its Epidiolex for the treatment of Lennox-Gastaut syndrome, or LGS. In an earlier morning note, Janney Capital analyst Ken Trbovich initiated coverage of the drugmaker with a Sell rating on the stock, saying he does not see commercial value even if the company were to report good LGS data. Conversely, Piper Jaffray and Leerink remain bullish on the stock, reiterating a Buy-equivalent rating on the shares following the trial results announcement.
POSITIVE PHASE 3 DATA: GW Pharmaceuticals announced this morning the results of the first randomized, double-blind, placebo-controlled Phase 3 clinical trial of its investigational medicine Epidiolex for the treatment of Lennox-Gastaut syndrome, or LGS, a rare and severe form of childhood-onset epilepsy. According to GW Pharmaceuticals, Epidiolex, when added as an adjunct to the patient's current treatment, achieved the primary endpoint of a significant reduction in the monthly frequency of drop seizures assessed over the entire 14-week treatment period compared with placebo. Epidiolex was generally well tolerated during this trial, the company added.
LIMITED COMMERCIAL VALUE: Janney Capital's Trbovich initiated coverage of GW Pharmaceuticals with a Sell rating and $40 price target. While the note was issued before the company reported results of its Phase 3 trial on LGS, the analyst noted that even "good data" would not change his thesis as he believes its valuation exceeds the commercial prospects for drugs that treat orphan epilepsy indications. Recently launched new drugs for epilepsy, including those specifically targeting the same orphan indications for which GW Pharmaceuticals is seeking to gain Epidiolex approval, generate annual sales in the range of $50M-$250M 3-7 years after launch, the analyst told investors, noting that, however, Wall Street estimates put Epidiolex sales at over $700M in 2020, its third year on the market.
IMPORTANT SUCCESS: Piper Jaffray analyst Joshua Schimmer said the Phase 3 trial of GW Pharmaceuticals' Epidiolex in LGS demonstrated a "robust" median seizure reduction and an acceptable and well-tolerated safety profile. The analyst saw the results as another "important success" which, along with the company's Dravet Syndrome data, positions GW Pharmaceuticals for regulatory approval pending additional trial readouts. The company has a pre-New Drug Application, or NDA, meeting scheduled with the FDA soon to discuss the Dravet Syndrome data and NDA submission, and plans to request one now for LGS, Schimmer noted. He reiterated an Overweight rating and $147 price target on the shares. Leerink analyst Paul Matteis also remains bullish on GW Pharmaceuticals, raising his price target on the shares to $138 from $130 after the company's positive first Phase 3 results for its Epidiolex in LGS. The analyst said he now sees an 85% probability of success in LGS and a 90% probability of approval in Dravet, and reiterated an Outperform rating on the shares.
WHAT'S NOTABLE: Epidiolex, GW's lead cannabinoid product candidate, is an oral pharmaceutical formulation of pure CBD, which is in development for the treatment of a number of rare childhood-onset epilepsy disorders. Cannabinoids are the chemical compounds secreted by the flowers of Cannabis sativa plant, colloquially known as marijuana.
PRICE ACTION: In morning trading, shares of GW Pharmaceuticals have gained about 11% to $92.46 per share.
Reporting by Jessica de Sa-Mota.
The Fly
is a leading digital publisher of real-time financial news. Our financial market experts understand that news impacting stock prices can originate from anywhere, at any time. The Fly team scours all sources of company news, from mainstream to cutting-edge, then filters out the noise to deliver short-form stories consisting of only market moving content. Follow @theflynews on Twitter. For a free trial, click