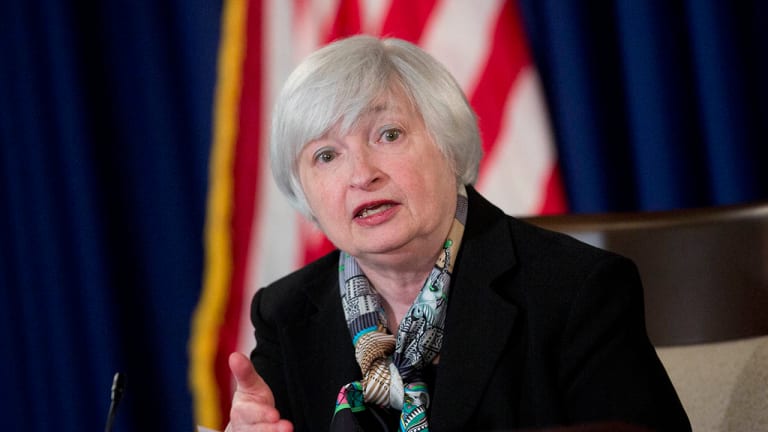 Yellen's Exit From Fed Gives Trump a Chance to 'Stack the Deck'
Jerome Powell, a member of the Fed's board, was selected by President Donald Trump to succeed Janet Yellen earlier this month. It was a departure from the tradition of every president since Ronald Reagan of nominating the sitting chair for another term.
Jerome Powell, a member of the Fed's board, was selected by President Donald Trump to succeed Janet Yellen earlier this month. It was a departure from the tradition of every president since Ronald Reagan of nominating the sitting chair for another term.
There's no question that staying on the Federal Reserve's board after relinquishing the role of chair to a colleague would have been awkward for Janet Yellen.
But there was still a chance the first woman to lead the U.S. central bank might do so. It's a quirk of the organization's structure that its chairs, who serve four-year terms, are also governors, who hold their seats for 10 years. 
Because of that, the 71-year-old Yellen could have remained on the board until January 2024 even though President Donald Trump opted not to reappoint her as head of the U.S. central bank. Her departure from the seven-member board will give the first-term president, a proponent of looser bank regulation and low interest rates, even more power to influence the central bank than he had before.
Three seats on the Fed's board were already vacant, which has increased the responsibility of the remaining governors. And since all of them also serve on the monetary policy committee, the openings have ceded greater control over interest rates to regional Fed presidents who hold the remaining five of that panel's 12 positions. 
Jerome Powell, the Fed governor whom Trump chose to succeed Yellen as chair, "is expected to be more tolerant of a stronger growth profile and more rapid inflation relative to Chair Yellen, who has consistently targeted a 'moderate' growth rate," Stifel Fixed Income Chief Economist Lindsey Piegza said in a note to clients earlier this month. "Hoping to stimulate the economy and sustain improvement, the White House is stacking the deck -- or should we say Fed -- with like-minded officials who will welcome and promote the Trump agenda." 
The White House likely expected Yellen's departure, since Fed chairs don't usually remain on the board, and can pull candidates from an existing short list, Joseph Song, an economist with Bank of America said in a telephone interview. Filling four vacant seats would give the president longer-lasting influence on the central bank and, by extension, the monetary policy committee, he said. 
"I wouldn't think there would be a major push from the Trump administration to really expedite the process for getting Powell confirmed," Song added. Since Yellen indicated she would remain until Powell's swearing-in, and both she and her predecessor, Ben Bernanke, were confirmed by the Senate in mid-late January, the chamber will probably stick to that timetable, he said.
Yellen, appointed by Democratic President Barack Obama to a term that began in 2014, led the Fed as it strengthened bank oversight under post-financial crisis laws and began pulling back extraordinary incentives that helped restore U.S. economic growth.
Rising Interest Rates
The Fed began raising short-term interest rates, which had been held at nearly zero for seven years, in late 2015, and three subsequent hikes have taken them to a range of 1% to 1.25%. In September, the monetary policy committee voted to begin shrinking a balance sheet that had mushroomed to $4.5 trillion with securities purchases intended to buoy market liquidity after the 2008 crisis.
"As I prepare to leave the board, I am gratified that the financial system is much stronger than a decade ago, better able to withstand future bouts of instability and continue supporting the economic aspirations of American family and businesses," Yellen wrote in a resignation letter addressed to Trump.
As chair, she had supported only incremental changes to financial regulation.
Citigroup is a holding in Jim Cramer's Action Alerts PLUS charitable trust portfolio. Want to be alerted before Cramer and the AAP team buy or sell the stock? Learn more now.
But Trump, a former real estate mogul whose companies sought bankruptcy protection six different times, has pushed for broader revisions, argued that excessive post-crisis regulation kept the U.S. economy from reaching previous growth levels.
Such rules include a requirement that firms from JPMorgan Chase & Co. (JPM) - Get Report  to Citigroup Inc.  (C) - Get Report and Bank of America Corp.  (BAC) - Get Report  undergo annual stress tests overseen by the Fed that gauge whether they have the reserves needed to weather a severe downturn. Additionally, they must regularly complete resolution plans, or living wills, detailing how they could be wound down in the event of a collapse.
The government intended the latter measure to prevent the confusion that ensued with the September 2008 failure of investment bank Lehman Brothers, which froze global credit markets and prompted billions of dollars in taxpayer bailouts.
"Although we did not always agree on the Federal Reserve's conduct of monetary policy, I have great respect for Chair Yellen and am encouraged by recent moves made under her leadership to normalize the Fed's balance sheet," said Rep. Jeb Hensarling, the Texas Republican who chairs the House Financial Services Committee.
Federal law requires the Fed chair to testify before both that panel and the Senate Banking Committee twice a year, and Republican Congressmen criticized the central bank sharply during Yellen's presentations in recent years.
'Wholesale Leadership Turnover'
Still, "Chair Yellen has always been professional," Hensarling said. "There is no doubt she is an able public servant, and I wish her well."
Yellen had earned a second term as Fed chair, noted Sen. Elizabeth Warren, a Massachusetts Democrat who sits on the Banking Committee.
Prior to Trump's selection of Powell, every president since Ronald Reagan had nominated the sitting chair for a second term, regardless of party. Reagan kept Paul Volcker, an appointee of Democratic President Jimmy Carter, for example, and Obama renominated Ben Bernanke, who had been chosen by Republican George W. Bush.
Powell's selection nonetheless represents "a high degree of continuity" for monetary policy since he has typically been a centrist, Deutsche Bank economist Torsten Slok said in a note to clients.  At the same time, "the wholesale turnover in Fed leadership will bring a number of new faces into the mix, and it may take some time to build the necessary relationships to forge a consensus."
Updated from 2:11 p.m. ET on Monday, Nov. 20, 2017.
More of What's Trending on TheStreet: