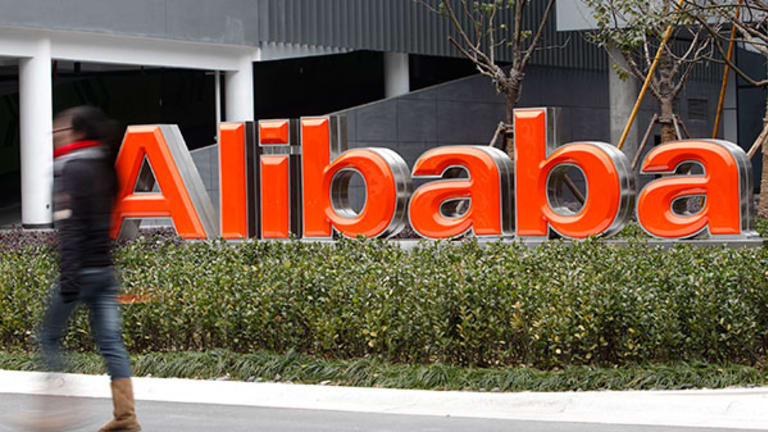 Janet Yellen, Apple's iPhone, Alibaba's IPO Are Hot Stories After Labor Day
Alibaba's initial public offering will be a major story to watch on Wall Street when traders return from their summer holiday after Labor Day weekend.
Alibaba's initial public offering will be a major story to watch on Wall Street when traders return from their summer holiday after Labor Day weekend.
NEW YORK (TheStreet) -- Alibaba's initial public offering, Apple's (AAPL) - Get Report iPhone launch and the ever-changing color of Fed Chair Janet Yellen's tea-leaves will be major stories to watch on Wall Street when traders return from their summer holiday after Labor Day weekend.
Alibaba will headline Wall Street activity after Labor Day, even if there are a few major M&A announcements and market hiccups on geopolitical unrest next week. The Chinese e-commerce giant is poised for what could be the largest ever stock listing on the New York Stock Exchange, and the company and its founder Jack Ma are expected to kick off their IPO roadshow just after Labor Day.
If all goes as planned Alibaba could begin trading by mid-September, in what many be an IPO for the ages. While Alibaba does over 90% of its business in China, the company's listing will be a major story for U.S. investors.
Yahoo! (YHOO) currently owns over 20% of Alibaba, meaning a strong or weak offering could impact the company' share price. CEO Marissa Mayer also hasn't yet indicated what Yahoo! might do with its Alibaba investment once the company becomes publicly traded. As TheStreet's Jim Cramer notes, Alibaba's extremely dominant e-commerce businesses in China and the company's high margins may attract investors in U.S. listed giants like Amazon (AMZN) - Get Report and eBay (EBAY) - Get Report .
Meanwhile, underwriters Credit Suisse, Deutsche Bank, Goldman Sachs, JPMorgan, Morgan Stanley and Citigroup are poised for a nice bump in equity capital markets activity.
Apple iPhone 6 on Sept. 9
Normally, Apple dominates tech headlines in the weeks after Labor Day as fans of the company await new smartphone and tablet products. While Apple has been mum on what it will unveil this year, the company did send out invites for September 9. "[W]ish we could say more," was Apple's message, adding further speculation a larger phone format may be released, along with some form of wearable product.
There's been a steady rise in sentiment about Apple's product pipeline and its stock in 2014, and the company's September event could prove an anchor for those expectations.
Merger Tuesday, Merger Monday
It won't shock any market watchers if there are a few deals that hit Wall Street as traders return from the beach on Tuesday. Last year, Verizon (VZ) - Get Report announced a $130 billion acquisition of its remaining interest in Verizon Wireless on the day after Labor Day, in the biggest M&A deal since the crisis.
Even without a major Labor Day merger, there will be plenty of deal activity to watch in September. Many large mergers such as AT&T's (T) - Get Report takeover of DirecTV (DTV) , Comcast's (CMCSA) - Get Report acquisition of Time Warner Cable (TWC) and Sysco's (SYY) - Get Report deal for U.S. Foods remain in regulatory limbo. Meanwhile, wireless carrier T-Mobile (TMUS) - Get Report is still weighing whether to go at it independently or it it will partner with a telecom or cable giant.
Incidentally, it was around three years ago that the Department of Justice chose to block AT&T's $39 billion takeover of T-Mobile, spurring a once in a generation consolidation among smaller wireless carriers. Sprint (S) - Get Report  and T-Mobile both picked up consolidating assets, but their fate remains uncertain as they try to compete against larger carriers.
No Holiday in Ukraine
The crisis in Ukraine is likely to continue to hang over the holiday plans of U.S. officials, as Russia continues to escalate its involvement in the region. The extent of unrest in Ukraine has weighed on global stock and commodity markets, and further drama will likely create further volatility.
After Russia moved added personnel and equipment to Eastern Ukraine, U.S. officials warned of further sanctions to the Russian economy. Europe, a major trade partner with Russia, may soon begin feeling the economic impact of the Ukraine crisis and Russian sanctions.
Is the Market Gelling With Yellen?
Federal Reserve Chair Janet Yellen said at Jackson Hole the Central Bank continues to see slack in the economy, indicating short term interest rates will remain low for the foreseeable future.
However, strong economic data such as consistent monthly job gains in the neighborhood of 200,000, coupled with over 4% GDP growth is already causing the Fed to pull back its stimulus to markets. In recent months, the Fed has accelerated its tapering of bond purchases, which should come to an end this Fall.
A continued strengthening of economic data after the holiday will color whether the Fed and Yellen soon indicate a hike to the fed funds rate is coming. Any hint from the from the Fed of rising rates will impact stock and bond markets, which have both risen in 2014.
-- Written by Antoine Gara in New York