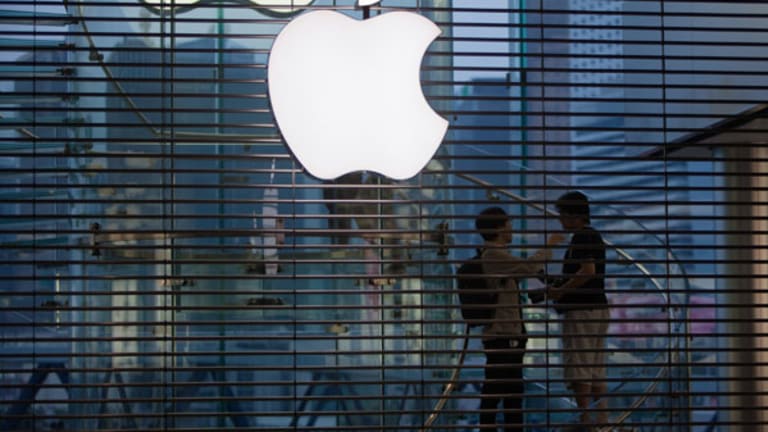 Jackson: Apple Needs a 'Big Thing' to Vault $700
Another iPad-like revenue stream would excite investors.
Another iPad-like revenue stream would excite investors.
NEW YORK (RealMoney) -- Apple (AAPL) has gone from being a value stock in 2010 to a momentum stock in 2012, and then back to a value stock for most of this year. After spending most of 2013 in the red -- at one point down 30% for the year -- it's now up 3% for the year.
Many are wondering where it can go in 2014 and if it can get back to $700. I think it can, but to go far beyond it will need more than the rumored new products of a TV and a watch.
To get back to the $700 level next year, Apple just has to perform. That means it just basically has to keep putting one foot in front of the other on its current trajectory with the existing product line-up.
In 2014, Apple fans can look forward to:
An iPhone 6 with a larger screen size;
A totally revamped iOS -- even beyond the current update and break from the old Scott Forstall days;
An actual Apple TV;
An iWatch or iBand to help you track your health information;
Probably some version of iOS in your car;
The regular revamping of the product line;
A continued growth of iTunes and App Stores revenue from the growing iOS user base;
A deal with China Mobile that moves significant volumes of iPhones there.
All these new updates and product introductions are important but they likely won't significantly excite Apple investors to get the stock past $700.
What will?
It won't be Carl Icahn pushing a major stock buyback in my view. There might be a temporary movement in the stock for a few days -- depending on the magnitude of such a buyback.
No, what will really move Apple's stock price will some other product not previously mentioned or discussed in the press. Apple's iPhone product has become so successful -- now accounting for more than half the sales and products of the company -- that is concerning to many on Wall Street.
The only way to combat this concern is to get investors to forget about it. There are only two ways to do this:
(1)  They can grow their way out of it. Investors worry about iPhone's success only because they believe that smart phone growth is slowing. While it is slowing on a percentage basis, Horace Dediu has done some work recently on global smart phone penetration by country. The results suggest Apple (and other smart phone makers) will probably only hit a real saturation point for smart phones in about 2017, or even 2018. That gives AAPL four to five years of ability to keep growing earnings at a rate that will surprise these critics;
(2)  They can come up with some exciting new product that suddenly is a "must have" product for all Apple users. I can't say what such a product will be but I'm sure that Apple is capable of creating it. If they could come up with another iPad-like revenue stream from nothing, Wall Street would once again come rushing from the sidelines to own this stock.
-- Written by Eric Jackson for RealMoney
Eric Jackson is founder and Managing Member of Ironfire Capital and the general partner and investment manager of Ironfire Capital US Fund LP and Ironfire Capital International Fund, Ltd. In January 2007, Jackson started the world's first Internet-based campaign to increase shareholder value at Yahoo!, leading to a change in CEOs in 2007. He also spoke out in favor of Yahoo!'s accepting Microsoft's buyout offer in 2008. Global Proxy Watch named Jackson as one of its 10 "Stars" who positively influenced international corporate governance and shareowner value in 2007.
Prior to founding Ironfire Capital, Jackson was President and CEO of Jackson Leadership Systems, Inc., a leadership, strategy, and governance consulting firm. He completed his Ph.D. in the Management Department at the Columbia University Graduate School of Business in New York, with a specialization in Strategic Management and Corporate Governance, and holds a B.A. from McGill University.
He was previously Vice President of Strategy and Business Development at VoiceGenie Technologies, a software firm now owned by Alcatel-Lucent. In 2004, Jackson founded the Young Patrons' Circle at the Royal Ontario Museum in Toronto, which is now the second-largest social and philanthropic group of its kind in North America, raising $500,000 annually for the museum. You can follow Jackson on Twitter at www.twitter.com/ericjackson or @ericjackson.
You can contact Eric by emailing him at Dr.eric.jackson@me.com.