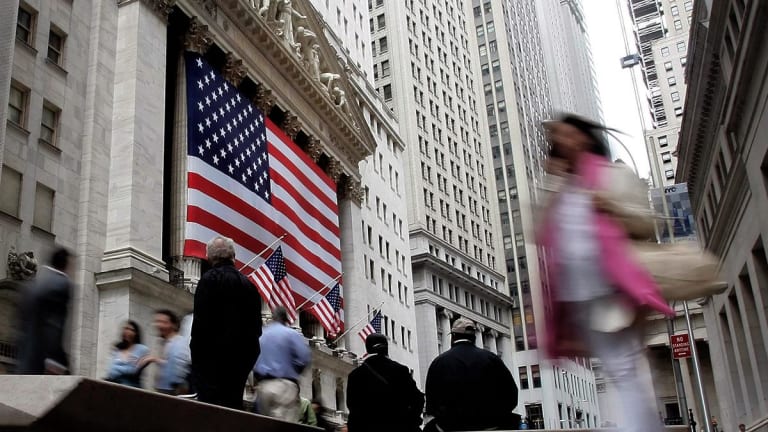 J.P. Morgan Cuts U.S. Second-Quarter GDP Outlook
Economists at J.P. Morgan reduced their second-quarter forecast to 1%.
Economists at J.P. Morgan reduced their second-quarter GDP forecast to 1% Friday following a disappointing report on durable goods orders.
"The April durable goods report was bad, particularly the details relating to capital goods orders and shipments," the report said. "Coming on the heels of last week's crummy April retail sales report, it suggests second quarter activity growth is sharply downshifting from the first quarter pace, and we are now anticipating Q2 annualized real GDP growth of only 1%, down from our prior projection of 2.25%."
The report noted that total orders at manufacturers of durable goods were dragged lower by large declines of aircraft and motor vehicle orders. Outside of transportation, the report said, orders were flat last month and revised meaningfully lower in March.
The economists also changed their view of the Fed's next move.
"We had previously expected the next move from the Fed would be a hike, albeit at the very end of our forecast horizon in late 2020," the report said. "We now see the risks of the next move as about evenly distributed between a hike and a cut. We still sense little appetite on the FOMC for an insurance ease to goose inflation, but we see rising odds of 'your father's rate cut': one prompted by downside growth risks."
The report grouped the risks into two categories: uncertainty related to the trade war which may be finally sapping business confidence and disappointing global growth developments appear to be, once again, restraining domestic activity growth.
In addition to the durable goods and retail sales reports, the financial data firm IHS Markit said Thursday that the U.S. manufacturing purchasing managers index, or PMI, was 50.6 in May, the lowest level since September 2009.