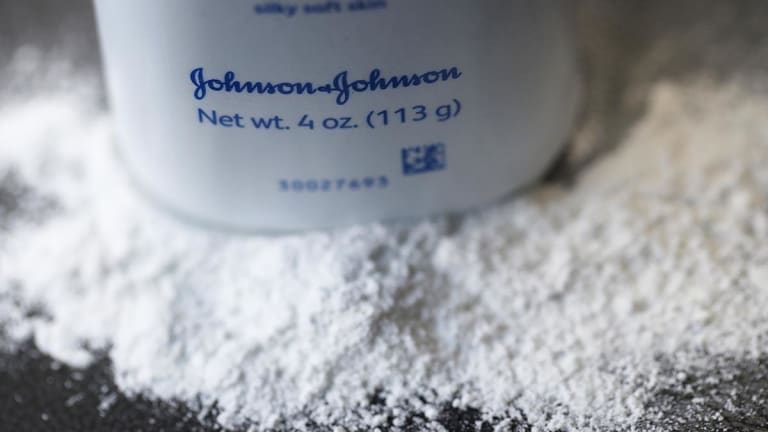 J&J Vows to Fight Verdict Linking Baby Powder to Ovarian Cancer
One lawyer likens the case to Big Tobacco's fight for decades against lung cancer sufferers who smoked.
It's far from over for Johnson & Johnson Inc.  (JNJ) .
CEO and chairman Alex Gorsky vowed during a second-quarter earnings call on Tuesday, July 17, to fight a Missouri state court judgment handed down July 12, in which 22 women were awarded $4.69 billion in a class action that alleged the company's talc-based baby powder products contained asbestos and caused them to develop ovarian cancer. Asbestos is a known carcinogen, according to the Centers for Disease Control and Prevention, and exposure to it can cause such life-threatening diseases as lung cancer, asbestosis and mesothelioma.
"As you know our baby powder is a trusted product that we have sold to families for over 100 years, and Johnson & Johnson is deeply disappointed in this verdict," Gorsky said during the earnings call. "We remain confident that our products do not contain asbestos and do not cause ovarian cancer. We intend to pursue all available appellate remedies."
He questioned the medical premise that the company's talc has led to the development of ovarian cancer and said Johnson & Johnson has the support of both the National Cancer Institute and the U.S. Food and Drug Administration.
The FDA notified TheStreet by email on Tuesday of the following: "After careful review and consideration of the information provided in the Citizen Petitions submitted in 1998 and 2008, and the review of additional scientific information, the FDA concluded in 2014 that it did not find conclusive evidence of a causal association between talc use in the perineal area and ovarian cancer."
The FDA spokeswoman said the agency is conducting its own laboratory research and monitoring scientific data on the matter.
In an email to TheStreet on Tuesday, July 17, the NCI noted the following: "The Physician Data Query (PDQ) information on ovarian cancer prevention, prepared by an editorial board comprised of scientific experts who analyze research to prepare cancer information summaries for patients and health providers, has concluded, 'The weight of evidence does not support an association between perineal talc exposure and an increased risk of ovarian cancer.' "
J&J's shares fell 1.4% on Friday following the verdict's announcement. On Tuesday, shares closed up nearly 4% to $129.11, leaving shares down 7.9% in 2018 and 2.6% over the past 12 months.
The company said it earned an adjusted $2.10 a share in the second quarter, beating the consensus estimate of $2.07, and said it expected adjusted earnings per share in 2018 of $8.07 to $8.17.
The jury award in the Missouri case included $550 million in compensatory damages and $4.14 billion in punitive damages, according to a statement from the attorneys representing the plaintiffs. The company faces more than 9,000 cases over body powders containing talc, according to its latest quarterly filing with the Securities and Exchange Commission.
Despite the already sizable judgment, one legal expert who specializes in toxic torts, torts and civil procedure believes the case could have a snowball effect in that it will encourage more women to claim they have been harmed by Johnson & Johnson products and sue the company.
"I compare this [case] to the tobacco companies," Jean Macchiaroli Eggen, an emerita professor of law at the Widener University's Delaware Law School, told TheStreet on Monday, July 16. "They fought for decades every single lawsuit, until they didn't."
Eggen was referring to suits filed by lung cancer sufferers against cigarette makers. The first big win for a plaintiff came in February 1999, when a California jury ordered Philip Morris Inc. to pay $51.5 million to a California smoker with inoperable lung cancer. The ruling followed a $206 billion settlement in 1998 between 46 states and the nation's four largest tobacco companies of litigation under state consumer protection and antitrust laws.
Eggen said the talc suit against the consumer packaged goods company introduced a new theory -- that the talcum powder in question contained asbestos, which caused some users to develop ovarian cancer. 
If the plaintiffs ultimately prevail, she added, "it will introduce a whole new phase" in litigation.