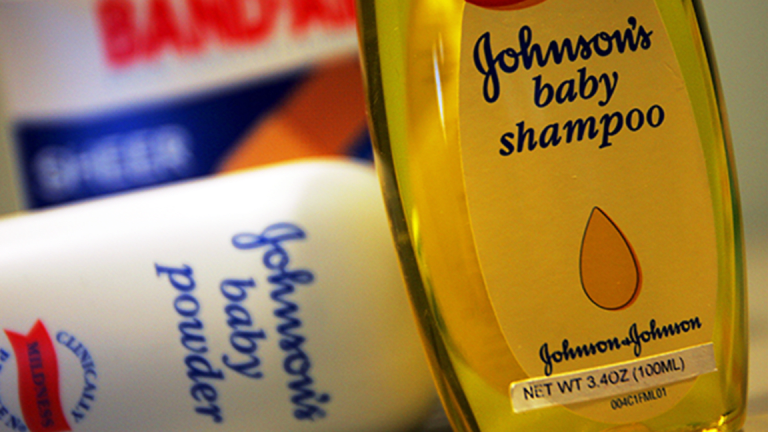 Johnson & Johnson (JNJ) - Get Johnson & Johnson (JNJ) Report reports earnings before the opening bell on Tuesday, July 16. The stock declined on Friday under downside pressure of the criminal federal probe as to whether J&J intentionally misled consumers over the safety of its baby powder products. My call is to buy the stock at its monthly and quarterly pivots at $134.76 and $135.44. These levels have already acted as magnets on Monday morning, July 15.
J&J is a diverse health care giant and a component of the Dow Jones Industrial Average. This stock has beaten earnings-per-share estimates in every quarter since October 2012. If this trend continues look for a bounce-back rebound.
J&J closed the first half of 2019 at $139.28 on June 28 which became a key input to my proprietary analytics. The only level left over from the first half is its annual risky level at $148.72 which appears unattainable given the talcum powder probe. There is a monthly pivot for July at $134.76 and a third quarter pivot at $135.44 which should be magnets given another earnings beat.
Fundamentally, J&J is reasonably priced with a P/E ratio of 16.34 with a dividend yield of 2.83%, according to Macrotrends. The pharmaceutical giant is not just a talcum powder company is a conglomerate that provides medical devices, packaged healthcare goods prescription drugs.
Longer-term J&J is consolidating a market decline of 18.7% from its all-time intraday high of $148.99 set on Dec. 4 to its Dec. 24 low of $121.00. The stock is a 2019 laggard in 2019 with a gain of just 4.1% year to date and up 11% since its Dec. 24 low. The stock is also 9.9% below its Dec. 4 high.
Analysts expect J&J to earn $2.42 to $2.44 per share when they report results before the opening bell on Tuesday, July 16. Wall Street expects the company to report a year-over-year increase in earnings on reduced revenue. Its tough to make a call on the baby powder effect on earnings given the news that J&J is ready to release an experimental HIV vaccine that could be a medical milestone. Consumer sales for items such as lotions, Tylenol and medical devices declined but guidance for its future pipeline of new drugs continue to look promising.
Just remember to be cautious as J&J faces more than 14,000 lawsuits on allegations that talc products contain asbestos that can cause ovarian cancer.
The Daily Chart for Johnson & Johnson
Courtesy of Refinitiv XENITH
The daily chart for J&J shows that the stock is consolidating the 18.7% decline from $148.99 on Dec. 4 to $121.00 set on Dec. 24. This jolt of volatility makes the stock a trading vehicle not a portfolio holding. The best strategy based upon the daily chart is to countertrade the reversal-oriented pattern seen on the chart. The annual and semiannual risky levels at $148.72 and $155.92, respectively, appear unreachable. Monthly and quarterly pivots at $134.76 and $135.44, respectively.
The Weekly Chart for Johnson & Johnson
Courtesy of Refinitiv XENITH
The weekly chart for J&J is negative with the stock below its five-week modified moving average of $137.78. The stock is above its 200-week simple moving average or "reversion to the mean" at $125.18. The 12x3x3 weekly slow stochastic reading ended last week falling to 67.87 down from 72.87 on July 5. It's expected to decline further to 62.29 this week.
Trading Strategy: Buy the stock around its monthly and quarterly pivots at $134.76 and $135.44, respectively, and add to positions on weakness to its "reversion to the mean" at $125.18. Reduce holdings on strength to the 200-day and 50-day SMAs at $137.45 and $138.80, respectively.
Prime Time Sale: Subscribe to Real Money to Become a Smarter Investor and Save
Sign up for our premium site Real Money during our special sale and get 76% off.
How to use my value levels and risky levels:
Value levels and risky levels are based upon the last nine weekly, monthly, quarterly, semiannual and annual closes. The first set of levels was based upon the closes on Dec. 31. The original annual level remains in play. The weekly level changes each week. The monthly level was changed at the end of each month, the latest on June 28. The quarterly level was changed at the end of June. My theory is that nine years of volatility between closes are enough to assume that all possible bullish or bearish events for the stock are factored in. To capture share price volatility investors should buy on weakness to a value level and reduce holdings on strength to a risky level. A pivot is a value level or risky level that was violated within its time horizon. Pivots act as magnets that have a high probability of being tested again before its time horizon expires.
Disclosure: The author has no positions in any stocks mentioned and no plans to initiate any positions within the next 72 hours.