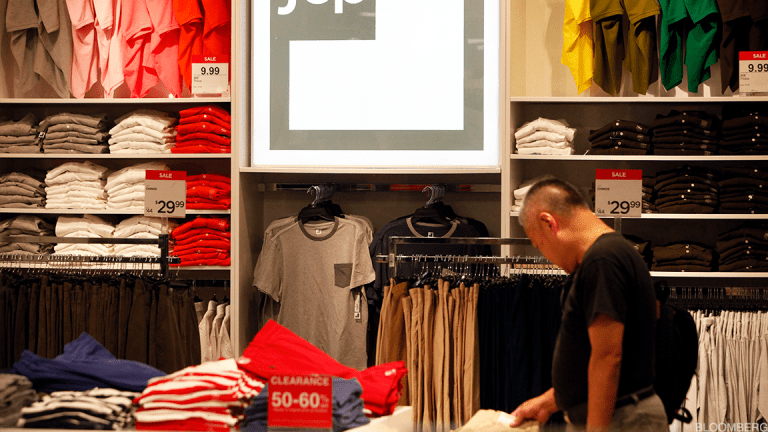 J.C. Penney Stock Closes at Record-Low 97 Cents a Share
JCP dips below a dollar again as the chain continues to struggle against a tide of red ink.
J.C. Penney  (JCP) - Get Report  closed down 7.54% at a record-low 97.08 cents a share Thursday, as the Plano, Texas-based department-store chain continues to struggle against a tide of red ink. 
JCP's shares dipped below $1 for the first time in the company's history on Wednesday, briefly trading at 99 cents before closing at $1.05. But the markdown continued on Thursday, with the stock getting as low as 92 cents a share before partly recovering.
Last month, J.C. Penney said third-quarter sales at stores open for more than a year fell 5.4%, pushing the retailer to a wider-than-expected loss of 48 cents a share. The group also scrapped its full-year profit guidance.
However, CEO Jill Soltau, who took over the top position in October, said in a statement that "in spite of our overall sales results, I am encouraged by the recent underlying trends in key businesses such as women's apparel, active, special sizes and fine jewelry.
"We are making progress and taking the necessary steps to right-size our inventory positions to better support the brands and categories that are demonstrating profitable sales growth," said Soltau, who was most recently president and CEO of Jo-Ann Fabric and Crafts Stores. "While restoring J.C. Penney to sustained profitable growth will be a lengthy process, I understand the need for quick action. My commitment is that we will make sound, strategic decisions backed by data, and will always be rooted in delivering on our customers' wants and expectations."
Other retailers were feeling the pain Thursday as well. Kohl's (KSS) - Get Report closed 1.67% lower at $64.82, Macy's  (M) - Get Report  dropped 0.3% to end at $30.04 and Nordstrom  (JWN) - Get Report  shed 0.2% to finish at $46.66.
(This article has been updated.)