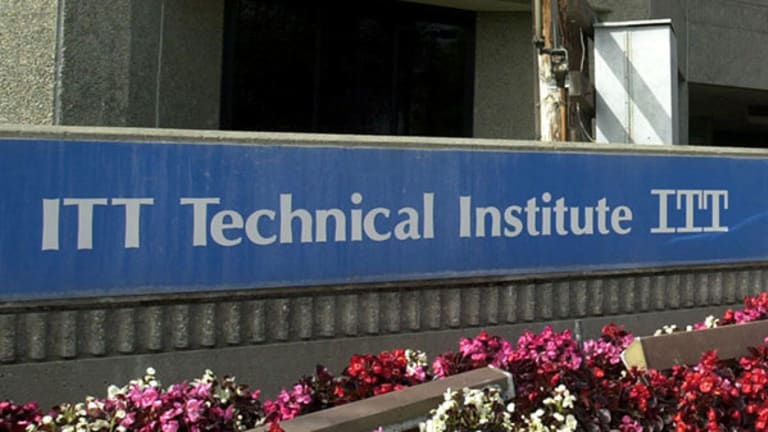 ITT Tech Becomes Latest Casualty of Government Crackdown on For-Profit Education
A number of for-profit education companies have shuttered and other failures could be on the way.
The demise of ITT Technical Institute parent ITT Educational Services (ESI) is the latest in a long series of blows against for-profit education companies amid crackdowns from a variety of U.S. government agencies, with more casualties likely still to come.
ITT on Monday, Sept. 5,  shuttered its over 100 institutions, dismissing 40,000 students and 8,000 employees, after the Department of Education prohibited the Carmel, Ind., company from enrolling students using federal financial aid. Piper Jaffray analyst Peter Appert correctly predicted that the ban "will likely be the final blow in putting the company out of business" in an Aug. 25 note. 
Last year, the Securities and Exchange Commission alleged that ITT and some of its executives "fraudulently concealed from ITT's investors the poor performance and looming financial impact of two student loan programs that ITT financially guaranteed."
In an email to TheStreet, an ITT spokeswoman declined to comment on future bankruptcy protection.
In a statement, ITT said it reached the decision to close "only after having exhausted the exploration of alternatives, including transfer of the schools to a non-profit or public institution."
ITT is far from alone in its reversal of fortunes. Once a private equity darling and a staple of public markets, the for-profit education sector has been battered by allegations of misconduct and fraud, with several of its largest operators shutting down.
One of the most prominent for-profit college operators, Corinthian Colleges, exited Chapter 11 last year with an amended liquidation plan that included a provision for the debtor to set aside a trust for the colleges' former students, who claimed they had been misled about their job prospects.
"The student loan bills need to be eradicated," Scott Gautier of Robins Kaplan, counsel for the official committee of Corinthian's student creditors, told The Deal, a sister publication of TheStreet, in August 2015. "The U.S. Department of Education has the power to discharge the student loans. That problem still exists. The bankruptcy didn't solve that problem for the students."
Corinthian shuttered all of its campuses before filing for Chapter 11 protection on May 4, 2015. The Department of Education fined Corinthian $30 million the previous month for misleading students, including 947 alleged misstated employment placement rates.
EDITORS' NOTE: This article was originally published on Sept. 7.
Private equity-backed Edmentum switched hands last year, sources told The Deal, with Thoma Bravo losing control of the online education company to its second-lien lenders in a debt for equity recapitalization. The lenders included Tennenbaum Capital Partners, Prospect Capital and New Mountain Capital. Thoma Bravo had acquired the company, then known as Plato Learning, for $143 million in 2010.
Another for-profit education company with PE backing that ran into trouble was Education Managementundefined . Providence Equity Partners, Goldman Sachs Capital Partners and Leeds Equity Partners acquired the Pittsburgh-based company for $3.4 billion in 2006, taking it public three years later. The company restructured debt outside of bankruptcy court in 2015.
PE firm Warburg Pincus and management founded Bridgepoint Education (BPI) in 2003. The company, which operates Ashford University and University of the Rockies, disclosed in several regulatory filings over the summer that it had received subpoenas from the Securities and Exchange Commission, the Department of Education and the Department of Justice related to fraud investigations. The California attorney general's office and the Consumer Financial Protection Bureau also investigated Bridgepoint's extension of credits to students.
Of course, nonprofit colleges also fail. Dowling College, of Oakdale, N.Y. and St. Catharine College of St. Catharine, Ky., both announced on June 1 that they would shut down. Wright Career College operator Mission Group Kansas., a nonprofit, filed a Chapter 7 petition on April 15, saying it would close its five campuses and liquidate its assets. The filing, a rare bankruptcy for a nonprofit, followed a Missouri circuit court lawsuit from students alleging deceptive practices.
Some for-profit education companies are clinging to life, however.
One of the most prominent, University of Phoenix parent Apollo Education Group (APOL) , was taken private in a $1.081 billion deal announced Feb. 8 by a consortium led by Apollo Global Management (APO) . With its financial position deteriorating, Apollo Education had warned that it would consider a sale of the University of Phoenix if shareholders rejected the buyout. For the quarter ending May 31, the company reported revenues of $558 million, down 17.5% year-over-year, and net income of $19.8 million, down 58% from a year earlier. Apollo Education warned in its 10-Q of "substantial and increasing focus by various members of the U.S. Congress and federal agencies, including the Department of Education, the Consumer Financial Protection Bureau and the Federal Trade Commission" targeting the sector. "We expect that this challenging regulatory environment will continue for proprietary educational institutions, including University of Phoenix, for the foreseeable future, and may intensify."
Shareholders eventually approved a sweetened $1.14 billion bid on May 6 after Apollo Education failed to win support from a majority of Class A shareholders at an April 28 meeting. Co-owning the company along with Apollo are Vistria Group and Najafi.
Private equity-backed education company Laureate Education is trying a different approach, filing for an IPO last fall as a public benefit corporation. Founder and CEO Douglas Becker took the company private in August 2007 with KKR & Co. (KKR) , Citi Private Equity, Point72 Asset Management, Sterling Partners and Snow Phipps Group.
Becker said in the filing that the intention of the public benefit designation was for Laureate to reconcile "the idea of a for-profit company with such a deep commitment to benefiting society."
The IPO, if completed, would be the first of a for-profit education company in several years.
EDITORS' NOTE: This article was originally published on Sept. 7.