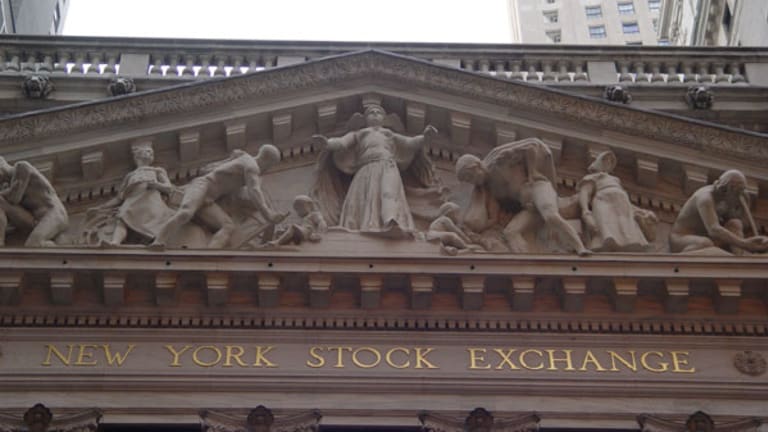 It's Tough, but Stick With Quality
<I>Real Money's</I> Jim Cramer braces for the 'Fed Bolt From Hell.'
We've got the Replacements out there right now!
That's right, we are now picking stocks to replace perfectly good ones that we sold because we thought they were done rising, or because we feared that they would be vulnerable to the FBFH -- the
Fed
Bolt From Hell -- which is the new term I am inaugurating to describe the moment when central-bank chief Ben Bernanke goes from bond-buyer to bond-seller.
The FBFH is so widely anticipated that, this morning, I heard someone predict it would transpire by Memorial Day -- that you know the best stocks are being sold lest they be struck by Bernanke lightning.
This article originally appeared on March, 15, 2013 on RealMoney. To read more content like this + see inside Jim Cramer's $3 Million portfolio for FREE Click Here NOW.
For example, we trimmed some retailers from the
portfolio in part because of the anticipated FBFH. But now what are you supposed to do? Are you supposed to replace
Costco
(COST) - Get Free Report
with
Big Lots
(BIG) - Get Free Report
because one's up and one's a lagged? Is this the chance to replace 52-week-high achiever
Macy's
(M) - Get Free Report
with cellar-dweller
J.C. Penney
(JCP) - Get Free Report
(JCP), especially after my friend Scott Wapner at
CNBC
broke that story about the troubling aspects of Penney's balance sheet?
Do you replace, say,
Cummins
(CMI) - Get Free Report
, because it has moved up so much, with a stock like
Emerson
(EMR) - Get Free Report
, which has moved up less but isn't as good?
You sold
Accenture
(ACN) - Get Free Report
, thinking it has to come in because of Europe or the FBFH, and it doesn't. Do you now say something like this? "You know what? I will go buy Hewlett-Packard (HPQ) because maybe its consulting business is coming back." Is that prudent?
You sell a high-quality semiconductor-equipment company, but tech has lagged and now it is coming on strong. It is time to buy some
Applied Materials
(AMAT) - Get Free Report
, which isn't as good but at least hasn't moved as much? Do you really risk trading down in quality just because you need to replace a stock to gain exposure, particularly to what may turn out to be a less vulnerable area of the index?
The replacement factor is figuring huge here, because without a pullback, the cash is just killing managers. If you take your cash position up, say, to 10%, the stocks you do own have to do an awful lot of heavy lifting in order to stay pace with the
. Forget beating it; that's almost impossible.
So you sell, because of the FBFH, and it doesn't strike, and the market keeps going, and you have to put something back on. You can either admit defeat and go right back in at a higher level, or you trade down and risk the replacement factor, like the replacement referees at the
NFL
or the replacement players during the NFL players' strike.
For many portfolio managers, this is a new phenomenon. They know markets can't keep going up like this. But they also look at their run-ups and they see the basis points growing between the red-hot averages and where they are, and they start taking risks and trading down.
It is only after they have traded down -- putting that sidelined capital to work, and thus finding themselves in inferior merchandise, or without any shorts -- that the market can have a serious correction, even if we do not see FBFH. In other words, at any short-term pop you tend to have less cash and more subpar names, simply because you layered on replacements to stay closer to the S&P.
I think the replacement army is out there in a lot of portfolios. Just stick with the quality, even if it means eating some crow. The really bad stuff that you might be cycling into will simply not hold up as well when we do see a pullback.
Yep, staying up with the averages now is almost impossible if you are a prudent manager. But don't compound it by replacing the good with imprudent choices of hitherto underperforming stocks. You can only imagine what happens to those when we do get the FBFH!
Action Alerts PLUS, which Cramer co-manages as a charitable trust, had no positions in the stocks mentioned.