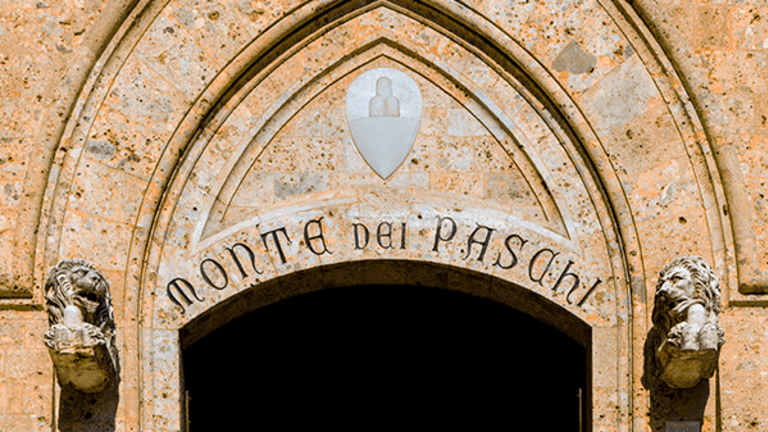 Italy Will Bail Out Monte Dei Paschi After Investors Shun Capital Increase
The world's oldest bank, and Italy's No.3 lender, will receive funds from an emergency $21 billion bank bailout fund.
Monte dei Paschi di Siena (BMDPY)  , the world's oldest bank, bowed to the inevitable in the early hours of Friday, requesting a government bail out after the markets turned their backs on its efforts to raise €5 billion ($5.22 billion) needed to bolster a balance sheet depleted by bad loans.
Italy's No.3 lender made the announcement minutes after Italy's cabinet approved the emergency creation of a €20 billion fund to help distressed lenders, raising the prospect that the bank will be nationalized.
Monte dei Paschi had until the end of the year to put its finances in order after it came bottom amongst 51 European banks in European Central Bank stress tests conducted earlier this year. Concerns over the banks future have led to significant withdrawals of funds, prompting the lender to warn Wednesday that it could run out of cash early next year.  
"This will secure the capital needs of MPS and allow the bank to pursue its industrial plan," Italy's finance minister Pier Carlo Padoan told journalists. "Italy's third-largest bank will finally return with force to operate in support of the Italian economy."
Monte dei Paschi shares closed Thursday at €15.08, down 8% as it became clear that a government bail out was likely. The bank's stock has lost 88% of its value over the past year.
Monte dei Paschi had sought to raise cash from institutional investors and earlier this week announced that it had secured a €2 billion debt for equity swap. The Siena-based lender fell short of finding the remaining €3 billion, in part due to  political turmoil in Italy. Italian voters, on Dec. 4,  rejected constitutional reform, effectively forcing the resignation of Prime Minister Matteo Renzi, who had been one of the driving forces behind Italian bank restructuring.
The new caretaker government, led by Prime Minister Paolo Gentiloni, said Friday that the bail out of Monte die Paschi would comply with European Union rules, and that bondholders would have to accept some losses to lighten the burden on Italy's tax payers.
Holders of so-called Tier 1 bonds, which are mainly institutions, will have their debt converted into shares at a rate of 75 cents on the euro. The losses won't extend to about 40,000 junior bond holders, many of them retail savers, who bought their debt in an earlier recapitalization and have claimed they were not made aware of the risks. Their loans will be swapped for senior debt of the same value.
The state said that no fees will be paid to the banks, including JPMorgan and Mediobanca, that advised Monte dei Paschi on its fund raising efforts.